Exxon Mobil stock forecast: Will energy giant rebound to record high?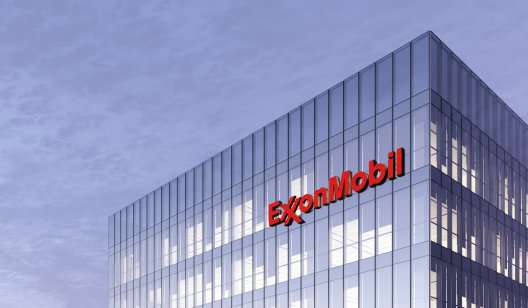 ExxonMobil's (XOM) stock price has soared to all-time highs this year on the back of rising oil prices – but it's slightly come off the boil in recent weeks.
Shares in the US giant – the world's second largest energy company by market capitalisation – rose 65% from $63.54 at the start of 2022 to hit $104.59 by early June.
But the stock has been hit due to a slightly lower oil price, the wider stock market sell-off and criticism levelled by US President Joe Biden.
Where next for the company? Is there more room for the stock to grow, or has it now reached a ceiling? In our XOM stock forecast we take a look at Exxon's most recent results and reveal the Exxon Mobil stock predictions of analysts.
Exxon stock price: Technical view
ExxonMobil, which is involved in the exploration, production and refining of oil around the world, has seen its stock price enjoy stellar growth over the past year.
While oil giants initially suffered as global lockdowns adversely affected the need for oil, strong demand as the world returned to normal has been reflected in their stock prices.
The XOM stock price has risen 49% from $63.54 at the start of this year to $94.89 at market close on 15 June 2022. It's up 57% since mid-June 2021.
Over the past five years, the stock has risen almost 19% from its $80.04 level in June 2017. However, it hasn't been completely plain sailing.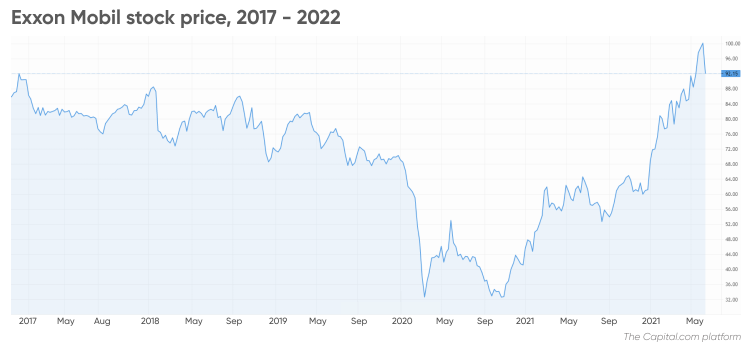 For example, the price sunk to $32.74 during 2020 as the Covid-19 pandemic started to really take hold around the world. It has rebounded 190% since those dark days.
Meanwhile, the company's 10 year trailing returns come in at 4.19%, which is marginally ahead of the industry's 3.94%, according to Morningstar.
In terms of XOM technical analysis, as of 16 June, the relative strength index (RSI) stood at 49.04, which is a neutral reading – significantly below the 70 level that typically signals if an asset could be regarded as overvalued.
The stock was trading below its 10 and 20-day moving averages, indicating a downward trend in the short term.
Rising oil prices boost the price
Global tensions caused by Russia's invasion of Ukraine have bolstered the price of oil for much of this year, although it's dipped recently over concerns about fuel demand and global economic growth.
US West Texas Intermediate (WTI), the US benchmark, is currently around the $115-a-barrel level. Brent Crude oil, the European benchmark, is at $118-a-barrel.
When you consider both benchmarks were below $80-a-barrel at the start of this year, you can see how much impact the ongoing crisis has had on prices.
Energy giant Exxon found itself on the winning side of the commodity boom, with its share price rising in line with the rapidly appreciating Brent crude and WTI.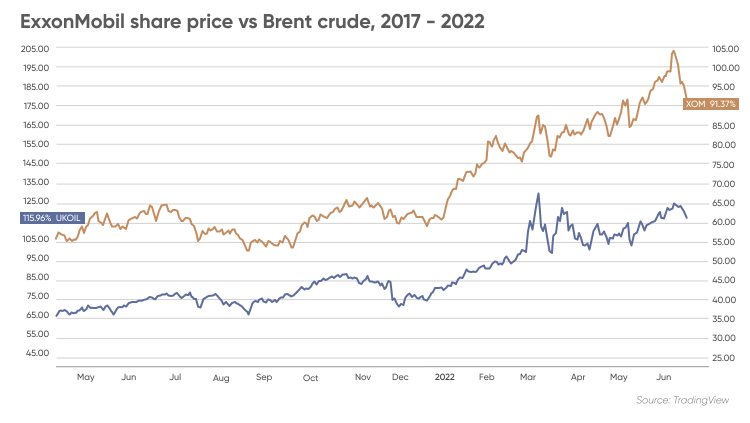 "Another strong quarter"
Exxon has benefitted from rising crude prices, doubling earnings to $5.5bn during the first quarter of 2022.
Quarterly revenue came at $90.5bn – above analysts' estimates of $83.57bn. Earnings per share (EPS) of $2.07, however, missed the expectations of $2.25.
Those results included an unfavourable identified item of $3.4bn associated with the company's planned exit from Russia Sakhalin-1.
Exxon announced in early March 2022 that it was pulling out of this project in the wake of Russia's invasion of Ukraine.
Earnings excluding identified items were $8.8bn, an increase of more than $6bn versus the first quarter of 2021.
According to Darren Woods, Exxon's chairman and chief executive, the quarter illustrated the strength of the underlying business
"Earnings increased modestly, as strong margin improvement and underlying growth was offset by weather and timing impacts," he said.
"The absence of these temporary impacts in March provides strong, positive momentum for the second quarter."
Allen Good, sector strategist at Morningstar, has a $96 fair value estimate on XOM stock. He branded it "another strong quarter" for the oil giant.
"Earnings fell just short of market expectations as downstream turned in a weak quarter due to timing effects that should reverse in coming quarters as Exxon capitalises on the strong refining environment," he wrote in a note.
Good also noted that Exxon increased its share repurchase program from $10bn to $30bn through 2023, as debt has fallen to within the management's target range of 20% to 25%.
"The increase places Exxon's shareholder returns at the upper end of its peer group and further supports our preference for it among the integrated oils," he added.
Joe Biden's criticism
"Exxon made more money than God this year."
In a speech earlier this month, US President Joe Biden pledged to make sure that everybody knows about the oil giant's profits. "Exxon made more money than God this year," he declared.
The US president also insisted the companies weren't drilling because they made more money by not producing oil.
"The price goes up, number one. Number two, the reason they're not drilling is they're buying back their own stock — which should be taxed, quite frankly — buying back their own stock and making no new investments," Biden added.
President Biden's speech came as he sent letters to a number of oil companies, including Exxon and BP, calling on them to ramp up supply.
His comments are unlikely to be positive for the Exxon Mobil stock forecast as investors will be concerned about possible future regulatory action against the oil giants.
In a statement, Exxon said it had been in regular contact with the administration to update the President on how it has been investing to develop US oil and gas supplies.
"This includes investments in the U.S. of more than $50bn over the past five years, resulting in an almost 50% increase in our U.S. production of oil during this period," it stated.
Exxon Mobil stock forecast 2022
Phil Gresh, an analyst at JP Morgan, gave an 'overweight' rating on the stock and an Exxon Mobil stock forecast of $108 for December 2022.
"We think XOM has multiple re-rating potential from its diversified portfolio, improved execution, portfolio management and return of capital," he said.
Gresh pointed out that the shares had derated in recent years, due to a combination of lack of capital allocation discipline and related debt additions during the Covid-19 downturn.
"However, we think that the company is turning a corner, with much improved discipline and strong progress on reducing debt," he said.
He believes XOM's portfolio continues to have a good mix of defence (balanced portfolio across Upstream, Downstream and Chemicals) and offence (torque to a demand recovery).
"Further, XOM should benefit from its unique high margin asset in Guyana, which will deliver substantial FCF growth in years ahead," he added.
Danni Hewson, financial analyst at AJ Bell, believes there's been a greater focus on energy this year as everyone has considered a world that largely excludes Russian oil and gas.
However, while acknowledging the industry's longer-term goal was finding greener solutions, she pointed out that the near term also demanded consideration.
"There will be investors who will be considering the difficulty facing consumers, the need to maintain security of supply, and deciding Exxon has real value," she told Capital.com.
The stock was a 'hold' based on the recommendations of 21 analysts compiled by Market Beat. Ten had it down as a 'buy', nine as a 'hold' and two as a 'sell', as of 16 June.
Their consensus Exxon stock forecast saw the price fall 5% to $90.02 from its $94.89 level as the markets closed on 15 June 2022. The highest XOM stock price target was $120 and the lowest at $57.
Long-term ExxonMobil share price forecast
According to the algorithmic forecasting of Wallet Investor at the time of writing (16 June), the stock was a "bad long-term investment" that's expected to fall 2.5% to $92.18 over the next 12 months.
The site's XOM stock forecast suggested that the share price could slide to $90 by June 2023 and $86.49 in June 2024.
The site's longer-term Exxon Mobil stock forecast for 2025 had the stock down to $82.56 in June 2025 and $78.99 a year later. The five-year forecast saw it at $77.89 by June 2027.
Note that analysts' predictions can be wrong. Forecasts shouldn't be used as substitutes for your own research. Always conduct your own diligence. Remember that your decision to trade or invest should depend on your risk tolerance, expertise in the market, portfolio size and goals.
Keep in mind that past performance doesn't guarantee future returns. And never invest or trade money you cannot afford to lose.
FAQs
Is ExxonMobil a good stock to buy?

Whether XOM is a suitable investment depends on your own investment objectives – and the opinion based on your own research. Remember, it's important to reach your own conclusion of the company's prospects and likelihood of achieving analysts' targets.
Will Exxon Mobil stock go up?

No-one knows for sure. The consensus view of Wall Street analysts, as of 16 June, was that the XOM stock price could fall 5% to $90.02 over the coming year. However, its performance will depend on a variety of factors and analysts may be wrong in their predictions. Always conduct your own due diligence.
Should I invest in Exxon Mobil stock?

You will need to carry out your own research to decide whether you should invest in XOM stock. Analysts' expectations can be wrong so it's important to draw your own conclusions. Keep in mind that past performance doesn't guarantee future returns. And never invest or trade money you cannot afford to lose.