EVgo short squeeze interest: Increasing downside bets set stage for potential upset
Subscribe to Weekly Highlights
The major market events for the week ahead right in your inbox.
Subscribe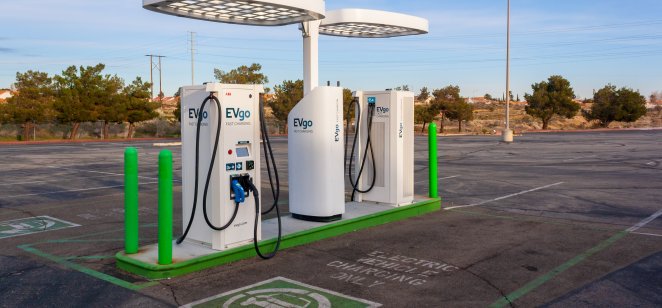 Content
EVgo (EVGO), the US provider of electric vehicle (EV) charging systems, has seen its stock price plummet 57% in less than a year. Are brighter times ahead?

The company has been adversely affected by analyst concerns over its valuation and underappreciated competition in its marketplace.

It also came under fire during the summer from research firm Fuzzy Panda, which issued a scathing report on the stock and branded it "substantially overvalued".
In this analysis, we look at the performance of EVGO stock and the company's recent results, and consider the likelihood of an EVgo short squeeze.
What is a short squeeze?
A short squeeze means the price of a heavily-shorted asset has jumped unexpectedly, forcing short sellers to cut losses and exit their positions.
A short seller effectively bets on the price of a stock to fall. They borrow shares in a company, usually from a broker or brokerage firm, and sell them with the intention of buying the stock back at a lower price.

If the price falls, short sellers profit from closing their positions. However, if the price increases, they're forced to buy back the asset at a higher price.
When short sellers decide to cut losses and exit positions with buy orders, their exit can spark a jump in the price due to increased demand.
What is your sentiment on EVGO?
Vote to see Traders sentiment!
History of EVgo
So, what is EVgo? EVgo owns and operates a public fast charging network for electric vehicles in the United States that's powered by 100% renewable energy.
The company, based in Los Angeles, California, was founded in 2010. It operates more than 850 fast charging locations across 30 US states.
EVgo's stated aim is to expedite the mass adoption of EVs by creating a convenient, reliable, affordable and fast charging network.
EVgo stock was listed on the New York Stock Exchange in July 2021, trading under the ticker 'EVGO', following its merger with Climate Change Crisis Real Impact I Acquisition Corp (CLII).
How has EVgo performed?
It has been a challenging year for EVgo stock, with the price having fallen 22%, from $10.62 at the start of January to $8.25 as market close on 26 September.
The decline in fortunes is even more significant when you consider the stock was trading at $19.23 in November 2021 – 57% higher than on 26 September. The stock's all-time high closing price was $22.07 on 26 January 2021.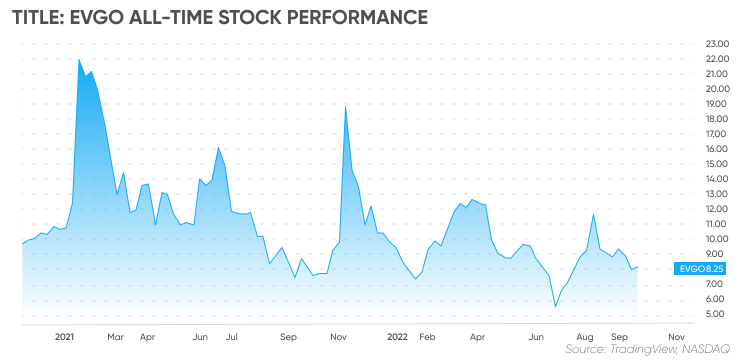 The stock started to move lower in mid-November after Bank of America downgraded its rating from 'neutral' to 'underperform'.
According to MarketWatch, the company has a market capitalisation of $2.18bn, making it the world's third-largest EV charging company.
EVgo short squeeze interest: What is the situation?
The situation has increased EVgo short squeeze interest among investors. EVgo was one of the most shorted stocks in August, according to Insider Monkey.
According to Nasdaq data from 31 August 2022, the company has almost 21.4m shares sold short, which is around 30% of the total number of regular shares. This means that it would take traders, on average, around seven days to cover their short positions.

Let's now look at some of the factors that may have prompted EVgo short squeeze interest.
At the end of June 2022, the company was the subject of a critical report from Fuzzy Panda Research, in which it was branded a "mediocre EV charging company" and substantially overvalued.
"Not only are a significant number of their EV chargers broken, but they also have triple digit negative operating profit margins which have gotten even worse," the report claimed.
Latest results
In early August 2022, EVgo announced revenue had increased to $9.1m in the second quarter of 2022, compared to $4.8m for the same period in the previous year.
"Growth in revenue for the quarter was primarily driven by higher retail charging revenues, as well as growth in network original equipment manufacturers and regulatory credit revenue," the firm's Q2 2022 report stated.
| | |
| --- | --- |
| Long position overnight fee | -0.0308% |
| Short position overnight fee | -0.0137% |
| Overnight fee time | 22:00 (UTC) |
| Spread | 0.18 |
| | |
| --- | --- |
| Long position overnight fee | -0.0308% |
| Short position overnight fee | -0.0137% |
| Overnight fee time | 22:00 (UTC) |
| Spread | 0.19 |
| | |
| --- | --- |
| Long position overnight fee | -0.0064% |
| Short position overnight fee | -0.0059% |
| Overnight fee time | 22:00 (UTC) |
| Spread | 0.11 |
| | |
| --- | --- |
| Long position overnight fee | -0.0308% |
| Short position overnight fee | -0.0137% |
| Overnight fee time | 22:00 (UTC) |
| Spread | 0.65 |
In addition, the company added approximately 67,000 new customer accounts, bringing the overall number to around 444.000. This represents a 60% year-over-year increase.
According to Cathy Zoi, EVgo's chief executive, the results helped reinforce the company's "leadership position" in ultra-fast EV charging.
"As one of the longest running, largest, and most reliable public fast charging operators in the US, we could not be more excited about the possibility of accelerating or growth, expanding our partnerships, and helping to enable the wider, faster adoption of EVs across America," she said.
EVgo news: Collaboration announcement
EVgo announced in August that it had entered into a new supply agreement with Delta Electronics, a global provider of power and energy management solutions.
The arrangement will see Delta supply EVgo with 1,000 fast chargers with up to 350kW power output.
This follows the announcement of the EVgo eXtend project with General Motors to deploy high-power fast charging access to drivers across the US.
What is the outlook for electric vehicles?
Of course, longer-term success is inextricably linked to the popularity and sales of electric vehicles.

According to a report from the International Energy Agency (IEA), sales of electric vehicles doubled in 2021 from the previous year to a new record of 6.6 million.
This growth is particularly remarkable as a mere 120,000 electric cars were sold in 2012 – less than the number sold each week last year. The number of electric cars on the world's roads by the end of 2021 was about 16.5 million, triple the amount in 2018.
The study also noted how EV sales in the United States increased to 630,000 in 2021 after two years of decline. China led the way with 3.3 million sales.
Fatih Birol, executive director of the IEA, insisted that few areas of the new global energy economy are as dynamic as electric vehicles.
"The success of the sector in setting new sales records is extremely encouraging, but there is no room for complacency," he said. "Policy makers, industry executives and investors need to be highly vigilant and resourceful in order to reduce the risks of supply disruptions and ensure sustainable supplies of critical minerals."
Outlook for the stock
So, what is the outlook for EVgo stock, and will there be an EVgo short squeeze?
Brett Castelli, an equity analyst at Morningstar, raised his fair value estimate for EVgo stock from $7 to $7.50 in the wake of its second-quarter results.
"The main drivers of our increase are higher revenue assumptions due to new service offerings and policy tailwinds, which should benefit EV adoption," he said.

Castelli expects EVgo to see tailwinds from the proposed Inflation Reduction Act of 2022, which extends the consumer tax credit for buying electric vehicles.
In addition, he advised investors to monitor the upcoming rollout of National Electric Vehicle Infrastructure (NEVI) funds, the largest subsidy program to date targeting EV fast-charging buildout.

"EVgo remains exposed to secular tailwinds in rising EV adoption, but a high reliance on subsidies and questions around long-term differentiation keep us from recommending shares at this time," he added.
What will happen to the EVgo price?
The stock is rated as a 'moderate buy', according to the views of nine analysts surveyed by MarketBeat. Six classified it as a 'buy', two a 'hold' and one a 'sell'.
Their consensus price target was $13.44, which would represent a potential upside of 63% over its $8.25 level at market close on 26 September 2022.
The highest predictions suggested it could rise 118% to $18. However, the more pessimistic warned the stock price could slump 33% to $5.50.
TipRanks has a 12-month price target of $9.25 on the stock, based on the views of three Wall Street analysts. The highest forecast came in at $13 and the lowest at $5.50.
An algorithm-based forecast from WalletInvestor wasn't quite so optimistic. The site had the stock falling 13% to $7.15 over the coming year.
FAQs
Is EVgo shorted?

EVgo stock has been shorted by some investors. Fuzzy Panda Research claimed the company was substantially overvalued.
Is EVgo stock a good buy?

This will depend on your opinion of the stock. Currently, the stock is rated as a 'moderate buy', based on the views of nine analysts compiled by MarketBeat.

Forecasts shouldn't be used as a substitute for your own research. Always conduct your own due diligence. Note that your decision to trade should depend on your risk tolerance, expertise in the market, portfolio size and goals. And never trade money that you cannot afford to lose.
Will EVgo stock go up?

It's impossible to know for sure. Many factors will influence a stock price over longer periods. The consensus view of nine analysts surveyed by MarketBeat is that EVgo stock could reach $13.44, while TipRanks has a 12-month price target of $9.25, based on the views of three analysts. However, there are no guarantees that this is correct.

Analysts can and do get their forecasts and predictions wrong. Always do your own research. And never invest money you cannot afford to lose.
Related reading