Evergrande Group stock forecast: will it manage to reverse default?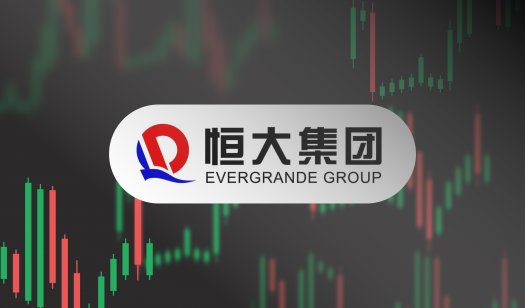 China Evergrande Group (3333) has been making international headlines in recent months on account of its massive debt.
With debt in excess of $300bn, the property developer that became a conglomerate has been a default risk. With such a massive debt load, and the group's sprawling interests beyond property, Evergrande poses systemic risk to China and, potentially, to the rest of the world.
In this article, we'll take a look at Evergrande's latest news, fundamentals and analysts' forecasts to assess whether the second largest developer in China will be able to shake off its troubles.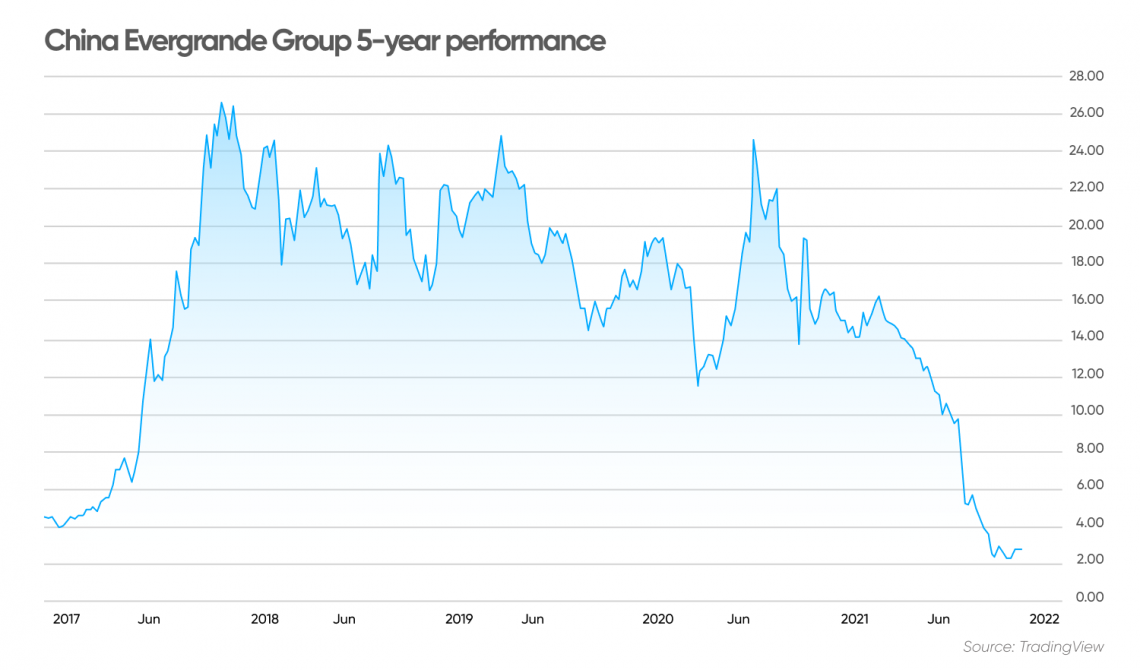 Evergrande (3333) stock analysis: From deadline to deadline
Earlier this month, Evergrande managed to stave off default by paying over $140m of bond coupon before the 30-day grace period passed. That marked the third time in the past month that it managed to avoid default at the 11th hour.
On 17 November, the company sold its remaining stake in streaming service platform HengTen Networks Group, the so-called 'Netflix of China', for HKD2.13bn ($273m), a discount of over 24%.
In that deal, Evergrande took on a loss of HKD8.5bn, illustrating the company's dire need for cash. At the start of the year, Evergrande was the biggest shareholder of HengTen, but has now fully exited the budding streaming sector amid its scramble to raise funds.
Evergrande news: Asset sale and property discount
In September, Evergrande sold close to 20% of its stake in Shengjing Bank to a state-owned asset management company for CNY9.99bn ($1.5bn) to settle its liabilities with the lender.
That same month, the group offered major discounts on its property units to boost sales, offering 30% discounts to meet its full-year target of CNY800bn. In the year to August, Evergrande booked sales of CNY450.6bn, 22% higher than a year earlier.
"If we can successfully achieve 200 billion yuan sales during the 'golden and silver months' of September and October… it'll give us a solid base for achieving the 800 billion yuan internal sales target," Evergrande said.
It also attempted to sell its property services unit, Evergrande Property Services, only to see the deal crumble in October. Back then, Evergrande had planned to sell a 50.1% stake in the property services arm for HKD20bn.
Evergrande technical analysis: Stock takes a beating
With all the troubles, it's no wonder that the company's stock took a beating. Since the start of 2021, the Hong Kong-listed Evergrande 3333 HK stock price has shed over 80% of its value.
The stock was trading at this year's high of more than HKD17 in January before falling to under HKD10 five months later. Since then, the shares have been in free fall, and currently trade at around HKD2.80 (as of 25 November).
On 23 November, the stock enjoyed a slight reprieve, climbing to HKD3.01, its highest in ten weeks, before ending the day 6.6% higher at HK$2.93. Its listed subsidiaries, China Evergrande New Energy Vehicle and Evergrande Property Services, jumped 15% and 8.4%, respectively.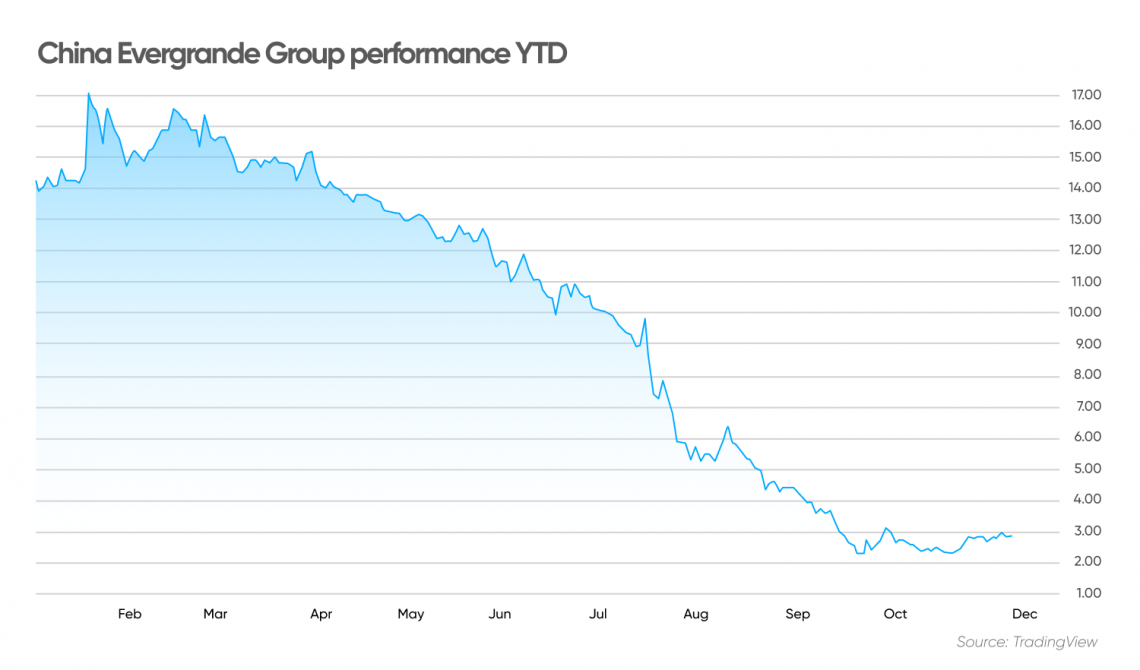 What's causing all these troubles?
So, what put Evergrande in such a predicament? Although the Covid-19 pandemic slowed sales, a more fundamental reason may have played a bigger role.
For decades, China has been riding a property boom, with the sector contributing nearly 29% of the country's gross domestic product. Behind the boom, though, was a story of massive leverage taken by property developers.
Starting this year, Beijing stepped in and tightened borrowing rules for developers to bring down their leverage levels, a move applauded by many countries but causing domestic realtors to bear the brunt.
Developer Fantasia Holdings last month failed to pay $206m bonds due, while Sinic Holdings defaulted on its $246m bonds, illustrating the sector-wide problems.
Evergrande share price prediction: China government to ease some property curbs
To avoid disastrous fallout in the property sector, and further weakening growth, Chinese authorities have been tweaking the country's strict rules, providing some support to developers.
However, the changes are minimal and no major shift in Beijing's policy is expected, as analysts at Nomura noted:
"As Beijing has been fine-tuning its curbs on the property sector since late September, including requesting banks to ease overly aggressive restrictions on development loans, urging banks to accelerate the approval of mortgage loan applications, and allowing developers to issue bonds in the onshore interbank bond markets, bank loans to the property sector appear to have stabilised."
Bank loans to the property industry have picked up recently, with lending to the sector growing 8.2% year-on-year at October-end, compared with the 7.6% increase a month prior.
The Chinese authorities will focus on protecting home-buyers' rights – the authorities will help deliver homes that have been sold but remain unfinished – and increase financial support for public housing for rentals, but it refuses to tap into the property sector to stimulate growth, Nomura viewed.
"In sum, we do not yet see a sharp shift in the ongoing property curbs, and our view of a Volcker moment in China remains intact, for now. We believe the worst for both the property market and the overall economy is yet to come, and only then (perhaps in spring 2022) will we see some real changes to the property curbs," said Nomura.
Beijing policy the spark, Evergrande's overleverage the dynamite
Daniel Fernández, professor of economics at the Francisco Marroquín University, wrote in the American Institute for Economic Research: "This decision (by China authorities) was the spark; the financial irresponsibility of Evergrande's directors was the dynamite.
"Evergrande's profits are below those recorded in 2010, when its turnover was one-tenth of what it is today. To make matters worse, construction of new housing is practically paralysed because of a lack of supplies, due in no small part to Evergrande's defaults on payments to suppliers.
"Evergrande's earnings are thus not what the company claims; it likely incurred losses in the second half of 2021," he said, adding: "Evergrande's margins have plummeted since 2018 and currently are not even enough to pay the interest on its debt."
China Evergrande Group stock forecast: Evergrande default still likely
"The chances of Evergrande's survival without public aid or without the massive injection of cash from some unsuspecting investor are therefore nil," Fernández concluded.
Last week, S&P Global Ratings said that despite Evergrande's managing to avoid formal default so far, it might eventually be unable to keep up with its massive debt load:
"We believe the government wants to unwind Evergrande in a controlled fashion, or let an orderly debt restructuring take place. Authorities want to maximise the number of pre-sold homes Evergrande completes to protect the interests of homebuyers, and for it to largely repay the contractors and other small businesses that support the firm. Evergrande also has substantial assets that it can sell, and can use the proceeds to settle bonds or other obligations as they come due.
"At some point, however, Evergrande's massive debt will catch up with it. The firm has lost the capacity to sell new homes, which means its main business model is effectively defunct. This makes full repayment of its debts unlikely.
"We still believe an Evergrande default is highly likely. While the issuer has managed to cover recent coupon payments, the bigger test will be in March and April 2022, when it will have to make a much larger ($3.5bn) repayment of principal for its public U.S.-dollar senior notes."
Evergrande share price forecast: price targets for 2021, 2022, 2025
What is the latest analyst sentiment for the China Evergrande Group? Is it a 'buy', 'sell' or 'hold'?
Four out of five analysts tracked by MarketWatch have a 'sell' rating on the stock and only one has a 'buy' recommendation. The over the counter (OTC) market for Evergrande (EGRNF) in the US is currently quoted at 32.7 US cents (as of 25 November).
The analysts tracked by MarketWatch have a median target price for EGRNF at $2.52.
In September, JPMorgan slashed its recommendation from overweight to underweight, while Goldman Sachs lowered its view from neutral to sell, according to MarketBeat.
GovCapital, a machine learning stock forecasting site, estimated EGRNF to climb to 66.1 US cents by the end of the year and reach nil in November 2022.
AI-based Wallet Investor's 3333 stock price forecast, meanwhile, predicted the Hong Kong-listed stock to climb to HKD2.41 by year-end before plunging to near zero in July 2022.
At the time of writing (25 November), data from Capital.com shows trader sentiment at 93% bullish and 7% bearish. The data is calculated automatically, based on open positions for Evergrande stock on the platform. It should not be considered as an incentive to trade the asset.
When looking for Evergrande stock predictions, it's important to bear in mind that analysts' forecasts can be wrong. Analysts' projections are based on making a fundamental and technical study of the stock's performance. Past performance is no guarantee of future results.
It is important to do your own research and always remember your decision to trade depends on your attitude to risk, your expertise in the market, the spread of your investment portfolio and how comfortable you feel about losing money. You should never invest money that you cannot afford to lose.
FAQ
Can Evergrande avoid default?

Evergrande has been selling assets to service its debt and offering discounts on its property to raise cash. But, with debt over $300bn, analysts are skeptical that Evergrande can avoid default.
Is now a good time to buy Evergrande stock?

The Hong Kong-listed stock has lost over 80% of its value since the start of the year. The majority of analysts' forecasts outlined above have 'sell' recommendations for the stock.

You should do your own research to determine whether the stock is a good fit for you and your risk tolerance. As with any investment, you should never invest more than you can afford to lose.
Will Evergrande stock reverse the current downtrend?

Machine learning stock forecasters tipped the stock to climb by year-end before losing steam next year.

To answer whether the stock is a buy or sell you need to conduct your own due diligence and decide whether it is a good fit for your investment portfolio. Analysts' views and price targets may differ, but you should note that all forecasts can be wrong because past performance is no indicator of future returns.
Read more: Real estate stocks to watch: Post-pandemic winners and losers