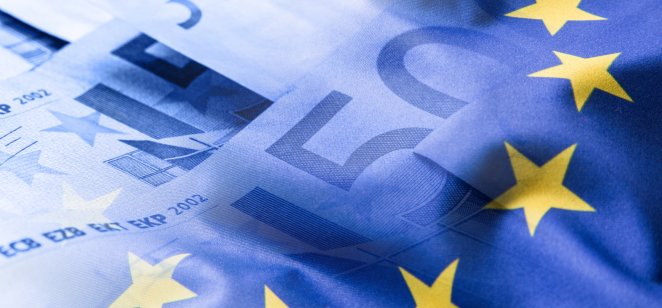 Content
Continued support for the euro may show bad economic news surrounding the currency is fully priced in by markets, analysts said Tuesday, despite previous calls on it reaching dollar parity.
The euro fell slightly against the dollar Tuesday morning (EUR/USD) as new data showed consumer confidence in Germany has fallen to a record low – but remained above the 1.05 level.
A cushion may have come from European Central Bank (ECB) president Christine Lagarde, who said Tuesday morning that she was not expecting a recession and that her team was ready to raise rates at a faster pace if inflation continued to rise.
Euro-US dollar (EUR/USD) exchange rate
Euro area annual inflation was 8.1 % in May, up from 7.4 % in April. At the start of the month, the ECB said it would raise rates by 25 percentage points in July, its first rate hike in eleven years.
Lagarde has previously said the bank was likely to be in a position to exit negative interest rates by the end of the third quarter, which have been in place since 2014.
"The hawkish remarks from Lagarde this morning provided some support for the EUR at a time when the market has been questioning whether it has over-priced the likely extent of Fed rate hikes," Jane Foley, head of FX Strategy at Rabobank London, told Capital.com.
Aggressive rate hike bets have sent the dollar on a bull run this year, taking the dollar index (DXY) to a near two-decade high of 105.79 in the middle of June.
It has since dropped below 105 on softening inflation expectations, though wider market volatility has prevented a steep decline as the greenback continues to provide a safe haven amid sell-offs.
What is your sentiment on DXY?
Vote to see Traders sentiment!
US dollar index (DXY) price chart
However, Foley added: "Given the risks to growth in the eurozone related to its energy security issues, we continue to see risk of a move back to the year's low around EUR/USD 1.035 on a three-month view."
In her comments Tuesday morning, Lagarde said that while the ECB had "markedly revised down our forecasts for growth in the next two years," it was still "expecting positive growth rates due to the domestic buffers against the loss of growth momentum."
However, concerns remain over fragmentation in the eurozone, high inflation and high levels of debt in some economies.
Meanwhile, the data from consultancy Growth for Knowledge (GfK) out today showed consumer sentiment in Germany was likely to fall 1.2 points in July this year, to the lowest level since the survey began in 1991.
"The ongoing war in Ukraine and disruptions in supply chains are causing energy and food prices in particular to skyrocket, resulting in a gloomier consumer climate than ever before", said Rolf Bürkl, GfK consumer expert.
"Above all, the increase in the cost of living, which is almost eight percent at present, is weighing heavily on consumer sentiment and sending it into a downward spiral."
German consumer sentiment is at a record low
Consumer sentiment in Germany, 1991-present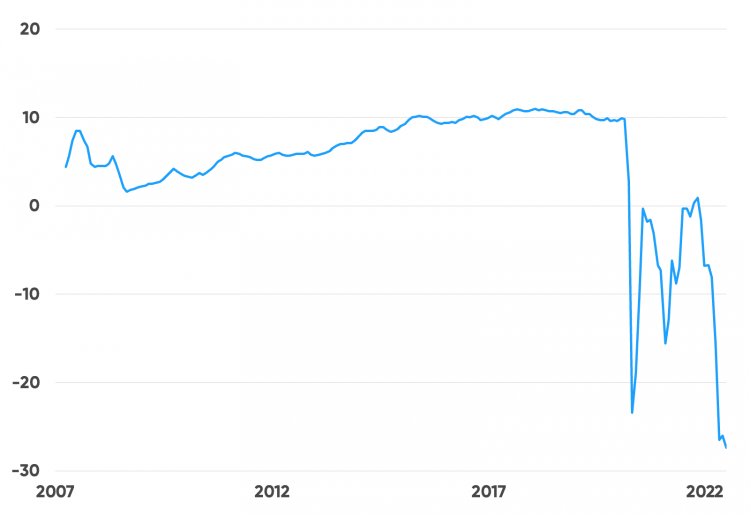 Source: GfK
Risk priced in?
Last week, a flash estimate for euro area consumer confidence in June showed a decline in 2.4 points, according to the European Commission's Directorate-General for Economic and Financial Affairs. This was below analyst estimates and near the all-time low of April 2020 at the start of the pandemic.
However, David Jones, chief market strategist at Capital.com, noted that the euro did not slide despite the data being worse than expected.
"If some bad news comes out and the market doesn't go down as expected then perhaps the market has reached a point where all of the bad news that is known is already factored into the price. The upshot of this would be that perhaps over the last six weeks we have seen at the very least a short term base for EUR/USD."
Recession play
Viraj Patel, global macro strategist at Vanda Research, described the current EUR/USD situation as a "first into a recession play".
"By this we mean that if Europe slides into a deeper recession before the US, then you want to remain short the pair – as these cyclical risks will weigh on euro sentiment," he told Capital.com.
"One of the reasons why we haven't got to parity – and we think the risks of this remains high in the second half of the year – is because US macro data has also been pretty woeful of late. So it's hard to know whether it's the US or European economy that is the 'least worst' right now.
"That being said, if you believe the cyclical outlook for Europe is likely to remain pretty bad – and all the high-frequency data suggests this in both the UK and continental Europe – then remaining underweight European currencies like EUR and GBP is the preferred FX playbook right now."
The US economy unexpectedly declined by 1.4% in the first quarter of 2022, while the euro area edged up by 0.3%.
"One of the reasons why we also think that EUR can still fall towards parity is because bearish speculative positioning is far from crowded," Patel continued.
"There's plenty of room for short EUR bets to increase if the economic outlook worsens – and the ECB has to pivot more dovishly in the second half of 2022."
Read more