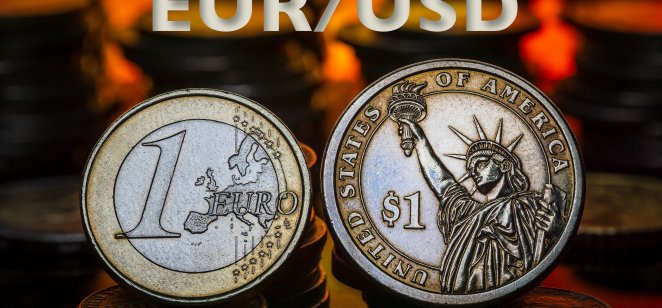 Content
In a historic move, the European Central Bank (ECB) raised its key interest rates by 75 basis points in September, at a time when the euro (EUR/USD) hovers at parity against the US dollar, writes Piero Cingari.
It's the biggest rate increase the ECB has ever made, and it shows a clear shift from the ultra-expansive monetary policies of the last decade with the goal of containing the Eurozone's galloping inflation. The ECB has signalled that further interest rate hikes will be required at the next meetings to avoid the risk of a de-anchoring in inflation expectations.
What is your sentiment on EUR/USD?
Vote to see Traders sentiment!
2 September, 2022
The August US labour market report testified that employment and wage growth continue to hold up very well despite the worsening global growth outlook and interest rate hikes recorded so far.
These numbers indicate that the Federal Reserve still has a long way to go on its path of raising interest rates, before producing a slowdown in aggregate demand that can positively affect the inflation trend, writes Piero Cingari.
1 September, 2022
In an exclusive interview with Capital.com, Nigel Farage, the former UKIP leader and Brexit campaigner says Italy will prove to be the straw that breaks the euro's back as the nation struggles to meet its debt obligations.
Read more here, and watch the video below:
31 August, 2022
The European Central Bank looks set to go big at its next monetary policy meeting. But is the ECB's tough line on inflation coming too late? Adrian Holliday reports.
25 August, 2022
German economic data has been showing weakness in recent weeks, with confidence among business leaders, economists and consumers slipping. If the eurozone's economic powerhouse fails to avoid recession, what chance the eurozone missing a major downturn? Adrian Holliday reports.
24 August, 2022
The pair's downtrend, which began in June 2020, has seen a further downward leg in recent months, owing to the widening of interest rate differentials and trade divergences between Canada and the eurozone. Piero Cingari reports.
22 August, 2022
The euro broke below the parity level (1.0000) against the US dollar again on August 22, 2022, following a fresh wave of selling pressure prompted by deteriorating risk sentiment in Europe, writes Piero Cingari.
The latest movement of the EUR/USD is not driven by the widening of interest rate differentials between the Federal Reserve and the European Central Bank this time, but rather by the broadening of the price differential between European and US natural gas.
8 August, 2022
The European Central Bank (ECB) is on another rescue mission, pouring billions of euros into weaker eurozone debt markets to protect them from quantitative easing unwinding pressure.
Déjà vu? Yes but the drama moves from Greece to Italy and the financially fragile includes Portugal, Spain and Greece – Club Med reloaded, writes Adrian Holliday.
But what could a new sovereign debt crisis in Europe spell for the shared currency?
13.00, 28 July
More Euroland distress arrived this morning: the EU's Economic Sentiment Indicator (ESI) for July collapsed 4.2 points to 97.6 for the EU and fell 4.5 points to 99 for the euro area. Meanwhile, German inflation rose by more than expected in June.
The euro mood had already hardened on Wednesday when researcher GfK said German economic sentiment hit a low not seen since the start of the COVID-19 pandemic.
In early afternoon trading the euro was sharply lower against the dollar (EUR/USD), down 0.8% at 1.0116. The single currency also traded lower versus the yen (EUR/JPY), down 1.5% at JPY137.16, and the pound (EUR/GBP), off 0.4% at £0.8357.
EUR/USD analysis: ECB announces a big hike and anti-spread tool, but parity still looms
15.00, 21 July
The European Central Bank raised interest rates by half a percentage point at its July 2022 meeting, the first hike in eleven years, terminating eight years of negative rates and speeding up efforts to return to the medium-term inflation objective of 2%.
The ECB also stated that it will keep raising interest rates at its next meetings, using a data-dependent approach based on how macroeconomic circumstances change.
Additionally, the European Central Bank (ECB) has introduced the so-called Transmission Protection Instrument (TPI), which serves as an emergency shield to prevent an unnecessary widening of bond spreads from jeopardising the transmission of monetary policy in the Euro Area.
| | |
| --- | --- |
| Long position overnight fee | -0.0036% |
| Short position overnight fee | 0.0000% |
| Overnight fee time | 21:00 (UTC) |
| Spread | 0.00013 |
| | |
| --- | --- |
| Long position overnight fee | -0.0085% |
| Short position overnight fee | 0.0024% |
| Overnight fee time | 21:00 (UTC) |
| Spread | 0.00006 |
| | |
| --- | --- |
| Long position overnight fee | 0.0037% |
| Short position overnight fee | -0.0108% |
| Overnight fee time | 21:00 (UTC) |
| Spread | 0.008 |
| | |
| --- | --- |
| Long position overnight fee | 0.0000% |
| Short position overnight fee | -0.0000% |
| Overnight fee time | 21:00 (UTC) |
| Spread | 0.034 |
EUR/USD jumped momentarily on the ECB's announcement of a 50-basis-point boost, but quickly retraced to its previous level as the ECB portrayed a weakening economic picture.

Read more
09:55, 20 July 2022
The US dollar shows no signs of recovery following a three-day losing streak, with EUR/USD breaking above the 1.02 barrier yesterday and surging to 1.024 as of this writing by Piero Cingari, boosted by rising speculation of a half-percentage point hike at tomorrow's ECB meeting.
Sources familiar with the matter told Reuters yesterday that the ECB is expected to raise borrowing costs in the Eurozone by 50 basis points, but will also unveil a tool to limit sovereign spreads in order to counter the effect of higher rates on heavily indebted countries.
The case for a hawkish half-point increase has gained traction, after the Eurozone's inflation rate reached an all-time high of 8.6 percent in June, and the EUR/USD hit parity last week.
12.23, 18 July 2022
Many moving parts govern the euro's devaluation and several big ones turn up in force this week just as the European Central Bank's governing council (ECB) meets – Thursday – to agree a rate leap, the first since 2011.
Will the Nordstrom pipeline come back on stream? How clearly can Christine Lagarde communicate her new Transmission Protection Mechanism (TPM) terms? Will the gap between German and Italian bond yields stretch further? Adrian Holliday reports.
11.45, 15 July 2022
The threat of a political crisis in Italy is likely to exert further downward pressure on the EUR/USD pair and weigh on the Italian FTSE MIB (IT40) stock market, due to the widening yield differentials between Italian and German government bonds yields, writes Piero Cingari.

Italian politics is in disarray after the resignation of former ECB Governor and current Prime Minister Mario Draghi on Thursday 14 July. Draghi's departure was subsequently rejected by President Sergio Mattarella, who urged the prime minister to return to Parliament on Wednesday to solve the impasse.
17.00, 14 July 2022
The euro-dollar exchange rate (EUR/USD) dropped below the parity threshold on Thursday, hitting an intraday low of 0.995, due to growing fears of a one-percentage-point rate hike by the Federal Reserve in July and following Mario Draghi's resignation as Italian prime minister
After Wednesday's shocking US inflation data, with the CPI index rising 9.1 percent year-over-year in June, market speculators have readjusted their Fed rate forecasts, with the CME FedWatch Tool now pricing in a 50% probability of a 100 basis point hike in July. The last time the Fed raised rates by 100 bps in a single meeting was in 1981, the last time US inflation topped 9%.
Meanwhile, the single currency continues to receive negative political headlines. Despite gaining a vote of confidence in the Senate, the boycott of the Five Star Movement saw Mario Draghi announce his resignation as Italian prime minister due to the coalition's narrow majority.
13:45, 13 July 2022
The euro (EUR/USD) briefly fell below the $1 level on Wedesnday after US headline consumer price inflation (CPI) surged to 9.1% in June, up from 8.6% in May and beating analyst forecasts of a rise to 8.8%. Soaring energy prices, particularly gasoline, were predominantly responsible for the higher-than-expected rise in the headline number.
Core inflation, which strips out, energy prices, dipped to 5.9% in June from 6% in May, but analysts had forecast a larger fall - to 5.7%.
Capital.com's Piero Cingari writes: The euro continues to hover near the dollar's parity region, in response to the release of US CPI data.
On the daily chart, the 14-day RSI continues to indicate oversold conditions. Despite the surprise of US inflation prompting the Fed to move even more aggressively, the pair has not broken decisively through the parity barrier, showing that bear strength is facing decent psychological support.
10.15, 12 July 2022
Capital.com's Piero Cingari writes: The euro-dollar pair (EUR/USD) has breached parity for the first time in almost two decades (November 2002), as a fresh escalation in Europe's energy crisis threatens the start of a recession while the Federal Reserve and European Central Bank maintain a different monetary stance.
It's been a tough year for the euro so far, losing roughly 11% of its value against the dollar since January and 15% over the past twelve months. Now that the parity threshold has been reached, can EUR/USD continue to fall or have we reached extreme levels that pave the way for a rebound?
11.22, 12 July 2022
Dire German economic growth expectation numbers saw the euro burned to $0.9999 against the dollar this morning, a massive gouging from $1.13 at the start of 2022, writes Adrian Holliday.
The euro and the dollar were less than a cent from parity overnight, the weakest level since October 2002.
German and Eurozone ZEW economic sentiment data helped kick the European currency to its 20-year nadir as fears over Russian gas supplies were further stoked.
"Expectations for energy-intensive and export-oriented sectors of the economy have fallen particularly sharply, and private consumption is also assessed as significantly weaker." ZEW President Professor Achim Wambach
09.30, 6 July 2022
David Belle argues that, even at parity there's little to suggest the euro doesn't have further to fall.
The euro is in crisis. You've heard that before, of course: for the last 20 years, we have heard a lot about how the euro is doomed, how it will never survive and how it is the dumbest invention ever. But is there now a real crisis facing the euro? Has anything really changed this time? And what?
"The signs are there of a euro crisis. Could we even see a breakup of the Eurozone? I think it's the most likely it has ever been," writes Belle
Further reading