Eni stock: Is it about to get a boost from Algeria natural gas investments?
Subscribe to Weekly Highlights
The major market events for the week ahead right in your inbox.
Subscribe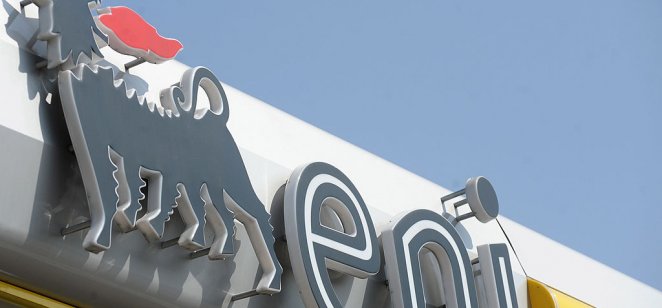 Content
Eni SPA (ENI) has been accelerating its energy investment opportunities in Algeria, which the group said has now become the top natural gas supplier for Italy, as European countries continue to move away from Russian commodities.
How will this impact Eni SPA stock? Read on to find out.
What is your sentiment on EUR/USD?
Vote to see Traders sentiment!
Eni SPA price chart
Eni invests in Algeria's natural gas
Firstly, among recent developments, the key European energy player acquired BP's (BP.) business in Algeria, operating two major gas fields "In Amenas" and "In Salah" – located in the Southern Sahara.
"In 2021 they produced approximately 11 billion m3 of gas, 12 million barrels of condensates and LPG.
"This acquisition has a great strategic value to further contribute to Europe's gas needs and further strengthens Eni's presence in Algeria, a major gas producer and a key country for Eni," a statement said.
BP price chart
Furthermore, Eni said it is considering other new projects in the country, including in renewables, hydrogen, capture, use, carbon dioxide storage and biorefining.
Meanwhile, closer to home, on the 22 September, the company announced that Plenitude, wholly owned by Eni, has entered a new partnership with Infrastrutture S.p.A. to develop solar and wind power projects in Italy and Spain by acquiring a 65% stake in Hergo Renewables S.P.A.
Eni postponed plans to IPO Plenitude in July due to market volatility but said it would continue to monitor the market to deliver on its strategy.
Moving business away from Russia
Italy sourced around 40% of its natural gas imports from Russia in 2021 but like many other European countries, it has been scrambling to diversify its energy supply mix as the Kremlin's conflict in Ukraine continues to escalate. As a result, Algeria has proven to be a reliable energy source for Italy.
Eni said it will fully replace Russian gas by 2025.
At the time of writing on Monday in early London trade, the stock price for Eni SPA was down 0.98% to €10.70.
| | |
| --- | --- |
| Long position overnight fee | -0.0059% |
| Short position overnight fee | 0.0021% |
| Overnight fee time | 22:00 (UTC) |
| Spread | 0.020 |
| | |
| --- | --- |
| Long position overnight fee | -0.0095% |
| Short position overnight fee | -0.0042% |
| Overnight fee time | 22:00 (UTC) |
| Spread | 0.03 |
| | |
| --- | --- |
| Long position overnight fee | -0.0060% |
| Short position overnight fee | 0.0024% |
| Overnight fee time | 22:00 (UTC) |
| Spread | 0.18 |
| | |
| --- | --- |
| Long position overnight fee | -0.0038% |
| Short position overnight fee | -0.0098% |
| Overnight fee time | 22:00 (UTC) |
| Spread | 0.04 |
"Eni's share price has seen a 7% decline year-to-date as of September 26, but it fell 15% from its peaks in August," Piero Cingari, chief market analyst at Capital.com, said.
"Eni's earnings are sensitive to oil and gas prices, which have been volatile recently. European Dutch TTF prices fell to €170/Mwh, the lowest since June. Then the price of Brent fell to $85 per barrel, the lowest since end-January.
Brent crude price chart
"Another headwind for Eni is that most of its costs are paid for in US dollars (USD), so also currency fluctuations affect its margins. On top of that, we have seen a worsening economic backdrop in Europe," Cingari added.
EUR/ USD price chart
Cingari also highlighted, when looking at the daily chart, the 50-day moving average has been significantly broken to the downside over the last week, with prices appearing to have formed a descending channel since late August.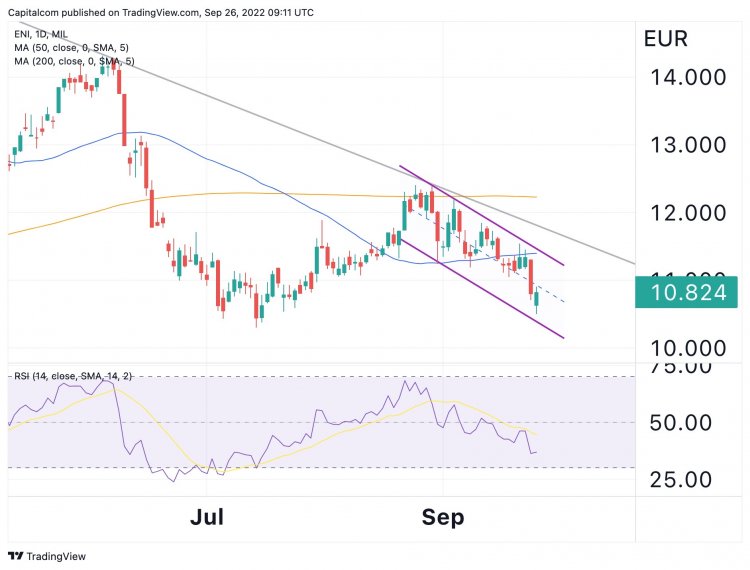 Capital.com / Trading View by Piero Cingari
"But while it's true that Eni's expected profit margins have narrowed a bit, it's also clear that the company is still making money in the current state of the world energy market. The company's dividend yield of 8.15 percent is also an incentive to attract investors looking to escape inflation.
"As such, if the recent declines in oil and gas prices and the euro stabilise, Eni may have reached its bottom at €10.5 per share and be poised to once again attract bullish interest," Cingari added.
US natural gas price chart
Eni's Q3 earnings will be released on Friday 28 October 2022.
How much can African nations help the EU with natural gas supplies?
Noah Brenner from Energy Intelligence recently explained to Capital.com how much African nations can help with Europe's energy crisis.
"The EU sees the potential for gas production in Africa to increase from 260 bcm to 470 bcm by the late 2030's. There are lots of risks to realising that potential and much of that gas is going to be needed by countries there as they develop.
"Energy Intelligence sees the potential for Algeria to supply another 2 billion cubic meters of gas into Europe this year. The pipelines to move it there are already in place. There also is the potential for significant volumes of LNG to come from projects in Nigeria, Angola, Mozambique, Congo-Brazzaville and Egypt but that gas will take more time to come online," Brenner said.
Related reading