Energy commodities remain stable after BoE surprise interest rate hike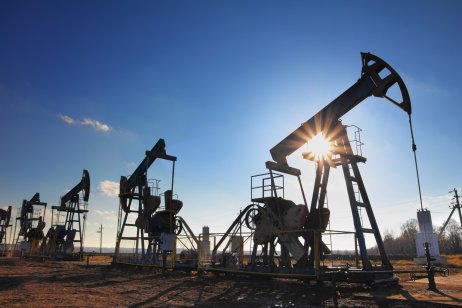 The energy commodities market has so far remained stable in response to the surprise Bank of England 0.15% interest rate increase.
The bank's decision on 16 December, made in a bid to combat the current inflation rate, came after the US Federal Reserve chair, Jerome Powell, said on 15 December that the United States would be raising its interest rate next year in three increments.
Earlier in the week, the US Energy Information Administration (EIA) released a report on jet fuel, a by-product of crude oil refining. It stated that jet fuel inventories had been at their lowest since 2014 on 26 November. This was due to refineries producing less jet fuel between August and October while demand rose to almost pre-pandemic levels.
Jet fuel consumption averages 20% less than 2019 levels, while the same period in 2020 saw 40% less consumption than 2019 levels. Despite this improvement, short-term fuel demand is now under question due to uncertainty over travel and the new Omicron variant of Covid-19.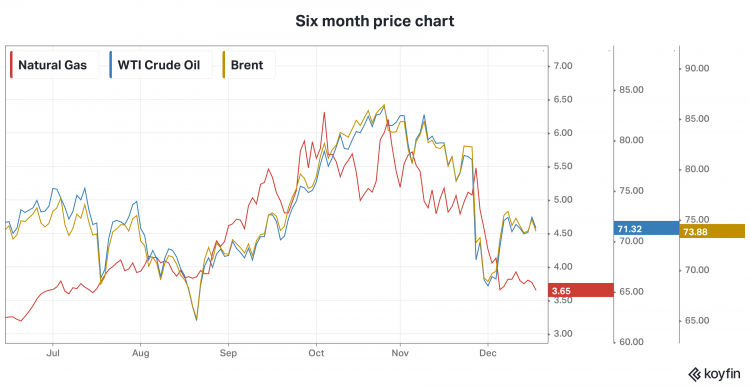 Six month energy commodity spot prices – Credit: Koyfin
Dr Maria Van Kerkhove, Covid 19 technical lead at the World Health Organisation, stated that Omicron cases are growing fast. Although initial studies have suggested that the symptoms are mild, she warns this does not mean omicron will remain "only mild".
Brent crude oil and US crude oil were trading at $73.88 and $71.32 per barrel respectively on 17 December.
In another report, the EIA forecasts natural gas production to rise by 2.5% by end of 2022, a record high. This comes after 2020 saw just 68 natural gas rigs in production in the United States, though the count was back up to 102 rigs in 2021. US Natural Gas traded at $3.65 per million British thermal units on 17 December.
Performance
Day range: $73.76 - $75.61

52 week range: $49.13 - $86.70

52 week price change: 44.74%

10-day Exponential Moving Average (EMA): $74.28
14-day Relative Strength Index (RSI): 43.44
Day range: $70.82 - $72.05

52 week range: $46.16 - £83.83

52 week price change: 49.67%

10-day Exponential Moving Average

(EMA): $71.74
14-day Relative Strength Index (RSI): 45.35
Day range: $3.66 - $3.79

52 week range: $2.26 - $6.47

52 week price change: 43.10%

10-day Exponential Moving Average (EMA): $3.87
14-day Relative Strength Index (RSI): 34.56
Read more: Omicron may slow jet fuel demand recovery until end of March