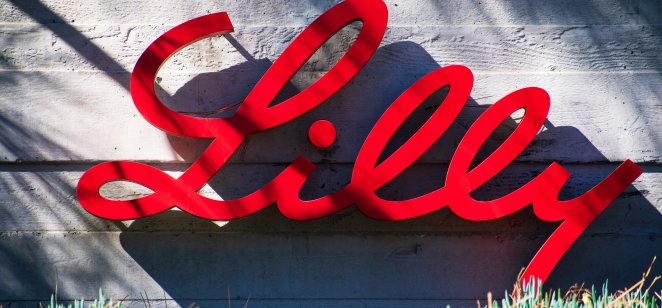 The stock price of pharmaceutical giant Eli Lilly (LLY) surged to an all-time high $324.08 in May 2022, following a stellar performance in 2021. Shares in the world's third largest drugmaker by market capitalisation have retreated since then to $297.34, as of 21 June's closing price.
Regulatory approval for the company's potential blockbuster drugs has kept the stock outperforming the S&P500 (US500) index this year.
Can the LLY stock price grow further? In this analysis, we look into recent news, the latest financial performance and analysts' Eli Lilly stock predictions.
LLY stock price performance: Technical view
The maker of drugs such as cancer treatment Verzenio, diabetes drug Trulicity and Covid-19 antibody Bamlanivimab enjoyed robust growth in 2021. The share price gained 63.6% – up on the company's 28.46% return in 2020.
The company's top-selling drugs, Trulicity and Covid-19 antibodies, continued to drive growth. Lilly is also expanding its prospective therapeutic pipeline through research and development, and acquisitions. This helps the company's pipeline be diverse enough to compensate for sales losses when some products lose patent exclusivity.
The LLY stock price has increased 9.42% from $271.73 at the beginning of this year to $297.34 at market close on 21 June 2022. The stock has given investors a 33.56% return in one year. In comparison, the S&P 500 is down 10.88% in the past year.
Over the past five years, the stock has grown by around 254%, from $83.89 in July 2017. There have been bumps in the road. For instance, the stock dropped in mid-February to $235 after the FDA limited use of LLY's Covid-19 antibodies bamlanivimab and etesevimab, as they were deemed ineffective against the Omicron variant.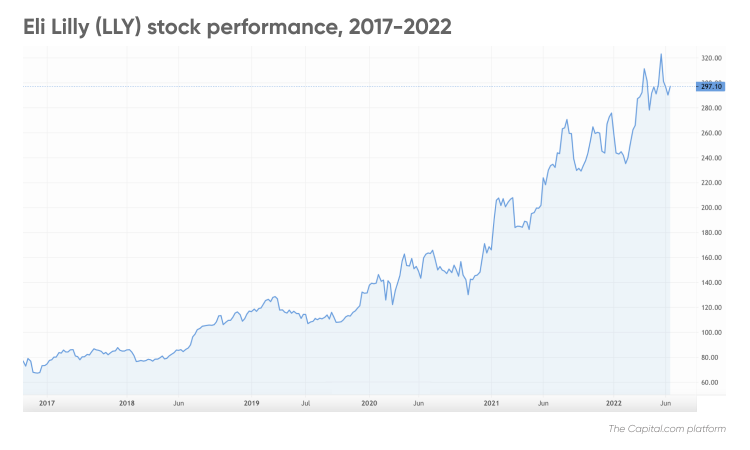 Technical analysis on the stock showed mixed sentiment, as of 22 June. Daily indicators kept 'neutral'. Weekly and monthly indicators suggested a 'buy' call, according to TradingView data.
The Relative Strength Index (RSI) has been at 49.22, indicating neutrality. LLY's last price of $297.34 on 21 June was just a few cents below its 50-day moving average of $297.65 (sell), but was strongly above its 200-day moving average at $265.16, which is typically a 'buy' signal.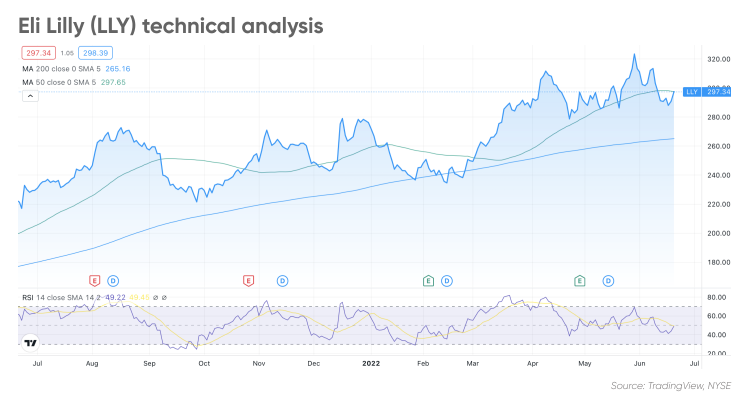 Eli Lilly stock news
Lilly, founded in 1876, has been able to maintain its robust growth thanks to a diverse pipeline of prospective blockbuster treatments that replace older drugs as their patent rights expire and sales fall.
Several of the pharmaceutical giant's potential medications received positive news in the first six months of 2022. Key milestones were the US Food and Drugs Administration's (FDA) approval for Mounjaro's (tirzepatide) injection in May, a treatment for adults with type 2 diabetes, and Olumiant (baricitinib), a treatment of certain hospitalised Covid-19 adult patients, such as those in need of supplemental oxygen and mechanical ventilation. Olumiant is developed by Lilly and Incyte (INCY).
On 13 June, FDA approved Lilly and Incyte's Olumiant, the once-daily pill for systemic treatment for adults with severe alopecia areata (AA) or scalp hair loss. The FDA's greenlight came after the company in January discontinued its Phase 3 development programme for Olumiant as a treatment for lupus over safety concerns.
Lilly's phase 3 Surmount-1 clinical trial for evaluating tirzepatide for the treatment of obesity also showed promising results.
Participants taking tirzepatide achieved average weight reductions of 16.0% and 22.5% compared to the placebo of 2.4%, the company said in a statement on 4 June. In addition, 89% and 96% of people taking tirzepatide achieved at least 5% body weight reductions compared to 28% of those taking the placebo.
"SURMOUNT-1 data is impressive (which we knew) in the impact on patient's weight loss (stat. sig. benefit across doses), but also improvements on all measured CV and metabolic risk factors," BMO Research wrote in a note on 6 June.
Solid 1Q earning results
In the first quarter of 2022, Eli Lilly posted earnings per share (EPS) of $2.62, a 63% increase from $1.61 in the same period in 2021, the company announced on 28 April. It also beat a consensus analyst's estimate of $2.32 for the first time, after missing analysts' estimates for four consecutive quarters, according to MarketBeat data.
The company recorded revenue of $7.81bn in the quarter ending 31 March – 15% up from $6.80bn for the same period in 2021. First quarter 2022 revenue also beat consensus estimates of $7.29bn, data from MarketBeat showed.
"We are focused on driving adoption of our newer medicines, preparing for key product launches, delivering several global submissions for potential new medicines, all the while advancing our pipeline to power the next wave of growth. We are pleased with the progress we saw in the first quarter," said Lilly's Chairman and CEO Dave Ricks in the company's first quarter earnings call.
On 2 May, the company announced a dividend for the second quarter of $0.98 a share, payable on 10 June. According to Market Beat, Eli Lilly has had a dividend increase for eight years with a current dividend yield of 1.32%.
2022 Financial Guidance
For this year, Lilly expected EPS to be in the range of $8.15 to $8.30 a share on a non-GAAP basis and in the range of $7.30 to $7.45 on a reported basis. Revenue for this year is expected in the range of $28.8bn and $29.3bn.
What is your sentiment on LLY?
Vote to see Traders sentiment!
The $1.0bn increase reflects additional Covid-19 antibodies revenue from the sale of 600,000 doses of bebtelovimab to the US government in Q1 2022, the company said.
The company increased research and development expenses by $100m, which are now expected to be between $7.1bn and $7.3bn, driven by investment in late-stage pipeline assets.
Eli Lilly stock forecast: Analysts' sentiments
Damien Connover, Morningstar's sector director, said in a note on 13 June that Eli Lilly's innovative culture and substantial financial commitment to producing the next generation of medications distinguishes the company and drives its long-term growth. The company's growth prospects are also improving due to the introduction of new pharmaceuticals after it suffered a series of patent losses.
In December 2013, Eli Lilly lost its US patent exclusivity on Cymbalta, used for treatment of major depressive disorder, generalised anxiety disorder and chronic musculoskeletal pain.
In March 2014, the company lost US patent exclusivity for Evista, a drug for the prevention and treatment of osteoporosis in postmenopausal women.
In 2015, Eli Lilly lost in a patent case in Germany to generic producer Actavis over its blockbuster lung cancer drug Actavis. In 2014, the company generated $2.79bn from the sales of Alimta, accounting for 14% of its total revenue.
"Lilly's internal patent is well positioned to mitigate patent losses in the next decade. The company tends to spend low mid-20% of its sales on financing the development efforts of new drugs, much higher than the high-teens industry average. The robust pipeline is a result of Lilly's strong commitment to research," said Connover.
He believed diabetes drugs Trulicity and Jardiance, immunology drug Taltz and cancer drug Verzenio have the highest sales potential for Lilly's currently launched drugs. Other drugs that hold major potential include lebrikizumab for the treatment of atopic dermatitis and donanemab, a treatment for Alzheimer's.
"Lilly's strong entrenchment in insulin production should also help the company deal with patent losses. Unlike traditional drugs, Lilly's insulin drugs are very hard to copy by generics and create barriers to entry for non insulin producers because of the large upfront investments needed to create scale efficiencies. Further, Lilly's longer-acting biosimilar insulin should help the company secure market share," he said.
"Through a combination of cost savings and expected top-line growth, Lilly aims to expand operating margins over the next several years, which we believe is achievable."
Eli Lilly share price forecast: Price targets for 2022-2025
In total, 15 out of 18 analysts polled by Market Beat, as of 22 June, had a 'buy' call for Eli Lilly stock and three recommended a 'hold'. The analysts set an average 12-month price target at $311, representing a 4.59% potential increase from the last price of $297.34 on 21 June. The highest LLY stock price target was $369 and the lowest $264.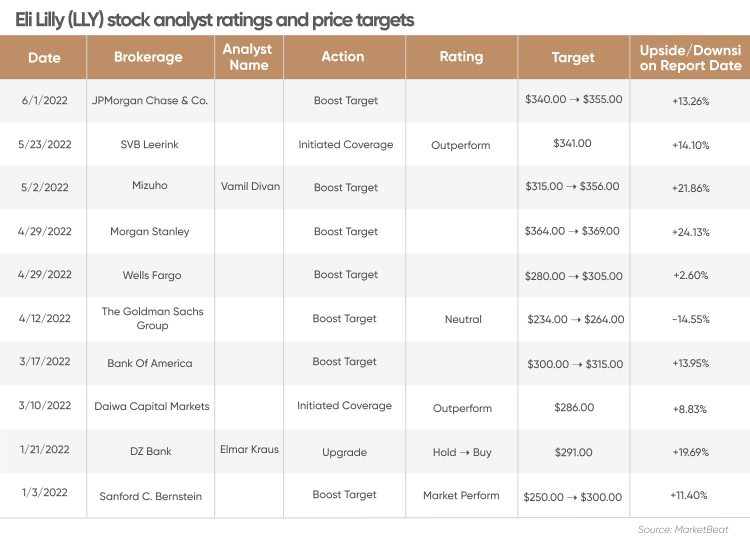 Of the 14 analysts covering Eli Lilly tracked by TipRanks, 10 recommended a 'buy' and 4 had a 'sell' call. The analysts offered an average 12-month price target for LLY's stock price of $325.58 a share, representing 9.42% change from the 21 June closing price of $297.34. The highest forecast stood at $369 and the lowest at $260.
In its Eli Lilly stock forecast, TradingEconomics expected the stock to trade at $283.16 by the end of this quarter. The economic data provider expected Eli Lilly to be priced at $261.16 in one year. Stock analysis firms do not typically provide long-term forecasts.
Meanwhile, Wallet Investor was bullish in its Eli Lilly's stock forecast for 2022. The algorithm-based price predictions service expected LLY's stock price to trade at $328.081 in December 2022.
In Eli Lilly's stock forecast for 2025, the service expected the stock to be priced at $512.646 a share.
GovCapital also expected Eli Lilly's stock price to continue its upward trajectory in the long-term. The machine-learning forecasting service expected LLY's stock to reach $338.906 on 31 December 2022, rising to $925.734 by end December 2025.
When looking for Eli Lilly stock predictions, keep in mind that analysts' and price prediction services' forecasts can be wrong. Projections are based on fundamental and technical research of the LLY stock price history. Past performance does not guarantee future results.
Conduct your own research, and keep in mind that your decision to trade should be based on your risk tolerance, market knowledge, and the spread of your investment portfolio. Never trade with money you cannot afford to lose.
FAQs
Is Eli Lilly a good stock to buy?

Analysts tracked by Market Beat and Tipranks, as of 22 June, had a 'buy' call for Eli Lilly's stock. However, whether the stock is a suitable asset to trade will depend on your investing goals and portfolio composition. You should do your research and remember that analysts' price projections can be wrong. Never trade with money you cannot afford to lose.
How high can Eli Lilly stock price go?

GovCapital predicted that LLY's stock price could reach as high as $925.734 by end December 2025.

Keep in mind that there are many factors that influence the rise and the fall of a company's stock price. They might be internal, such as the company product's success, and external, dependent on broader macroeconomic issues. Remember that markets are volatile. There are no guarantees.
Should I invest in Eli Lilly stock?

Whether you should invest or trade Eli Lilly depends on your risk tolerance, investing goals and portfolio composition. You should do your own research. And never trade more money than you can afford to lose.