Eli Lilly (LLY) stock shoots 8% higher on revised guidance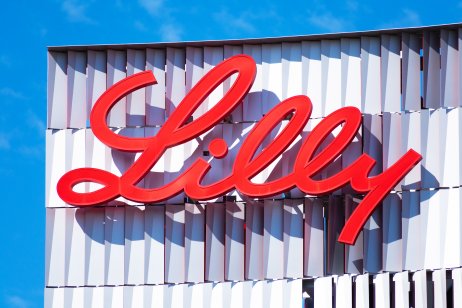 Eli Lilly's stock price is up by over 8% Wednesday morning after the pharmaceutical drug maker revised its guidance higher during its 2021 investment community meeting.
The maker of medications including diabetes drug Trulicity and cancer treatments Verzenio and Retevmo is projecting higher revenue than previously expected in full-year 2021 and issued guidance for 2022 on a demonstrated a plan for its upcoming drug releases.
"If we look at the substance of our pipeline, we feel we're in a stronger place than ever before with enormous opportunities ahead to arrest some of mankind's worst conditions," Eli Lilly CEO Dave Ricks said during an opening presentation to the day's events.
Financial guidance
Eli Lilly is guiding for full-year 2021 revenue of $28.0bn–$28.3bn up from earlier estimates of $27.2bn– $27.6bn. Likewise, projections for non-GAAP earnings per share rose to $8.15–$8.20 from earlier estimates of $7.95–$8.05.
Looking ahead to 2022, Eli Lilly is guiding for revenue of $27.8bn–$28.3bn and non-GAAP earnings per share of $8.50–$8.65.
The revenue guidance was largely in line with analyst predictions, which called for 2022 revenue $26.8bn–$29.2bn, according to Refinitiv data.
Operating margin in 2021 is guided down one percentage point from previous expectations to 23% but in 2022 the company expects that to rise to 30% for its highest profit margin in at least seven years, according to a company presentation.
What is your sentiment on LLY?
Vote to see Traders sentiment!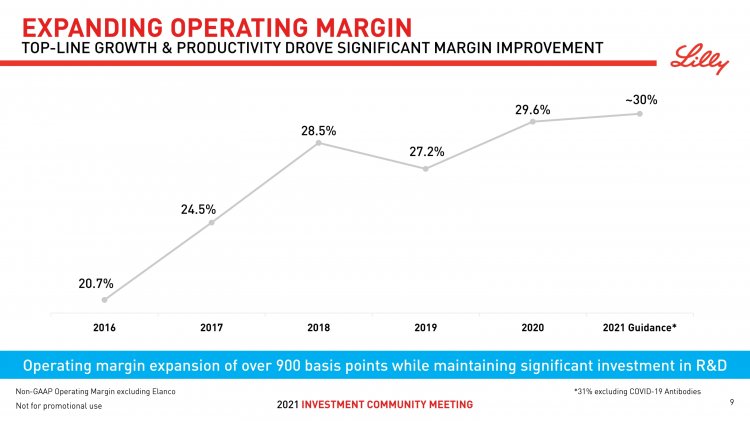 Eli Lilly investor presentation
Stock performance
Those guidance figures sent Eli Lilly's stock more than 8% higher to $270.34 per share. Year to date the stock is up more than 60% and is approaching its 52-week highs of $275.87 per share.
Analysts ahead of the meeting gave Eli Lilly a 12-month average price target of $275 per share with a range of $202–$315, according to Refinitiv data.
Of the 24 analysts covering the company six recommended a strong buy, 11 recommended buy and seven rated the company a hold or neutral outlook.
Drug pipeline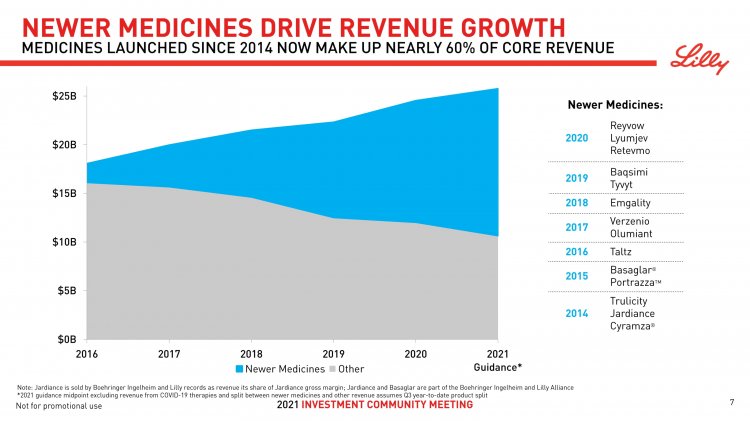 Eli Lilly investor presentation
Eli Lilly boasted about its ability to develop new drugs pointing out that medicines launched since 2014 now make up nearly 60% of its core revenue.
Looking ahead, the company said it has five new medicines with potential to launch in the next two years.
These include medicines that help treat type 2 diabetes, ulcerative colitis, early Alzheimer's disease, mantle cell lymphoma and eczema.
"In addition to our promising late-stage pipeline, our labs are making new discoveries to bring life-changing medicines to patients who need them," said Daniel Skovronsky, Eli Lilly's chief scientific and medical officer, and president of Lilly Research Laboratories. "Lilly has significantly improved our development speed and clinical success rates and will continue to apply this focus as we work to maximize the impact of our existing medicines and create new ones.
Read more: Eli Lilly jumps 8% on Alzheimer's breakthrough