Electric vehicle (EV) industry analysis: Trends and developments to know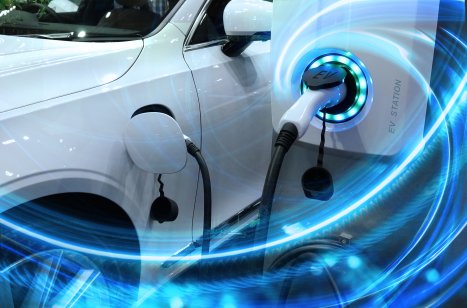 With the world racing to cut emissions and implementing decarbonisation, electric vehicles (EVs) are believed to be one of the answers in tackling global warming. The electrification of all transportations is the future; but the EV hype is facing roadblocks across the world.
This EV market analysis looks at the industry's latest trends, developments and challenges.
Will EV sales continue to grow in the next 10 years?
Back in July 2020, consultancy group Deloitte made some electric car predictions. The firm forecast total EV (including both battery electric vehicles and hybrid electric vehicles) sales to grow from 2.5 million in 2020 to 11.2 million in 2025, and reach 31.1 million by 2030. It also suggested EV sales would account for 32% of the total market share for new car sales by 2030.
Deloitte said China would continue to dominate the global electric vehicle market, with the country holding 49% of the total market share by 2030. In the meantime, Europe was estimated to account for 27%, while the US – for 14%.
Lack of charging infrastructure to hinder EV ownership
However, Deloitte recognised that there were major challenges in achieving the EV target as disparity in wealth will hinder development.
The consultancy firm said: "Some markets will be unable to support the transition to EVs in the same way that wealthier nations will over the next decade."
"Consider that, beyond 2030, one of the key factors in sustaining growth will be the implementation of suitable charging infrastructure. This requires multi-billion-dollar capital investments – achievable in some markets through a combination of public and private investment, but unlikely to be achieved uniformly around the world."
So, where is the fastest development in charging infrastructures and growth in EV ownership?
According to data released in early September by the European Automobile Manufacturers' Association (ACEA), "there is a serious lack of electric charging points along the road networks in most European Union (EU) members states".
Out of the 27 EU member states, 18 member states have under five charging points per 100 kilometres (km) of road, and ten countries do not even have a single charger for every 100km of key roads. Only four EU countries have more than 10 chargers for every 100km of streets.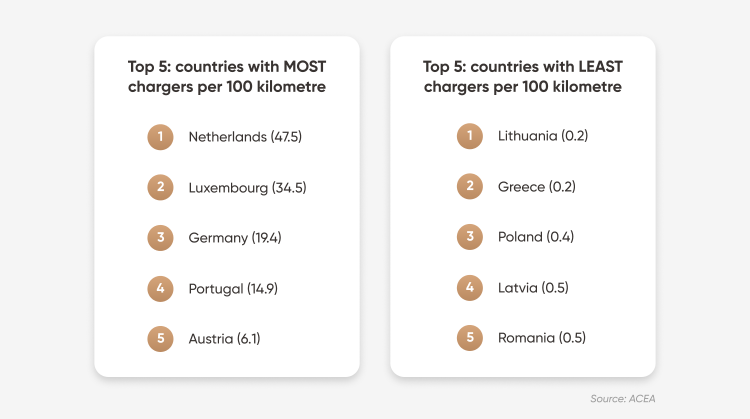 With the EU being the biggest EV market outside China, the lack of charging infrastructures is a major barrier to EV ownerships and development.
Eric-Mark Huitema, general director of the ACEA, cautioned: "Consumers will not be able to make the switch to zero-emission vehicles if there are not enough charging and refuelling stations along the roads where they drive."
According to Deloitte's 2021 Global Auto Consumer Study, the lack of EV charging infrastructure is one of the top concerns for car owners in Europe. The other two concerns are driving range and costs of EVs. The price of EVs is more expensive than internal combustion engine (ICE) vehicles, and this premium is putting many consumers off.
The ACEA's most recent research indicated that the market uptake of electrically-chargeable cars is directly correlated to a country's national income (gross domestic product (GDP) per capita).
In 2020, 73% of the total 1.046 million units of EV sales was concentrated in four western European countries with some of the highest GDPs. The top five EU countries with the highest EV market-share and GDP were Sweden, the Netherlands, Finland, Denmark and Germany.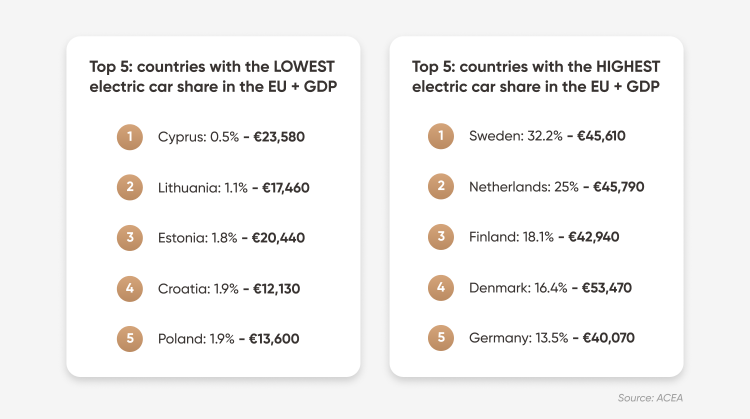 Although EV sales in the EU more than quadrupled in 2020 from the previous year, it still accounted for only 10.5% of all new cars registered in the trading bloc.
The jump in demand was "largely driven by government stimuli for low and zero-emission vehicles," said ACEA.
"Indeed, some of the biggest gains were seen in countries with the most generous incentives. In Germany, for example, BEV [battery electric vehicle] registrations increased by over 500% in the last quarter of 2020."
In 2021, registrations of electrically-chargeable cars in the EU continued to expand.
Electric vehicle companies that sold the highest number of cars in Europe in 2020
French automobile manufacturer Renault Group (RNO) topped the list, selling just under 100,000 units of its Renault Zoe in 2020, followed by Tesla (TSLA) and Volkswagen (VOW3).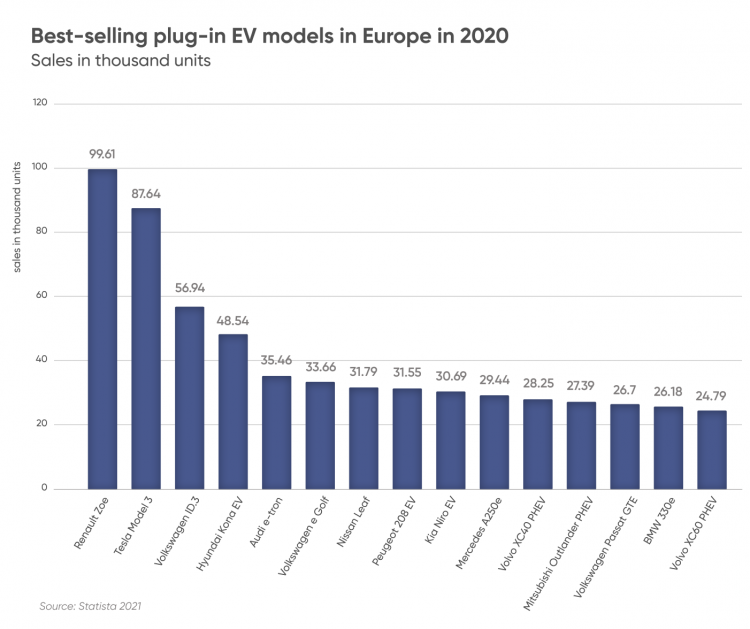 Volkswagen announces EV to become its core business
With the EV growth set to continue world-wide, even internal combustion engine vehicle makers are seeking to become electric car manufacturers. The largest car manufacturer in the world, the Volkswagen Group, which owns Audi, Skoda, SEAT, Bentley, Bugatti, Lamborghini, Porsche, Ducati, Volkswagen Commercial Vehicles, Scania and MAN, has aimed to sell up to three million all-electric cars each year by 2025. By 2030, Volkswagen is planning to boost its EV sales to account for 60% of the new car fleet in Europe and 40% in China.
Herbert Diess, chairman of Volkswagen AG, said: "Electric mobility has become our core business. Now we are systematically integrating additional levels into the value chain."
"In the long-term, we are securing pole position in the race for the best battery and the best customer experience in the age of zero-emission mobility."
EV sales continue to grow in China
EV sales continued to grow in China in the first seven months of this year. According to data from the China Association of Automobile Manufacturers (CAAM), EV sales surged to 1.149 million units in January to July, up 179% from the same period in 2020. In the meantime, plug-in hybrid electric vehicle (PHEV) sales jumped by 159.7% year-on-year to 249,000 units.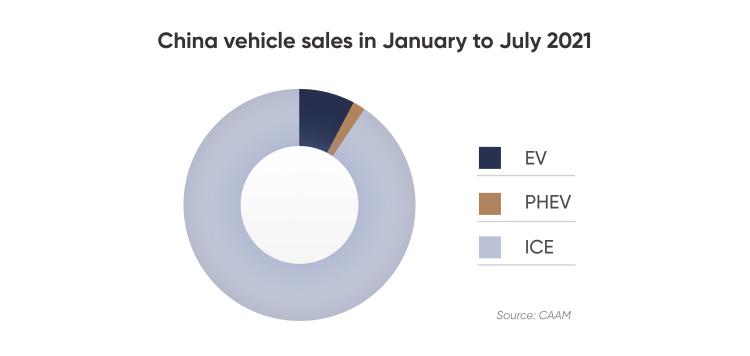 Both EV and PHEV are classed as new energy vehicles (NEVs) by the CAAM, and the sale of this category accounted for 10% of the total 1.478 million vehicle sales in China in January to July.
According to the CAAM, sales of Chinese-brand cars in China are also growing and take up a bigger market share in the country. Chinese-brand cars sales rose by 42.8% year-over-year to 4.92 million units, accounting for 42.6% of the total market share.
With the continuous state subsidy to incentivise NEV purchases, CAAM forecasts that NEV sales will reach 1.8 million units in 2021. By 2025, NEV sales are expected to account for 20% of overall vehicle sales.
So, which Chinese electric car companies are growing in popularity in the country?
Research consultancy group KPMG published the list of the top ten EV brands that held the biggest market share in China by the end of 2020: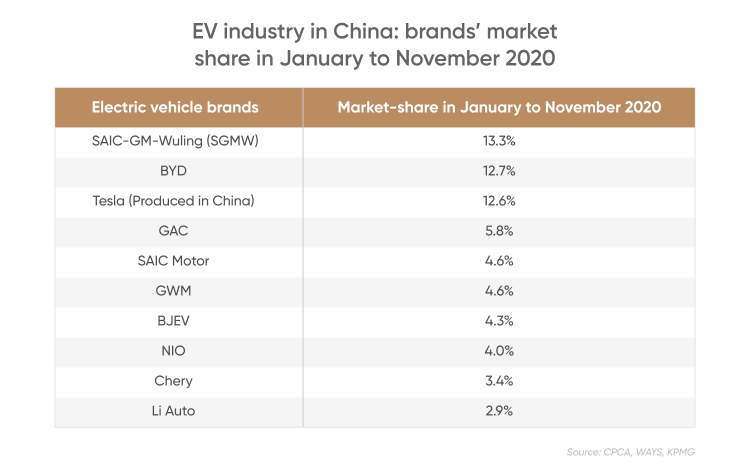 With the intense competition in the EV sphere, the ranking is very likely to change as each EV manufacturer vies for market-share.
Xu Jia, KPMG China Financial Advisory Partner, said: "The market leaders in electric vehicles will continue to change, as traditional OEMs [original equipment manufacturers] are now more focused on electrification, domestic and international competition will intensify. The financially weaker non-listed OEM start-ups will face more challenges."
Note that this article does not constitute financial or investment advice. Before investing in any EV company, always do your own research and remember that your decision should be based on your attitude to risk, your expertise in this market, the spread of your portfolio and how comfortable you feel about losing money. Never invest more than you can afford to lose and keep in mind that past performance is no guarantee of future returns.
Read more: Silver price forecast: is there upside for the precious metal?