DWAC DPO: Will the SPAC price scale new highs?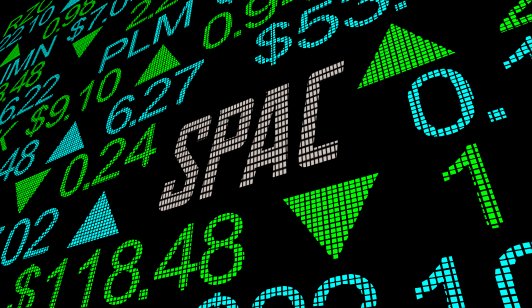 An announcement from Digital World Acquisition Corp. (NASDAQ: DWAC) that it would merge with Trump Media & Technology (TMTG), the new media company launched by former US President Donald Trump, sent the company's share price soaring by more than 1,000%.
The stock price pulled back slightly on Monday but remained up by more than 700% since the agreement was announced.
What is DWAC and what does the deal mean for the stock? In this DWAC overview, we look at details of the merger.
DWAC to take Trump media company public
Digital World Acquisition is the latest special purpose acquisition company (SPAC) to agree to take a company public via a direct public offering (DPO), rather than a traditional initial public offering (IPO). SPACs are also known as blank-cheque companies, as they list on the stock market to raise capital for the purpose of acquiring or merging with private companies.
DWAC was founded by chairman and CEO Patrick Orlando, an executive, sponsor and director in several SPACs. Orlando is also the CEO of Benessere Capital, a consulting and investment banking company he founded in October 2012. Orlando has been CEO of Yunhong International since January 2020, CEO of Benessere Capital Acquisition since September 2020, and a director at Maquia Capital Acquisition since February 2021.
DWAC's chief financial officer (CFO) is Luis Orleans-Braganza, a businessman and member of Brazil's National Congress, representing the state of São Paulo since 2018. Orleans-Braganza founded mobile payment platform Zap Tech in February 2012 and left the company in 2015.
DWAC went public on the Nasdaq in September, with the company's units listed under the DWACU ticker – Class A common stock (DWAC) and warrants (DWACW). In its prospectus filed with the US Securities and Exchange Commission (SEC), the company said that on 2 September it decided to reduce the size of its offering from 30 million shares to 25 million shares. With shares priced at $10 each, the move raised $259m, with proceeds before expenses of $238m, according to the filing.
DWAC also sold one million shares to its sponsor, ARC Global Investments, in a private placement at the $10 listing price.
DWAC stated in the prospectus that it intends to focus its search for an acquisition target on "middle-market emerging growth technology-focused companies in the Americas, in the SaaS and Technology or Fintech and Financial Services sector", and companies in the US healthcare industry.
On 20 October, after the market closed, Trump Media & Technology Group announced it had agreed a merger with DWAC to go public via DPO.
The DWAC DPO deal gives TMTG an initial enterprise value of $875m, with the potential for an additional $825m in shares for a total valuation of $1.7bn, "depending on the performance of the stock price post-business combination".
TMTG plans to launch a new social media network, named TRUTH Social, to compete with platforms like Twitter (TWTR) and Facebook (FB).
????President Donald J. Trump Announces Trump Media & Technology Group????

"I created TRUTH Social and TMTG to stand up to the tyranny of Big Tech...

I am excited to send out my first TRUTH on TRUTH Social very soon..." pic.twitter.com/TCZVYq1VJQ

— Liz Harrington (@realLizUSA) October 21, 2021
Former President Trump was banned from several social media platforms, including Twitter, Facebook and YouTube following riots in the US Capitol on 6 January. TRUTH Social is available for pre-order on the Apple App store and plans to open a beta launch for invited users in November. It intends to roll out to the public in the first quarter of 2022. As the company's business model develops, it aims to launch a subscription-based video-on-demand service (TMTG+), offering entertainment, news and podcasts.
TMTG's growth plans initially will be funded by DWAC's cash in trust of $293m, assuming there are no redemptions, the statement said.
DWAC price soars on merger news
The DWAC share price soared in response to the Trump Social media SPAC announcement, as retail investors piled into the stock, including traders on social media platforms like Reddit's WallStreetBets. DWAC stock opened on 21 October at $12.73 and had climbed to $45.50 a share by the close. The price then rocketed to an intraday high of $175 a share on 22 October, a gain of 1,270% in two days, before closing at $94.20, a two-day gain of 640%.
The stock traded up to $121.80 a share on 25 October, then slipped to an intraday low of $82.45, before closing the session at $83.86.
As always, keep in mind that past performance is no indicator of future returns.
But while the TRUTH Social platform is expected to attract Trump supporters, some investors have raised concerns about the future of the SPAC's share price.
Investment firms warn of SPAC risk
Louis Navellier, founder of US investment company Navellier & Associates, noted in an analysis that the transaction has not yet been completed, the company is not producing revenue on which to base a valuation, and DWAC could be stalled if Trump runs for the US Presidency in 2024. Navellier also pointed out that hedge funds are likely to sell their shares in the SPAC to take profits after the sharp run up in the share price.
Iceberg Research tweeted on 25 October that it has taken a short position on DWAC. "Now that initial excitement has passed, we see only risks for investors in the near future. Based on Trump's track record, at current price, renegotiation is likely to keep more of the merged company for him," the firm wrote, adding that it had "no opinion on the probability of success of TMTG. But SPAC holders don't own a piece of this project yet. Trump has leverage, not them."
No opinion on the probability of success of TMTG. But SPAC holders don't own a piece of this project yet. Trump has leverage, not them.

— Iceberg Research (@IcebergResear) October 25, 2021
The company noted that based on the agreement's announced terms, the valuation will depend on the stock's performance, and that the share price values the company well above the $875m enterprise value cited in the deal, noting: "Trump will renegotiate, at the expense of $DWAC retail holders."
Note that this article does not constitute financial or investment advice. Before investing in any financial asset, always do your own research and remember that your decision should be based on your attitude to risk, your expertise in this market, the spread of your portfolio and how comfortable you feel about losing money. Never invest more than you can afford to lose.
Read more: Donald Trump to launch media venture via Nasdaq SPAC merger