DraftKings, Entain extend 'put up or shutup' merger deadline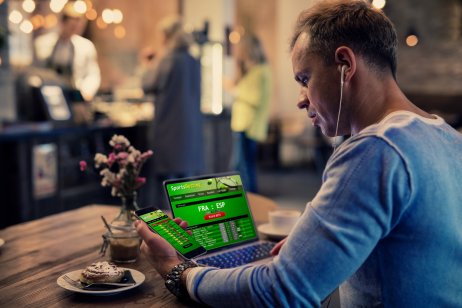 When faced with a Tuesday deadline to "put up or shut up," online betting companies DraftKings and Entain chose a third option – delay.
The companies are in the thick of negotiating a tie-up of the two businesses that will now extend to 16 November from the original deadline of 19 October, according to a press release.
The UK-based sports betting company Entain said the US-based competitor Draft Kings has nearly a month to make an offer for the London-listed gambling company or walk away from negotiations.
Deal terms
On 21 September, Entain said DraftKings made it an offer to buy the UK sports betting giant for $22.5bn (£16.40bn) at a price of 2,500 pence per share, which Entain rejected.
That price is more than the $21.51bn Americans legally bet on sports with regulated operators in all of 2020, according to a survey of the commercial casino industry.
DraftKings then upped its offer to 2,800p per Entain share consisting of 630p in cash, with the balance payable in new DraftKings Class A common shares, an offer representing a premium of 46.2% on Entain's closing share price on 20 September.
The two companies are still discussing those terms but are seeking more time to work out issues regarding the governance and management composition of the new combined entity, the ability of the company to navigate potential anti-trust and regulatory clearances and, notably, how the M&A deal will handle MGM Resorts' significant investment in Entain.
MGM Resorts
Outside the US Entain operates online brands including Bwin, Party Poker and PartyCasino while operating in the US through BetMGM, which is a 50/50 joint venture formed by MGM Resorts and Entain (formerly GVC Holdings) in July 2018.
MGM Resorts made a $11bn offer to buy Entain back in January that was rejected despite their joint venture partnership.
The MGM partnership states, "any transaction whereby Entain or its affiliates would own a competing business in the US would require MGM's consent," Bank of America gaming analyst Shaun Kelley noted in a report reviewed by Capital.com.
MGM's involvement could mean this would turn into a three-way deal in which MGM would buy out the remaining 50% of the BetMGM joint venture to allow Draft Kings to buy the European assets and grow internationally, Kelley said.
MGM Resorts just completed a $1.625bn acquisition of Las Vegas casino and hotel The Cosmopolitan, which leaves it with more than $9bn of cash on hand to make a bid for BetMGM, according to Bank of America.
Read more: UK's Entain ups revenue amid US takeover offer