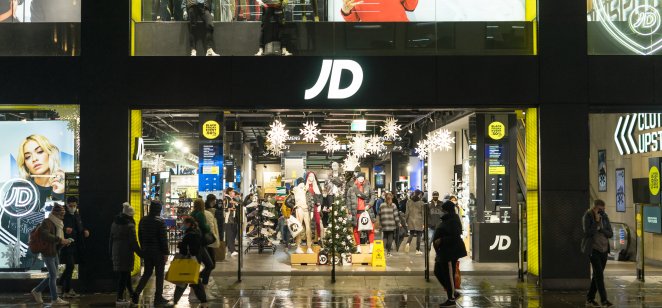 J D Sports (JD.) is rarely out of the business news headlines these days. Back in August, the Competition & Markets Authority fined JD for breaching obligations relating to an investigation into the takeover of smaller rival Footasylum.
And earlier this month JD Sports was accused of price fixing in relation to replica football shirts of Rangers FC.
But yesterday, the company was enjoying positive news headlines for once. Despite the bad press and the retail sector in general being under pressure, the company produced some pretty decent numbers, prompting the JD Sports share price to climb 6.6% on Wednesday, and a further 1.4% on Thursday to 115.4p.
In its delayed full-year results to end of January 2022, the company revealed that pre-tax profits increased by 102% from £324m to £654.7m.
Peel Hunt put out a broker's note referring to the stock's valuation as 'cheap'.
Analyst Jonathan Pritchard at Peel Hunt reiterated his 'buy' recommendation with a target price of 250p on the sportswear retailer.
Consumer resilience
Pritchard said current trading conditions make full-year 2023 hard to forecast but JD is not presently seeing the consumer downturn that others are in any part of its business. "We have always believed that JD's customers are resilient. Board issues may continue to be a burden to the shares but they look so cheap".
The JD Sports share price rose over 6% yesterday. Is there potential for much more upside? According to Peel Hunt's 250p target price there would seem to be – for investors it may even be a case of being able to double your money.
At the tail end of November 2021, the stock was trading at around 234p – so the 113p level is some way off this.
In its note Peel Hunt said: "The shares are on a single digit PE, which for such a good business, is a gift, especially as our forecasts could be conservative. We assume that buyer inertia comes from the uncertainties surrounding the new board structure, and that is fair enough, but for us it would be a case of shutting your eyes and buying it, so cheap have the shares become."
Hybrid working world
Danni Hewson, financial analyst at AJ Bell sees good reason to be positive on the company too.
What is your sentiment on JD.?
Vote to see Traders sentiment!
"No one thinks JD Sports is going to be able to outrun the problems stalking retail, but its offer is bang on the money for today's health conscious, hybrid-working world.
She added "It's got big internal hurdles to clamber over as it finds a new boss and learns lessons from the past but it's not exactly standing on ceremony whilst it does that. In fact, it's pushed ahead with the acquisition of The Swimming Group, moving it further into the leisure sector that tends to buy its retail offer."
Jason Hollands, managing director at BestInvest also likes JD Sports.
"JD Sports is a great business with exclusivity deals on a number of products with both Adidas and Nike but it has been caught in the crossfire of negative sentiment towards retailers of consumer discretionary items this year in the face of surging inflation, as well as a Competition & Markets Authority probe and the departure of long-standing chairman Peter Cowgill".

He adds: "Like most retailers it faces some headwinds but the shares are down 46% since the start of the year which looks unwarranted given its continued strong performance with revenues and profits up sharply and little sign of supply chains disruptions.
"A tougher economic environment can be an opportunity for great businesses and at these levels the shares look attractively valued".
Read more