Dollar (DXY) outperforms, euro (EUR) weaker on lockdown fears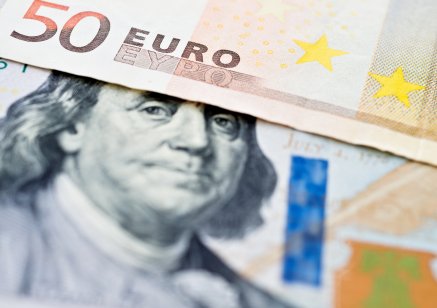 The US dollar (DXY) edged up on Monday, hovering around its year-to-date highs as more Fed members signalled hawkish tones and greater openness to a tightening of monetary conditions next year.
The euro (EUR) continues to remain under pressure amid European Central Bank's president Christine Lagarde's dovish comments and fears of further restrictions to curb Covid outbreaks in Europe, with Austria imposing a full lockdown starting today.
The British pound is broadly unchanged against major peers, while it retraced against risk-sensitive currencies such as the NZD and the AUD. The cable (GBP/USD) traded at 1.3433 (-0.1%).
The Japanese yen (JPY) is lower in the European morning, after strongly rebounding on Friday due to a risk-averse mood in the market.
The Australian dollar (AUD) is outperforming all other major currencies, gaining 0.3% against the US dollar (USD) and 0.5% against the Japanese yen.
The Russian ruble (RUB) is among the worst performers of the day, sliding 1% against the greenback, after US intelligence reported a build-up of Russian troops on the Ukrainian border and despite Moscow denying any intentions to invade.
What is your sentiment on GBP/NZD?
Vote to see Traders sentiment!
Forex Daily Matrix – 22 November 2021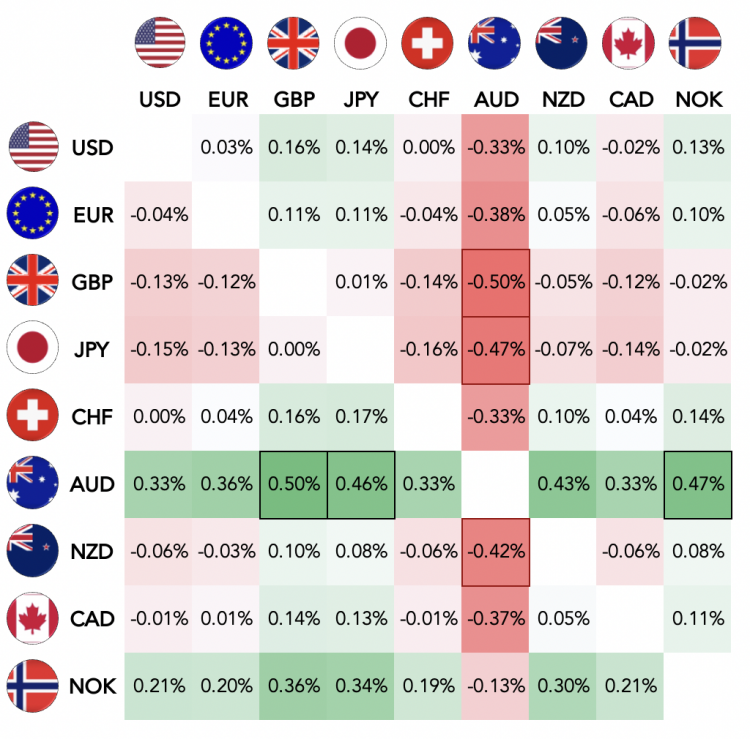 Forex daily matrix as of 22 November 2021, 10:00 GMT – Credit: Capital.com
US dollar
The US Dollar Index was last at 96.06, hovering around its year-to-date highs and up 0.1% from previous close.
Rising expectations of monetary tightening after October's US inflation data, as well as worsening risk sentiment due to the Covid-19 resurgence in Europe, have been the main factors behind the recent strengthening of the US dollar.
Recently, more Fed members have hinted at a hawkish turn. Last Friday, the Fed's Christopher Waller said that he is now "favouring a faster pace of tapering and a more rapid removal of accommodation in 2022", while vice chair Richard Clarida opened the door for a policy discussion on a faster pace of tapering.
The market will be looking for Biden's nomination for Federal Reserve chair this week, which is due around Thanksgiving.
The odds of Jerome Powell being re-elected rose to 70% last week, while those of Lael Brainard fell to 30%, according to online prediction markets.
On the data front, tomorrow the Markit Purchasing Managers' Index (PMI) flash for November will be released. In addition, Wednesday will be a day full of macroeconomic events, with the release of durable goods orders, jobless claims, preliminary GDP data for the third quarter, October's PCE and the publication of the FOMC (Federal Open Market Committee) minutes of its November meeting.
US dollar technical levels:
52-week high: 96.18
52-week low: 89.212
50-day moving average: 95.80
200-day moving average: 95.20
14-day Relative Strength Index (RSI): 53.48
Euro
The euro traded at 1.1287 against the US dollar, unchanged from its previous close.
On Friday, the single currency depreciated 0.8% amid the accommodative tones expressed by Christine Lagarde and fears of new government restrictions to curb the wave of Covid-19 in Europe.
Austria has announced a full national lockdown of 20 days from today, while the German Health Minister hasn't excluded this option and some länders (states) cancelled the popular Christmas markets as cases are rising worryingly.
Several anti-lockdown protests occurred in the Netherlands, Austria and Belgium over the weekend, with clashes between demonstrators and the police.
EUR/USD technical levels:
52-week high: 1.2349
52-week low: 1.1248
50-day moving average: 1.1595
200-day moving average: 1.1858
14-day Relative Strength Index (RSI): 28.70
Chart of the day: Europe is in the midst of a fourth Covid-19 wave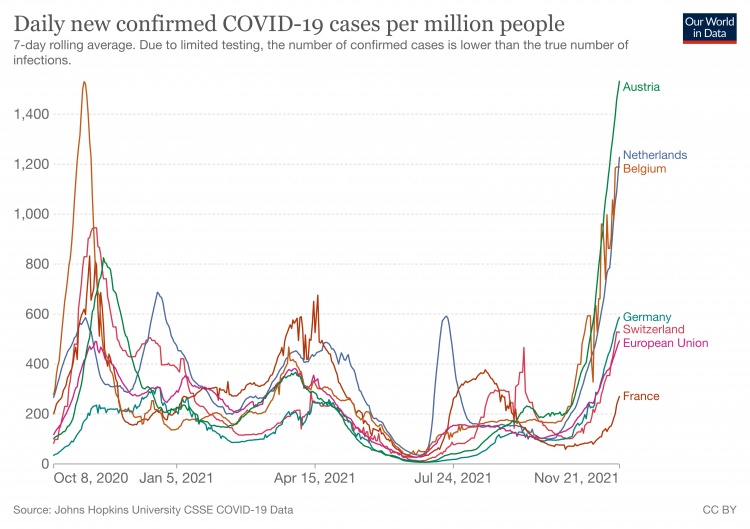 7-day rolling average of daily new confirmed Covid-19 cases (per 1m) – Credit: Ourworldindata.org
British pound
The cable (GBP/USD) was last at 1.3426 at 10:00 GMT, down 0.1% from previous close.
GBP recovered last week on stronger than expected UK retail sales in October and consumer confidence in November, which reignited market expectations for a Bank of England rate hike in December.
On the data front, November's PMI flashes will be published tomorrow. The concensus expects the Services PMI to decline from 59.1 to 58.5.
GBP/USD technical levels:
52-week high: 1.4248
52-week low: 1.3133
50-day moving average: 1.3630
200-day moving average: 1.3833
14-day Relative Strength Index (RSI): 39.93
Forex Performance Heatmap – 22 November 2021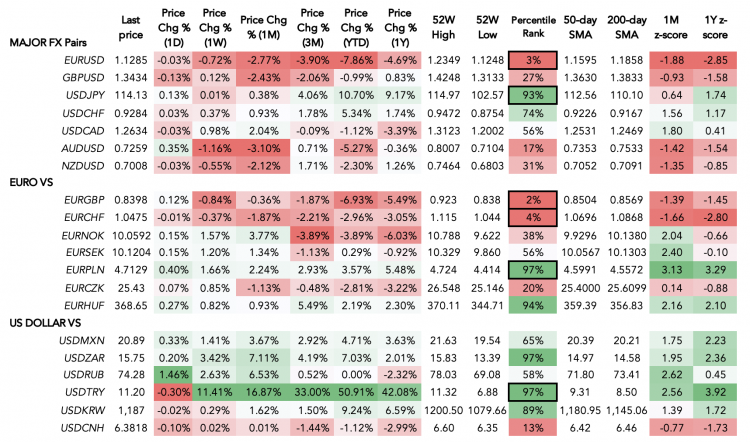 Forex performance heatmap as of 22 November 2021, 10:30 GMT – Credit: Capital.com
Other currency pairs (% change from previous close):
Read more: GBP/AUD forecast: Time for consolidation