Dogecoin (DOGE) soars as Tesla to accept meme crypto for `some merch'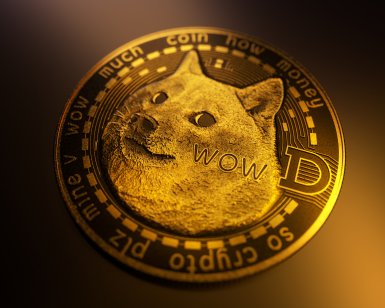 After Tesla's recent trial with accepting bitcoin as payment for its cars, CEO Elon Musk has now tweeted that the company is looking into accepting the cryptocurrency dogecoin as payment for select merchandise.
Following the announcement, dogecoin gained approximately 20% in the course of an hour, settling on an increase of about 15.2% over the day.
The company's shares had slumped recently after Musk announced that he would begin the process of divesting 10% of his stake in Tesla.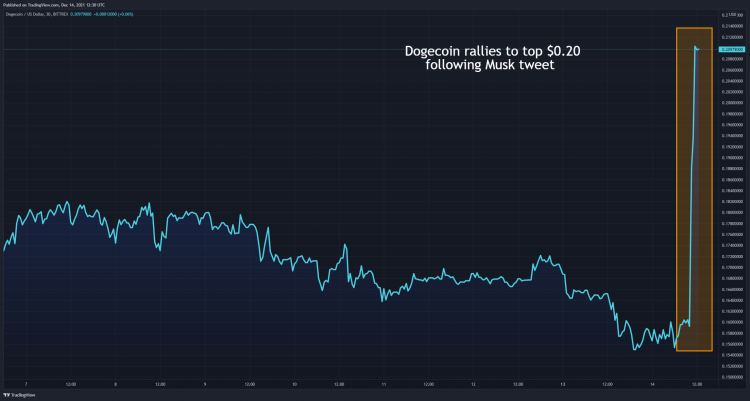 Dogecoin gained about 20% in the course of an hour – Credit: TradingView
Dogecoin, a meme-based cryptocurrency initially intended as a joke or parody cryptocurrency, has since seen immense popularity, with celebrities such as Snoop Dogg and Gene Simmons investing in the coin. It is now considered one of the largest meme cryptocurrencies in existence. Its surge following Musk's tweet caused its market capitalisation to surpass terra and polkadot, with speculations of it passing XRP as well.
Musk's preference for dogecoin is largely due to its speed per transaction, which he feels makes it ideal for becoming another means of payment. Bitcoin, on the other hand, is more expensive when it comes to transactions.
The cryptocurrency world has been volatile this past year following Musk's tweets, especially when the American billionaire announced that Tesla would accept bitcoin as payment for its cars and then retracted its decision.
Read more: TSLA down after Musk asks Twitter if he should sell shares