Diamonds are forever: Luxury stocks make a lucrative comeback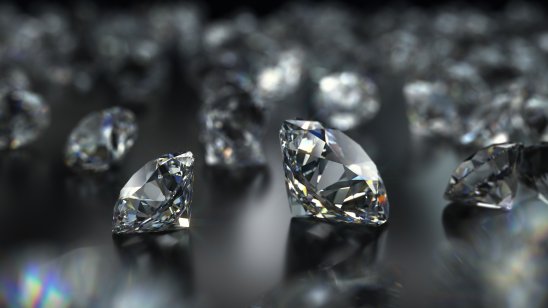 The luxury stocks market has emerged from the pandemic in glorious style. While Covid-19 presented an unprecedented shock across all areas of luxury goods by forcing retail shops to close, it appears that some areas remained less affected than others.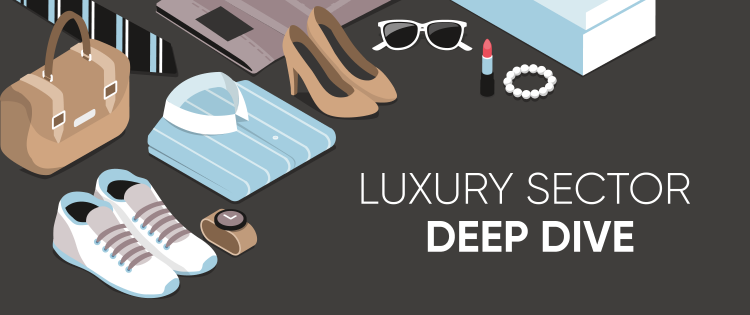 Covid-19 hit
The pandemic caused an unprecedented fall in market size. "The overall luxury market - encompassing both luxury goods and experiences - shrank by 20% to 22%" in 2020, according to the research by Bain & Company published in January 2021.
While luxury car sales continued to dominate the market, with a 8% to 10% decline, most luxury experiences were disproportionately hit by the pandemic, dropping 56%.
Personal luxury goods have suffered the first contraction since 2009, falling by 23%, the research says. "This drop is the largest recorded since Bain has been tracking the industry."
The sector was unable to avoid the economic blow inflicted by the Covid-19 crisis, with several leading companies reporting disappointing earnings.
LVMH's figures sent the French behemoth's share price plunging in July 2020. In the first six months of the year, the company's revenue fell by 27%, while profit from recurring operations stood 68% lower than a year ago. Meanwhile, another luxury brand Burberry, saw its revenue decline 48% in the first quarter of 2020.
Shift to online
Luxury industry companies were forced to move online at the expense of physical shops forced to shut during lockdowns.
Online sales in the luxury market hit €49bn in 2020, up from €33bn in 2019. The share of online sales nearly doubled from 12% in 2019 to 23% in 2020.
"Online is set to become the leading channel for luxury purchases by 2025, fuelling the omnichannel transformation," said Bain. "Brands will need to adjust their networks to the new map of luxury buying, evolve the store role and its ergonomics and maximize the customer experience."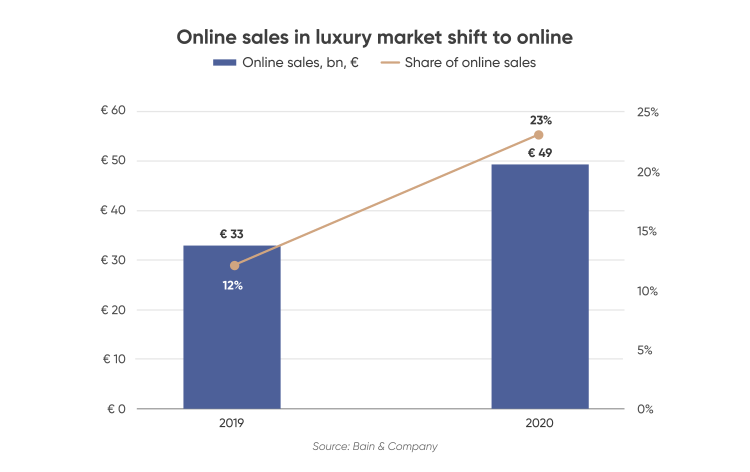 Strong recovery
It appears that the luxury goods industry is making a sharp comeback as it's expected to grow from $309.6bn (£223.2bn) in 2021 to $382.6bn in 2025 at a compound annual growth rate of 5.4%, a report from Statista forecasts.
"Even though cutbacks on discretionary spending and an uncertain economic climate triggered by the Covid-19 pandemic resulted in a sharp fall in demand in 2020, the resurgence in Chinese spending and the increasing dominance of millennials and Generation Z is expected to drive the market in the medium term," the report said.
"Asia is expected to witness the highest spending, riding the crest of Mainland China's resurgence, and is followed by Europe, North America, South America, Africa, and Australia and Oceania."
Analysts believe that the appeal of luxury industry stocks is what has enabled them to rebound so quickly after a turbulent 18 months.
"Their lofty prices are even part of the appeal to a plutocratic customer base who, besides buying quality craftsmanship, heritage and design, get the additional thrill of buying something that not everyone can afford and that makes them feel good about themselves or even attractive to the opposite sex," said Russ Mould, investment director at AJ Bell. rnrnrn
"It may not appeal to everybody, but it clearly appeals to enough well-heeled buyers to make luxury goods a lucrative business," Mould told capital.com.
More wealth
The pandemic has created more wealthy people than ever before. The number of billionaires worldwide is likely to increase over the next five years.
Companies selling luxury goods could reap the benefits of a society with more disposable income. In addition, most consumers of luxury goods were not furloughed and did not suffer a loss of income, so buying power will continue to be strong.
"The luxury goods sector has had a fantastic first half of the year as vaccinations bring lockdowns to an end and socialising and parties are back on in many parts of the world," said Kathleen Brooks, analyst and founder of Minerva Analysis.
Luxury stocks to buy
When considering which luxury brands to invest in or take a trade on, investors and traders may take many different strategies. Below is the list of the biggest luxury companies stocks by market cap.
LVMH Moët Hennessy Louis Vuitton
LVMH Moët Hennessy Louis Vuitton, commonly known as LVMH, is a French holding multinational corporation and conglomerate specializing in luxury goods, headquartered in Paris, France.
With a market cap of $324.9bn, LVMH is the biggest stock in the luxury sector industry. In March 2020 the stock was at a low of $305, but by August of this year its price jumped to the record high of $840.
This success has been reflected in the group's first-half results, which were announced on July 26. Revenue climbed to €28.66bn, 56% higher than the first half of 2020 and up 14% compared with the first half of 2019. Net profit was €5.29bn, ten times higher than in the first half of 2020 and 62% higher than the first half of 2019.
"Even in a post-viral world, luxury goods firms have many things going for them, judging by the latest results from LVHM, Kering and Burberry," said AJ Bell's Mould.
"The wealthy are unlikely to have been furloughed or lost their job or ability to buy expensive things, so luxury goods firms will still offer quality products that are desired by the core customer base.
"They will still have pricing power. And demand seems to be picking up as lockdowns ease and social gatherings commence again."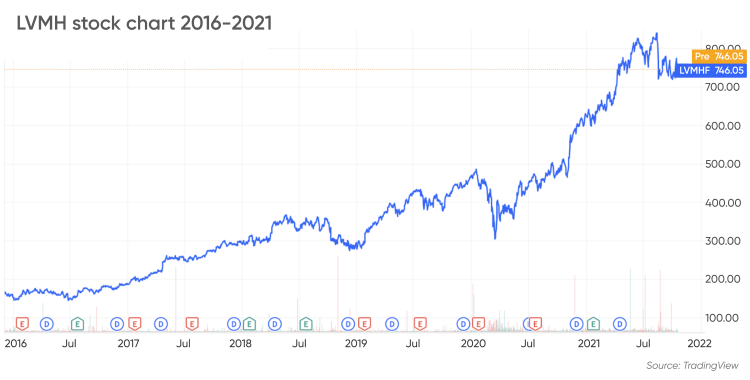 Hermès International S.A.
Hermès International S.A., or simply Hermès, is a French luxury goods manufacturer. Established in 1837, it specialises in leather goods, lifestyle accessories, home furnishings, perfumery, jewellery, watches and ready-to-wear.
The luxury brand has a market cap of $134.8bn. It saw half-year revenues soar by 77% compared with the same period in 2020. Sales at constant currencies for the second quarter stood at €2.15bn ($2.56bn) compared with the year-earlier figure of €982m.
The stock price for the brand has also shown potential after the pandemic, reaching a record high of €1347.5 on 12 August 2021.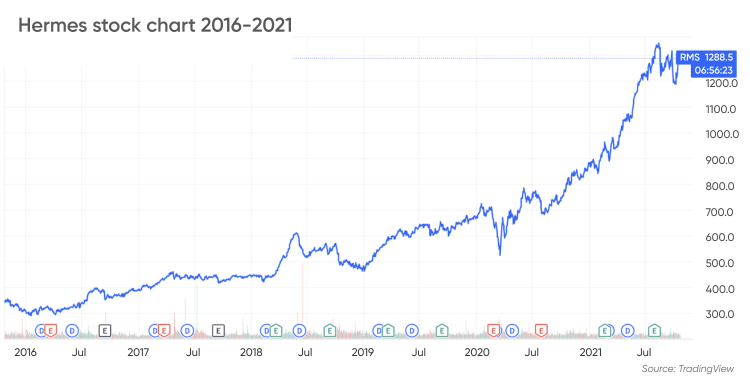 Dior
Christian Dior SE, commonly known as Dior, is a French luxury fashion house controlled and chaired by French businessman Bernard Arnault, who also heads LVMH, the world's largest luxury group.
It has a market cap of $116.18bn and operates worldwide. The luxury fashion group certainly bounced back after Covid-19 as it reported half-year revenue of €28.7bn in the first half of 2021, up 56% compared with the same period in 2020.
Its share price also rebounded. In March 2020, when the pandemic hit the sector, the price reached the low of €254. On 13 August 2021, the stock reached a record high of €717. The tide changed quickly for Dior and reflected the growing trend of consumers returning to the luxury sector.
Kering
Kering is a French-based multinational corporation specialising in luxury goods. It owns the luxury brands Gucci, Yves Saint Laurent and Bottega Veneta. Its market cap stands at $77.52bn. The company did not escape the impact of Covid-19.
However, Kering has made a comeback. In September it acquired the luxury eyewear company Lindberg, and it's reported a 49% increase in first-half revenue compared with the same period last year.
Its share price tells a similar story. After the yearly low of €521 in February 2021, the stock has recovered, reaching the record high of €790 in August.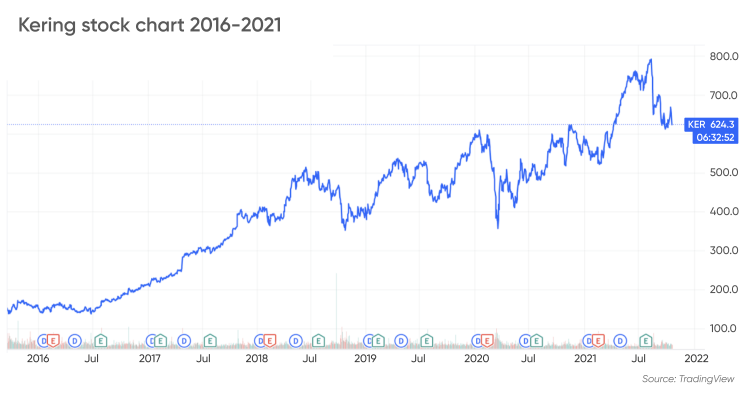 Essilor Luxottica
EssilorLuxottica SA is an Italian-French multinational corporation based in Paris. It was founded by the merger of Italy's Luxottica with France's Essilor. The group designs, produces and markets ophthalmic lenses, optical equipment and prescription glasses and sunglasses.
Last month the company acquired shares in GrandVision, a global leader in optical retailing. Its share price fell to a low of €93 in April 2020 amid the global pandemic. But it has recovered, and reached a record high of €173 on 23 September 2021.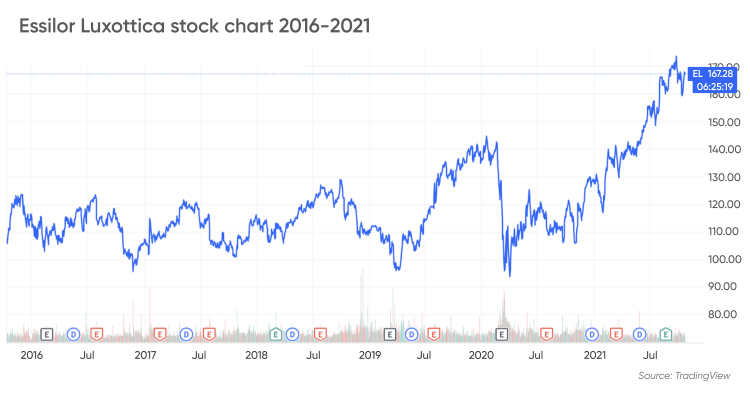 Risks surrounding luxury sector stocks
It appears that luxury stocks have survived Covid-19 and emerged strong. However, analysts warn that political unrest could cause these stocks further problems.
"Some luxury brands rely on aspirational buyers of smaller ticket items such as perfume for incremental growth and sales of some of their highest-margin products and this demographic may be returning to stores or websites for the ultimate in treats for themselves (or loved ones)," said AJ Bell's Russ Mould. rn
"A drop in international travel would help demand, although a lengthy lull would not, and some brands will be watching with concern the political unrest in key markets like Hong Kong, traditionally a key market for luxury goods buyers," Mould told capital.com.
"Few investors would have necessarily forecast such a rapid recovery in demand for luxury goods but as James Bond's creator, Ian Fleming, suggested, diamonds are forever, and the appeal of life's great luxuries seems to be undiminished."
FAQs
Are luxury industry stocks a good investment?

Luxury stocks made a rebound after a turbulent 2020, and the sector is projected to grow from $309.6bn (£223.2bn) in 2021 to $382.6bn in 2025 at a compound annual growth rate of 5.4%, a report from Statista forecasts.

Whether or not this sector is a good investment should be based on your own attitude to risk. You should always conduct your own research before making any investment or trading decision. And never invest money you cannot afford to lose. Note that past performance never guarantees future results.
How do I invest in luxury goods stocks?

You can buy luxury stocks via a stock broker. You can choose luxury stocks by market capitalisation, such as LVMH and Hermes, or you can search for medium size or smaller luxury companies.
Read more: Uber stock forecast: can the uptrend continue?