DIA coin price prediction: An open source DeFi data platform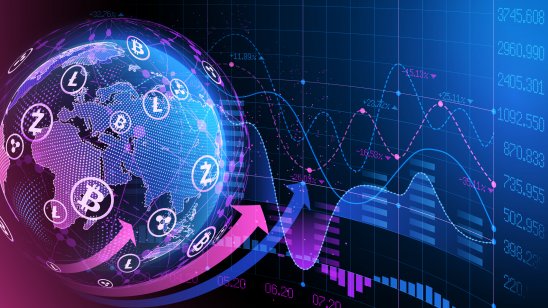 DIA (Decentralised Information Asset) is an open source financial information platform that enables market participants to source, supply and validate data for all asset types. DIA's data feeds can be used on any network, by any application.
The company, founded in 2018 by Michael Weber and Paul Claudius, is well known for offering user-tailored data feeds with custom methodologies from multiple sources. DIA can source any type of on-chain and off-chain data, from fiat currencies and forex rates to decentralised finance (DeFi) protocols and digital asset prices.
Through its focus on network agnostic operability, the project is able to achieve data integration into multiple on-chain and off-chain applications on any blockchain, be that on Ethereum, Polkadot or Binance Smart Chain.
The open source database boasts a wide range of verified data feeds from trade level exchange data to interbank lending rates and all customised institutional-grade data can be integrated within seventy two hours.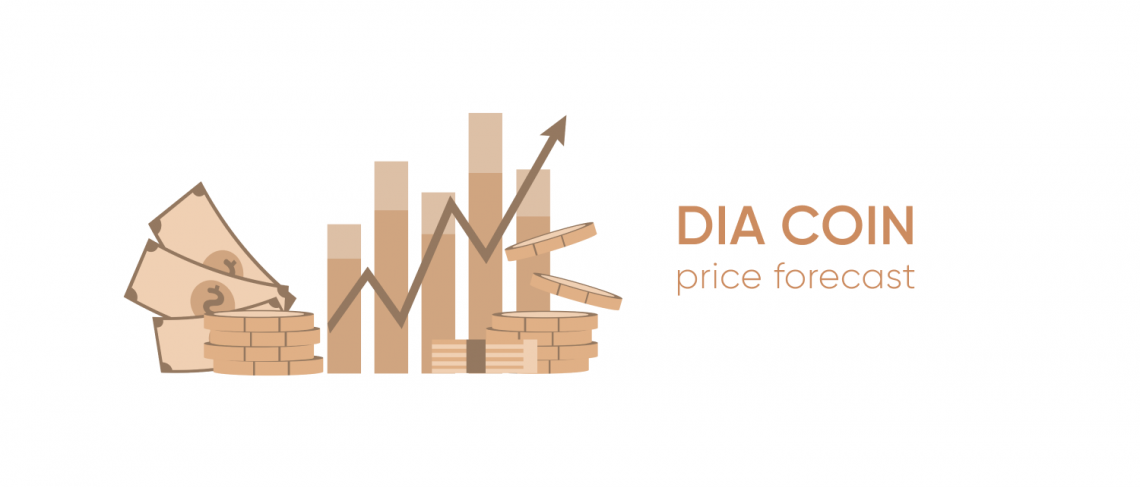 What is the DIA coin?
DIA (DIA) is an ERC-20 compatible token that enables community members to govern the platform and validate DIA's crowdsourcing data feeds.
More specifically, it equips members with voting rights in order to enact new proposals relating to product, technology or tokenomics in the forum's discussion channel.
Within DIA's decentralised autonomous organisation (DAO), proposals must be approved by the DAO committee.
The next step is then for the DIA forum administrator to classify proposals as either proposals:dips or proposals:gdps depending on the content of the proposal. A poll follows, and then a forum vote to decide on whether the proposal will be added to the snapshot page in order to be voted on by the wider community. It's worth noting that all proposals in the forum will be available to vote on for a limited period of seven days.
The proposal is subsequently moved onto the snapshot page, where it's visible to DIA token holders. You need at least one DIA token in order to vote on proposals. If successful, the proposal will be stored on-chain.
DIA price analysis: Technical view
The DIA price trend was higher throughout the months of August 2020 to September 2020 following an announcement by the company about its governance token distribution plans.
When the bonding curve distribution program commenced on 3 August 2020, DIA soared to $3.6666 on 20 August 2020 and hit $4.3299 on 30 August.
In October 2020, DIA announced a partnership with Polkastarter, leading the coin to jump from $1.0317 on 6 October 2020 to $1.5068 on 13 October. The DIA price then consolidated, trading within the $1.1 to $1.6 range until 24 January 2021, when it climbed to $2.1046 hitting $3.2236 on 18 February 2021.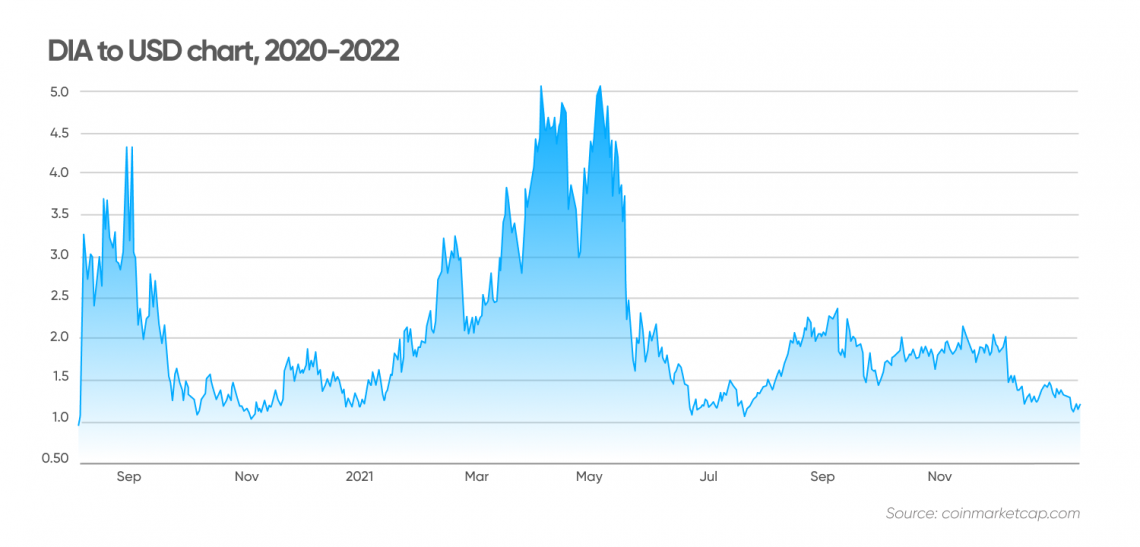 By early 2021, DIA's price had increased by over 164% on the start of that year, from $1.2191 on 1 January to $3.2236 on 18 February 2021. DIA rallied again in March that same year when the price reached $3.8164 on 17 March 2021.
The bullish momentum continued, seeing the price climb to $5.0662 on 4 April 2021, leading the coin to achieve an all-time high of $5.0746 on 5 May.
After a dip to $3.8239 on 15 May 2021, DIA fell again to $1.5808 on 23 May – wiping out over half of its value in just eight days. This is somewhat of a sharp drop considering that the coin had hit its all-time high just 18 days earlier. It's currently (12 January) trading at around $1.17, and ranks 520th in the list of cryptocurrencies by market capitalisation at $70.4m, according to CoinMarketCap.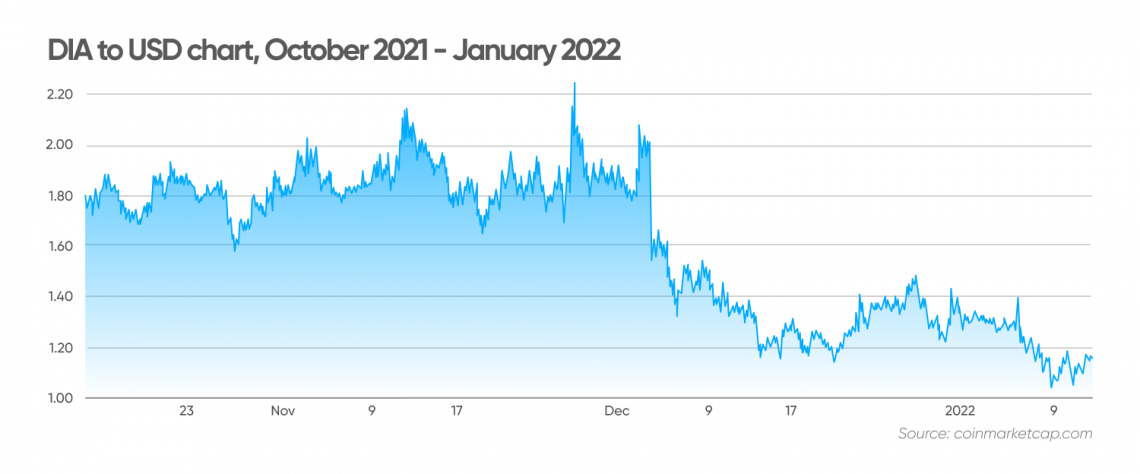 Technical analysis provided by CoinCodex shows that short-term sentiment on DIA is bearish, with 13 indicators displaying bullish signals compared to 15 bearish signals at the time of writing.
The daily simple and exponential moving averages are giving sell signals, according to data from TradingView, while the relative strength index (RSI) is at 40, as of 12 January. An RSI reading of 30 or below indicates an oversold or undervalued condition.
Democratising access to financial data
A major plus for the project is that broader growth within the DeFi sector has sparked renewed interest in data architecture, of which financial data is a critical component.
For example, a report published by DeFi Pulse at the end of last year showed that its total value locked (TVL) surpassed $100bn several times in 2021. DIA leverages the benefits of DeFi and decentralised governance processes by making data feeds accessible to all market participants.
In other DIA crypto news, the coin was listed on the world's largest crypto exchange, Binance, on 2 September 2020. The company partnered with the permissionless decentralised exchange (DEX) Polkastarter in October 2020 for the purpose of providing decentralised oracles for ERC-20 prices which are then used for Polkastarter's high slippage alert features. This provided a boost to DIA as it introduced the project's price oracles and built-in alert systems to Polkastarter.
In March 2021, DIA partnered with the technology platform Horizen in order to extend DIA's oracle capabilities to the company's ecosystem. In October 2021 and November 2021, DIA announced that it would be providing its oracle infrastructure services to Solana, Avalanche, NEAR, Arbitrum, Nervos, Celo, Chaingain, Moonriver and Dfyn.
A risk for the project lies in the fact that DIA collects data directly from on-chain decentralised exchanges and centralised exchange application programming interfaces (API). Other oracle platforms mostly aggregate a range of premium data suppliers.
DIA token price prediction: Buy, sell or hold?
In terms of a DIA cryptocurrency forecast, algorithm-based forecasting service Wallet Investor gives a positive DIA prediction. Based on historical data, Wallet Investor sees the price going up to $1.105 by February 2022, $0.137 in January 2024 and hitting $0.132 by January 2026.
Digital Coin Price supports the bullish DIA forecast, expecting the token to grow to $1.51 in February 2022, $2.13 in January 2025 and $4.2 in January 2028.
"DIA is an open source oracle platform developed with a focus on financial data. Its most recent high value point was on 27 November 2021 when DIA was trading at $2.0106 and since then it has been hovering around the $1 price level," said Milko Trajcevski, a financial analyst at Invezz.
"With its plethora of use cases, DIA could see, in my view, potential growth upwards of $1.5 by the end of this month, unless it drops below the $1 price level," Trajcevski told Capital.com.
Note that predictions can be wrong. Forecasts shouldn't be used as a substitute for your own research. Always conduct your own due diligence before investing. And never invest or trade money you cannot afford to lose.
FAQs
Is the DIA coin a good investment?

Whether DIA is a good investment for you depends on your personal circumstances and risk appetite. Cryptocurrencies are high-risk assets. You should do your own research and evaluate the level of risk you are prepared to accept before investing. Never invest money you cannot afford to lose.
Will the DIA coin price go up or down?

The algorithm-based forecasting service Wallet Investor predicted that the price could reach $0.132 by January 2026. Note that predictions can be wrong. Forecasts shouldn't be used as a substitute for your own research. Always conduct your own due diligence before investing, and never invest or trade money you cannot afford to lose.