Deere (DE) tops estimates despite strike, supply chain issues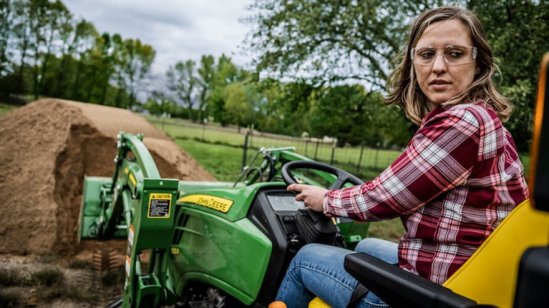 Deere & Co, the parent of consumer lawncare and industrial farming-equipment manufacturer John Deere, beat both top- and bottom-line Wall Street estimates, despite a month-long labour strike and continued supply-chain disruptions.
Deere gained almost 3% to start the day. The stock opened at $359.27 in the US on Wednesday after trading as much as 3.10% higher in the pre-market to $360.12 per share, following Monday's 0.03% rise to $349.28 per share.
Financial results reflect 'strong end-market demand'
Moline, Illinois-based Deere reported fourth quarter earnings per share (EPS) of $4.12 on $11.3bn (£8.46bn) in revenue, versus estimates of $3.87 EPS and $10.5bn in revenue. EPS for the three months ended 31 October was 72% higher than the same quarter last year. Revenue improved 16%.
Quarterly net income was $1.28bn, up 69% from the $757m in the comparable quarter in 2020.
For the full fiscal year, Deere tallied $18.99 per share earnings, versus $8.69 in 2020, on $44bn in revenue. Revenue was 24% higher than the $35.5bn reported in 2020. Full year net income for 2021 totalled $5.96bn, up 117% from the $2.75bn in fiscal-year 2000.
"Our results reflect strong end-market demand and our ability to continue serving customers while managing supply-chain issues and conducting contract negotiations with our largest union," said Deere CEO John May in a prepared statement.
What is your sentiment on DE?
Vote to see Traders sentiment!
Labour deal brings employees back to work
"Last week's ratification of a six-year agreement with the United Auto Union (UAW) brings our highly skilled employees back to work building the finest products in our industries," May added. "The agreement shows our ongoing commitment to delivering best-in-class wages and benefits."
While May expressed optimism for continued strong demand for farming and lawncare equipment, he sounded a cautious note over Deere's ability to manage ongoing supply-chain disruptions.
"[W]e anticipate supply-chain pressures will continue to pose challenges in our industries," May added. "We are working closely with our suppliers to address these issues and ensure that our customers can deliver essential food and infrastructure more profitably and sustainably."
2022 full-year outlook
Looking ahead, Deere anticipates full fiscal year 2022 net income of $6.5bn–$7bn, a 9.1%–17.4% increase versus 2021.
These estimates factor in an estimated $2bn in cost increases, felt mostly in the first half of 2022, noted Deere CFO Ryan Campbell on the post-earnings conference call. The cost increases are the result of both supply-chain challenges combined with lost production due to the aforementioned work stoppage.
Record low inventory
Cory Reed, Deere's President of Agricultural and Turf Equipment reported record low field inventory, which he sees continuing through 2023. "Our order books for large [agricultural products] are full or near full," Reed added on the call.
Campbell added the later-than-expected collective bargaining agreement ratification with the UAW labour union, which didn't occur until 17 November, will cause production lags into Deere's fiscal first quarter of 2022.
"The gap between contracts means we missed a few weeks of production," Campbell added. "We expect the delayed ratification to impact margins in the first quarter down to the single digits."
Read more: John Deere workers strike after contract talks fail