Decarbonisation dilemma: Energy transition complexities
International leaders have set out their goals to become carbon neutral by 2050. Moves to meet net zero emission targets have been widely shared, most recently at the COP26 summit in Glasgow. However, there's been little academic research into the complexities that come with the transition of energy.
Capital.com has spoken to experts in the field to further understand the challenges, the key factors affecting greenhouse gas (GHG) emissions and possible solutions to the global warming crisis.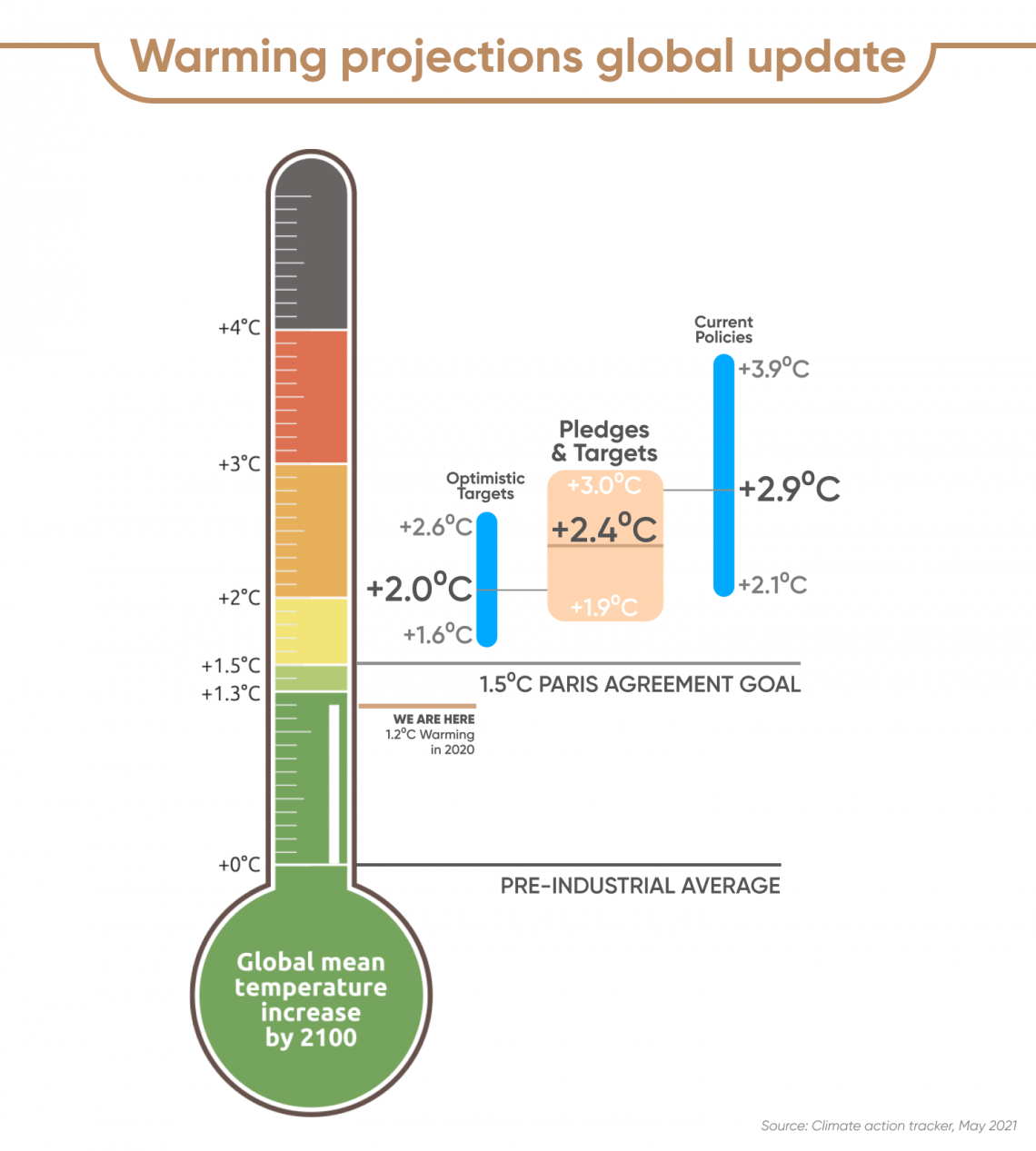 Why is energy transition and decarbonisation important?
Decarbonisation, essentially reducing carbon dioxide (CO2) and other greenhouse gas emissions in the atmosphere, is key to keeping global warming within acceptable levels.
C02 absorbs and radiates heat, releasing it gradually. Without this carbon cycle, the Earth's average annual temperature would be below freezing. However, increases in greenhouse gases have tipped the Earth's energy out of balance, trapping additional heat and causing global temperatures to rise.
Antonia Gawel, Head of Climate Action at the World Economic Forum, explained to Capital.com why decarbonisation is so important.
"As per a
UN study
, every year from 2021 through 2025 is likely to be at least 1 degree Celsius warmer, which brings us closer to the 1.5°C threshold set by the Paris Climate Agreement. Understanding that threshold marks the ceiling to avoid the most catastrophic effects of climate change (such as disruptions in the rainfall and wind patterns, tropical cyclones, marine and land heat waves, migration of species towards colder regions, melting glaciers and the ocean heat content rising) decarbonisation is a no brainer," she said.
Energy transition outlook: How off track are we globally?
Gawel highlighted to Capital.com the findings in a report co-authored by the World Economic Forum, UNEP, ELD and Vivid Economics. It said that if the world is to combat climate change, biodiversity and land degradation targets, it needs to close a $4.1tn financing gap in nature by 2050.
"Also, although governments representing over 60% of the world's greenhouse gas emissions are now committed to net zero emissions goals, only 12% emissions [based on analysis from forthcoming World Economic Forum publication in collaboration with Boston Consulting Group] are addressed by sector-specific policies and regulations," she said.
"While an increase in public funding will be beneficial, it is nearly impossible to reach net zero without a significant increase in private sector investments to propel decarbonisation across industries."

Energy transition: Why is it urgent?
The latest report by the Intergovernmental Panel on Climate Change (IPCC) paints a stark picture of climate change accelerating faster than expected, triggering a range of irreversible tipping points, unless drastic action is taken urgently, Gawel further explained to Capital.com.
"To be able to meet the net zero mid-century timeline accorded by the Paris agreement, heavy industries such as shipping, aviation, aluminium, iron and steel, chemicals, concrete and cement and road transport would need to slash emissions significantly in the 2030s and 2040s. Therefore, there is now an urgent and significant need for investment in scaling clean technologies to accelerate emissions reductions in the next two decades," she said.
What are the key factors affecting greenhouse gas emissions (GHG)?
Human activity is increasing the concentration of some greenhouse gases in the atmosphere, including C02, methane, nitrous oxide and fluorinated gases.
Burning coal, oil and gas increases emissions. Deforestation removes the trees that regulate the climate by absorbing CO2.
Livestock farming raises emissions because cows and sheep produce large amounts of methane when they digest food.
The use of fertilisers within the agricultural sector is also a contributing factor, as they contain nitrogen and emit nitrous oxide. Fluorinated gases, which are emitted from equipment and products that use these gases, also contribute to warming.
These products have been used in industry and by consumers for decades.
Decarbonising energy supply: Where is the dilemma?
Fernando C. Hernandez, a commercial and technology specialist in energy, Principal at Hernandez Analytic and a business ambassador for Scotland in America's energy sector, explained to Capital.com his thoughts on why there's a decarbonisation dilemma.
"The decarbonisation dilemma increased in 2021, as exemplified by COP26, when China and India banded together. The countries made it clear that they would not 'phase out' coal, but instead apply a 'phase down' approach. Said approach on fossil fuels – at COP26 – was backed by Iran. This act is not entirely surprising, as I made the market call (months prior to COP26 taking place) that the aforementioned countries would be poised to band together as part of an Organisation of Emitting Countries. To remind, coal emits the most carbon dioxide (CO2) of all fossil fuels.
"Importantly, in January of this year, the power of CO2 as a geopolitical weapon was displayed by China when it signaled to the US that it would not comply with its climate and decarbonisation efforts if the US continued accusing China of genocide. China continues to increase its reliance on coal, which will impact the global emissions targets set by Net Zero nations, as China is a principal consumer of coal."
New power sources to reduce emissions: Join commitments
In 2015, the EU and close to 200 countries signed up to the Paris Agreement.
The agreement commits the nations to "pursue efforts" to limit global temperature rises to 1.5C, and to keep them "well below" 2.0C above pre-industrial times
The treaty also aims to strengthen countries' ability to deal with the impacts of climate change and support them in their efforts.
In addition to the Paris Agreement, the Plan of Action for Energy Cooperation (APAEC) 2016–2025, drawn up by the Association of Southeast Asian Nations (ASEAN), is another example of countries working together. According to a UN report, the region has set a target of 23% of renewables in the energy mix by 2025.
The UN has highlighted how the energy transition requires input from all countries and communities, but noted how they don't all have the same abilities, technologies, policies, finance and resources to increase efforts.
Examples of energy transition: Decarbonisation projects
In a further bid to mobilise the energy transition, the UN Secretary-General, António Guterres, called for countries to cancel all planned coal projects. He also appealed for an end to international financing of coal power generation, and urged greater support for developing countries to ensure a just transition to renewable energy.
So, what are the main types of renewable energy sources to help meet net zero emissions? Solar energy, wind energy, hydropower, geothermal energy and biomass energy are some of the most common sources, according to the US Energy Information Administration (EIA).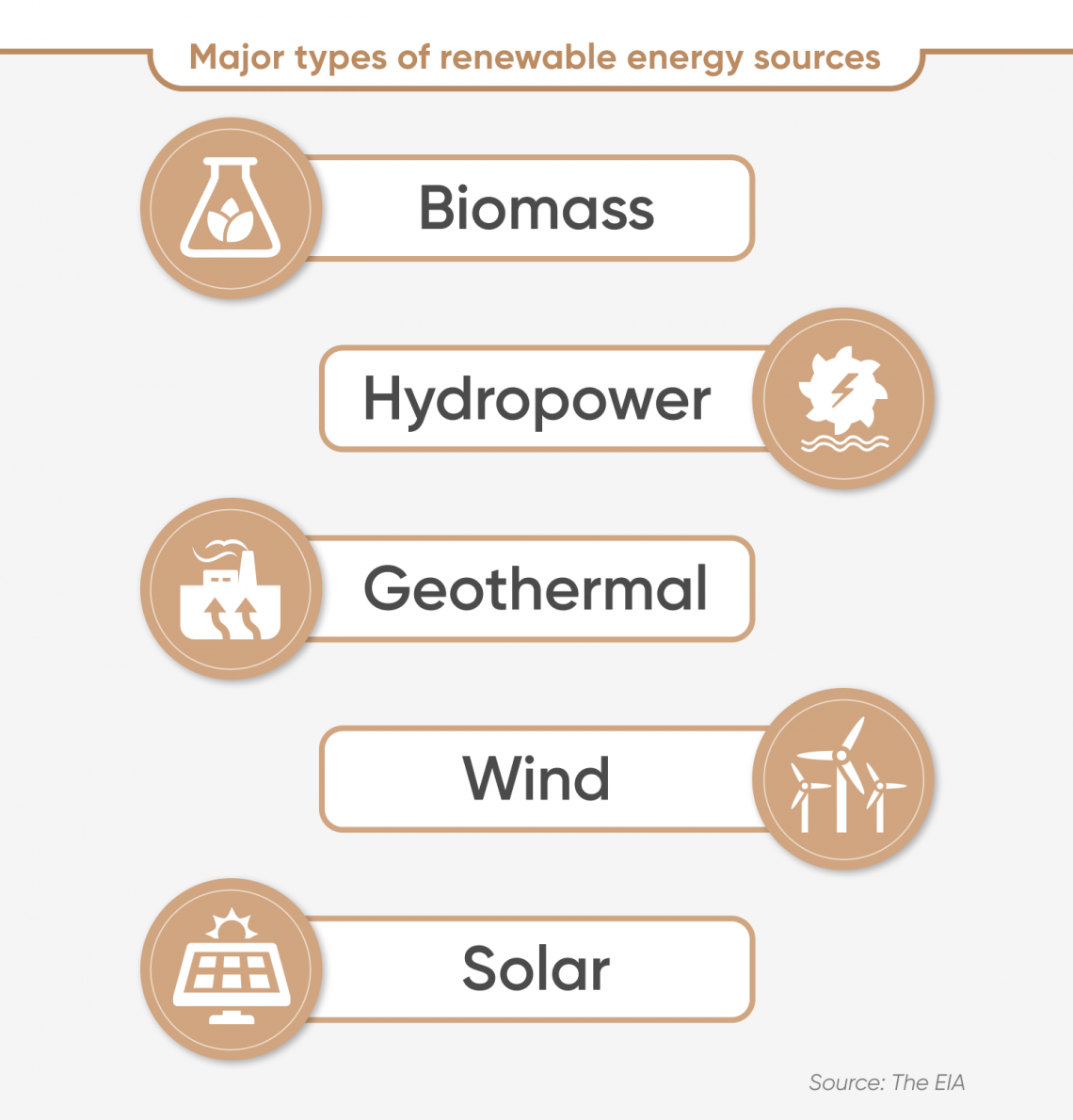 According to McKensey, Europe has created a hub for renewable energy. Denmark became a home of wind energy with Vestas, the world's largest wind-turbine manufacturer. Solar energy took off following Germany's Renewable Energy Sources Act in 2000.
Renewables are also central to the strategy of Europe's largest energy companies, including Denmark's Ørsted, Germany's RWE, Norway's Equinor, Portugal's EDP Energias de Portugal, Spain's Iberdrola and Sweden's Vattenfall.
Notable installations globally include the Alta Wind Energy Center in the US, which is the second-largest onshore wind energy project in the world, and the Walney Extension in the UK, which is the world's largest offshore wind farm.
Hydro-electric power examples include the Sihwa Lake Tidal Power Station in South Korea, which is the world's largest tidal power installation, the Rance Tidal Power Station in France and Hydro-Quebec in Canada.
China also has one of the world's biggest hydro-electric power hubs. However, this source produces only a third of the energy it gets from coal.
Consultancy firm McKinsey said a major limitation of such renewable energy reliance is its intermittency, as wind and sunshine are not under producers' control, leading to an inevitable variability in its generation.
What are the main challenges of energy transition?
One of the challenges to decarbonising energy, as highlighted by Gawel, is that more financial support is needed to support future energy sources and technologies.
"Roughly 50% of the technologies we need for net zero emissions by 2050 are still under development, in the prototype or demonstration phases, and not yet available on the market. Additionally, there is a lack of a clear market demand for companies to participate and invest in innovating and scaling these technologies," she said.
"While a clear and strong market signal would come from a strong carbon price, this will take longer to establish globally than we have to start investing in these solutions. Other policy and regulatory measures will be critical, alongside business taking on commitments to help scale these solutions which will be critical to achieving their own decarbonisation targets.
"The rising cost of raw material and equipment required to generate renewable energy (solar and wind panels) are yet another factor resulting in reluctance towards energy transition, due to the absence of economies of scale."
Another challenge is keeping up with the pace of demand in order to power homes, businesses and communities. Innovation and the expansion of renewable power sources are key to maintaining a sustainable future.
However, as we have recently seen, supply and demand is not in balance.
Europe is navigating a record-breaking surge in energy prices that threatens to derail the post-pandemic economic recovery.
Hernandez said that the crunch has seen nations contend with the realities of the energy transition.
"Multiple nations preemptively sourced coal, the highest emitting fossil fuel, for winter, due to gas prices coming under supply pressure. On one hand, having access to sufficient coal reserves can avoid a humanitarian crisis when gas cannot meet the demands of a grid," he told Capital.com.
The European Union is gradually cutting its dependency on fossil fuels. Renewables become the bloc's main source of electricity for the first time in 2020.
"Currently, and per 2021 data - coal, oil, and gas account for 27.2%, 31.2%, and 24.7% (of the energy mix) - respectively, in 2021. The sum of these CO2 emitting-primary energies exceeds 83.1%. However, renewables only contribute to 5.7% of the global energy mix, which is insufficient to meet the world's needs. This greatly compounds the decarbonisation dilemma," Hernandez added.
Challenges with industrial decarbonisation
When it comes to industrial decarbonisation, as recently witnessed in the UK, the number of electric vehicle (EV) charging points does not meet demand for the number of electric vehicles being produced.
The UK's Society of Motor Manufacturers and Traders (SMMT), which represents more than 800 UK automotive companies, told Capital.com that the number of battery electric and plug-in hybrid vehicles potentially sharing a standard public charge point rose from 11 to 16 vehicles per charger between 2019 and 2020.
Moreover, It said only one new charger is currently being installed for every 52 new electric vehicles registered, with cars that can be plugged-in now accounting for one in every six new car registrations.
As a result, the body has called for improved targets to ensure that the infrastructure meets demand.
"While most people currently purchasing an electric vehicle are likely to be able to plug in at home, on a driveway or designated parking bay, achieving net-zero requires all drivers to make the switch, including those who depend on on-street parking," the SMMT said.
Vehicle manufacturers are just one example of a sector that has had to prioritise climate-friendly alternatives over its traditional offerings to remain sustainable.
For more insight on the general challenges, Osama Rizvi, an energy analyst at Primary Vision, explained to Capital.com how he sees it.
"The problem with what I have termed the decarbonisation dilemma, is that of the very framing of the narrative. It is portrayed as if the whole of humanity or majority of it, was responsible for the greenhouse gas emissions that have deteriorated the climate giving way to a crisis that doesn't discriminate," said Rizvi.
"The truth, however, is that only a handful of countries account for a majority of the emissions and these countries are rich, developed OECD ones. However, the cost of these emissions is borne by the global South. As such highlighting the dilemma."
What is the solution?
"I believe, moving forward, and before talking about the solutions...we need to reframe the issue and make it more holistic. The solutions will not work if the problem isn't understood well," Rizvi said.
Meanwhile, the World Economic Forum has been taking relentless action towards building public-private collaboration to tackle the climate crisis, Gawel explained.
"A major development on this front was the launch of the First Movers Coalition by the World Economic Forum in collaboration with Sec. John Kerry and the US State Department. The Coalition aims to spur decarbonisation in the "hard to abate" sectors that are needed to achieve climate change goals, by accelerating technological advancements in the industry. The coalition consists of more than 25 founding members, which make up of some of the leading international companies from a wide range of industries.The platform aims to make zero-carbon commitments and create new market demand for low carbon technologies.
"Additionally, the Alliance of CEO Climate Leaders, a global community of over 90 CEOs, catalyse action across all sectors and engage policymakers to help deliver the transition to a net-zero economy with measure such as eliminating fossil fuel subsidies, cutting tariffs on climate-friendly goods, developing market-based, meaningful and broadly accepted carbon pricing mechanisms and incentivising first movers."
Hernandez also shared his thoughts to Capital.com on the solutions.
"The energy basket is a tool and solution to sustain a nation's energy, as it accepts different forms of energy inputs and is non-binary, foregoing an us-versus-them philosophy in terms of pinning renewables against fossil fuels. Notably, the basket's composition is to be determined by the demands and fluidity of the grid, as opposed to high-minded rhetoric.
"The energy basket's deployment has been realised by France, which has utilised a matrix of energies in modern times: phytomass (wood); nuclear; and natural gas, as noted by Vaclav Smil.
"Above all, an entirely renewable grid, scaled for millions, has not been constructed by any of the signatories of the 2015 Paris Agreement, which raises the question of how such a grid would perform in the absence of fossil fuels. Recently, the intermittency of renewables caused electricity price spikes, which led the Spanish government to intervene (and offer electricity price protection), but did not cause a humanitarian crisis. For this reason, renewables require having energy basket interconnectedness (fossil fuel inclusion), as their percentage is at 5.7% of the global energy mix, whereas fossil fuels are at 83.1%. In the future renewables may commander said mix, however, for the time being, the energy basket is a sensible tool for today, and the future."
Read more: Coinbase stock price prediction