Darktrace takeover: Thoma Bravo buyout firm's DARK offer timing and details in full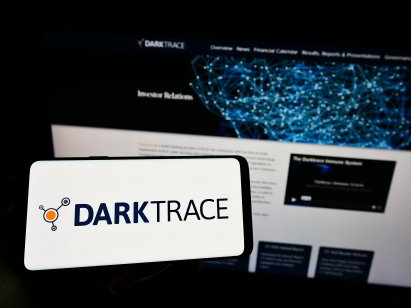 Shares in defence cybersecurity specialist Darktrace (DARK) soared yesterday – up 24% following news of an offer from private equity group Thoma Bravo. Thoma Bravo has until 12 September to announce a firm intention to make an offer for Darktrace.
Darktrace only launched its initial public offering (IPO) in April 2021 at a valuation of $2.37bn. Darktrace was top of the FTSE 250 performers yesterday as investors pondered over what could be a timely deal to take it back into private hands.
After falling back slightly in late afternoon on Tuesday; the stock was up again this morning – rising 3.6% to 533.76p in early trading.
Darktrace share price chart
As Danni Hewson, financial analyst at AJ Bell points out, speculation is rife as to how much the deal might be worth, but certainly the company's market cap has soared which could colour investors thoughts when it comes to decision time.
What is your sentiment on DARK?
Vote to see Traders sentiment!
Other potential suitors for Darktrace
There is also speculation on whether others will now throw their hat into the ring.
"The news that Darktrace is in discussions with private equity about a possible takeover is likely to bring other suitors onto the pitch," Hewson argues.
"The cybersecurity firm has been something of a jewel at the heart of London markets pitch to become a real player in tech and despite its lacklustre performance since its float it will leave a substantial hole," she adds.
However, money is harder to come by at the moment as fiscal policy tightens and investors are nervous about cash hungry growth stocks when they're not delivering share price growth.
"It makes sense to take the company back into private hands whilst the economy stutters and right now the strength of the dollar makes UK plc look remarkably cheap."
The sudden jump in shares this week is in addition to positive momentum to the stock price in recent weeks after Darktrace revealed in its trading statement in July that it expected revenue for the full-year 2022 of at least $417m, reflecting year-over-year growth of approximately 48%.
Darktrace has been identified as one of the beneficiaries of geopolitical hostilities – shares have rallied strongly as tensions between Russia and the West worsen.
Approval from regulator
Darktrace may look an attractive target for acquisition right now but one question that jumps out: Given Darktrace's exposure to top government cybersecurity contracts, would it be allowed to be taken over by a foreign company?
"Whether any deal would escape the eye of regulators is unlikely given the sensitive nature of some of the company's clients," Hewson says, adding: "but those hurdles should have already been factored into negotiations even those said to be at a very early stage."
Susannah Streeter, senior investment analyst at Hargreaves Lansdown says the London market may be showing signs of some short term resilience but private equity firms are set to keep circling around the bargain bin, picking up firms discarded by investors.
"There had been high hopes for DarkTrace as a new LSE entry, with its IPO seen as coup for the London market, but since its listing last April the stock has been wracked with volatility, caught up in tech sector tremors and a loss of shareholder confidence."
She adds: "This fresh target from an overseas buyer will undoubtedly cause fresh unease among politicians, particularly given the government's efforts to try and lure more firms to list in London. It's fresh evidence that UK assets are considered to be cheap, still weighed down by the impact of Brexit, the weak pound and now the looming recession set to hit the economy".
The large stables of tech focused private equity firms can offer more space and crucially the additional management skills to help colt-like firms to grow and take on new operating models outside of the limelight, while providing access to networks of specialist expertise. Streeter also points out that going private also allows a company to focus on long-term strategy rather than constantly face quarterly earnings pressure".
Earlier this year Darktrace suffered negative headlines when UK tech tycoon Mike Lynch resigned as an adviser to the firm after the UK Home Secretary Priti Patel ordered the extradition to the US of the former boss of Autonomy to face fraud charges.