CSL stock forecast: Performance turns positive after FDA approval of gene therapy
Subscribe to Weekly Highlights
The major market events for the week ahead right in your inbox.
Subscribe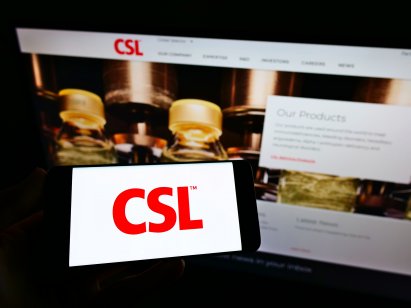 Content
The stock performance of CSL (CSL) has turned positive shortly after the firm's HEMGENYX gene therapy for haemophilia B was approved by the US Food and Drug Administration (FDA).
CSL live chart
The treatment will be the most expensive in the world at $3.5m, but will provide a long-term solution to patients who suffer from the rare disease that prevents the body from forming blood clots.
Is the price of CSL stock poised to keep rising following this positive development? In this article, we share further information about this Australian healthcare company along with CSL stock predictions from analysts and AI-powered forecasting services.
What is CSL Limited?
CSL stands for Commonwealth Serum Laboratories. The company was founded in 1916 and specialises in the development of drugs for treating rare and serious diseases and influenza vaccines. Its business is divided into three units:
CSL Behring: this unit develops treatments for immunodeficiencies, bleeding disorders and some hereditary conditions.

CSL Seqirus: a leading force in the influenza vaccine market that partners with several healthcare companies across the world to distribute efficient prevention treatments.

CSL Vifor: develops products for treating iron deficiency and rare nephrological pathologies.
During the 2022 fiscal year, CSL generated total revenues of AUD10.67bn ($7.08bn). The Behring unit is responsible for generating more than 80% of that total while approximately 40% of the firm's revenues came from the sale of immunoglobulins.
The CEO of CSL is Paul Perreault. He was appointed to the position in July 2013. The company employs approximately 30,000 workers worldwide and has offices and research facilities in more than 40 countries.
CSL Limited was incorporated in 1991 and its shares were listed on the Australian Securities Exchange (ASX) in 1994. They trade under the ticker symbol 'CSL'. In the past 10 years, the stock delivered total gains of 568.3% compared to a 66.6% appreciation in the value of the Australian All Ordinaries 30 index (AS30).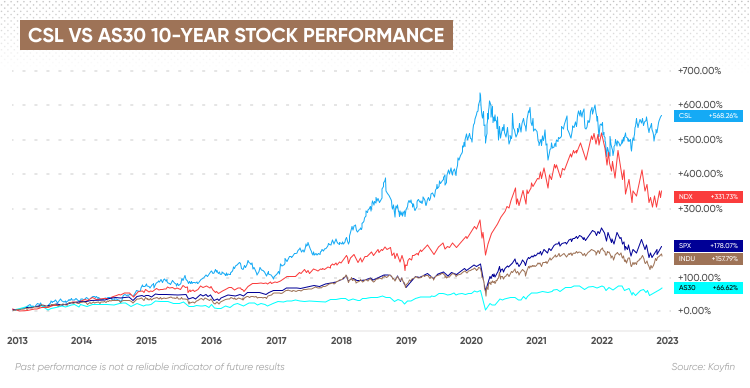 What is your sentiment on CSLau?
Vote to see Traders sentiment!
CSL stock price history
CSL is a well-established healthcare company and this is reflected by the fairly limited degree of volatility that its shares have experienced in the past few years, typically fluctuating in a range between AUD 320 and AUD 240 a share.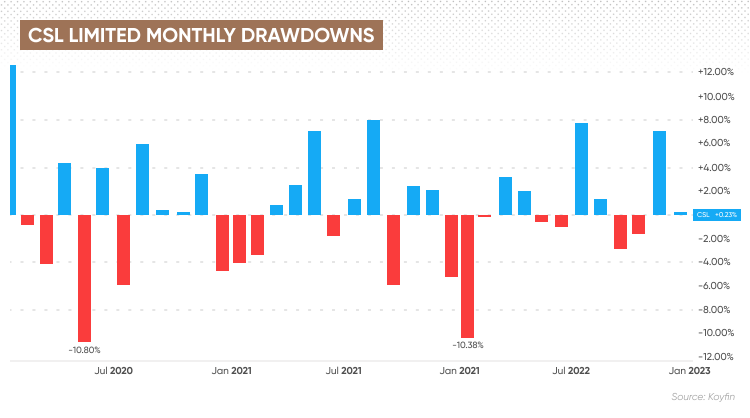 In the past three years, data from Koyfin indicates that there have been only two occasions in which the stock declined by more than 10% in a single month.
Meanwhile, so far in 2022, the CSL stock price has advanced by 3.5% despite the overall negative performance of equities across the world amid the hawkish actions undertaken by central banks.
Key drivers and news to consider to draft a CSL share price forecast
The following is a list of some of the potential catalysts (both negative and positive) that can affect the performance of CSL stock in the short, mid and long term.
Macroeconomic conditions
Central banks across the world have tightened monetary policies by increasing interest rates in response to historically high inflationary pressures.
These actions have resulted in a drop in the value of equity instruments in multiple markets and may continue to put pressure on the valuation of companies in different sectors of the economy. Higher rates typically increase borrowing costs and increase the risk of insolvency for corporations.
Safeness of the company's products
CSL develops highly sophisticated medicines, drugs and treatments that are typically subject to regulatory approvals to be marketed in the different markets the company reaches. Any concerns in regards to the safeness of these treatments may negatively impact the company's financial performance.
This includes decisions from regulators to prohibit the commercialisation of some of the firm's treatments in their respective jurisdictions.
Ability to push forward new treatments in the research and development pipeline
Pharmaceutical companies such as CSL rely heavily on the creation of new drugs and treatments to grow their top and bottom lines. CSL is currently conducting studies for multiple new treatments.
The company's latest investor presentation highlighted that eight treatments are currently enrolled in Phase III trials. The success of these studies in meeting their primary endpoints may dramatically affect the company's growth prospects.
Supply of plasma-based products
In its 2022 annual report, CSL emphasised that the Covid-19 pandemic has affected its ability to collect plasma for patients for the development of its products. Further disruptions in the supply chain of this critical substance may cause a drop in the company's top-line results.
CSL stock forecast: analysts' predictions and commentary
As of 7 December, data compiled by Yahoo Finance showed the consensus recommendation for CSL stock based on the opinion of 11 analysts by the end of November 2022 was 'buy', with a total of 9 firms rating the stock as such.
The average price target for the Australian healthcare stock stood at AUD318 as of 6 December, with the highest CSL stock forecast at AUD341.6 and the lowest at AUD254.
Based on the average CSL stock forecast cited above, analysts appear to be expecting that the stock could rise by 6% in the next 12 months.
Meanwhile, according to estimates from algorithm-based forecaster Wallet Investor, a third-party service, the short-term outlook for CSL stock was bullish, based on an assessment of its technical indicators.
The following were the algorithm's baseline CSL stock predictions for the next one to three years.
CSL stock forecast 2023: AUD 293.88 a share
CSL stock forecast 2025: AUD 284.85 a share
In both cases, the mid and long-term outlook for the stock appears to be bearish. The forecasts point to a 2.3% and 5.3% decline in the share price within the next one and three years, respectively.
None of these opinions and forecasts should be considered recommendations to invest in CSL stock. Investors are encouraged to perform adequate due diligence before making any investment decision. Past performance does not guarantee future results. Remember to never invest more money than you can afford to lose.
FAQs
Is CSL a good stock to buy?

CSL stock has outperformed Australia's top equity-focused index, the Australian All Ordinaries 30, delivering total gains of 552.5%, resulting in a compounded annual growth rate of 20.6%. However, past performance does not guarantee future results.
Will CSL stock go up or down?

No one can know for sure. According to forecasts from Wallet Investor, the value of CSL stock was expected to decline in the next one to three years. However, this alone should not be considered a recommendation to buy or sell CSL stock. ​​Analysts' predictions can be wrong. Forecasts shouldn't be used as a substitute for your own research. Always conduct your own due diligence before trading. And never invest or trade money you cannot afford to lose.
Should you invest in CSL stock?

The decision to invest in any financial asset should only be made after the investor has assessed the instrument's prospects and risks. Whether you should invest in CSL depends on your personal circumstances and risk appetite. You should do your own research and evaluate the level of risk you are prepared to accept before investing. And never invest or trade money you cannot afford to lose.
Related reading