Crypto scheme cost investors $7m, SEC says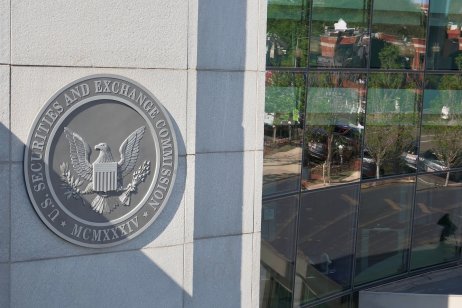 A cryptocurrency scheme set up by a Latvian citizen defrauded hundreds of retail investors of at least $7m (£5.3m), according to a complaint filed by the US Securities and Exchange Commission on 2 December in a New York federal court.
The complaint asserts that Ivars Auzins, who is also known as Ron Ramsey and Daniel Gaines, allegedly sold a fake digital coin known as Denaro, a purported "multi-currency debit card platform". The complaint further alleges that Auzins told investors that Denaro was mined by a fictitious company called Innovamine.
Auzins sold investors on the promise of receiving daily pay-outs for whichever coin they mined. Instead, he misappropriated all the funds from Denaro's initial coin offering (ICO), the complaint says.
"As we allege, Auzins was engaged in a brazen scheme to defraud retail investors under the guise of profitable digital asset opportunities," Kristina Littman, Chief of the SEC Enforcement Division's Cyber Unit, said in a statement. "We will continue to detect and pursue those that seek to victimize investors in the digital asset space."
Incoming crypto regulations
The complaint comes as US lawmakers are crafting regulations to adopt cryptocurrencies for mainstream use.
For example, lawmakers included a provision in President Joe Biden's recently passed infrastructure bill that creates reporting requirements for digital assets. But the bill doesn't take effect until January 2024.
Meanwhile, SEC chair Gary Gensler seems to be taking a more hawkish stance toward crypto than his predecessor.
During his testimony before the Investor Advisory Committee on 2 December, Gensler described the crypto markets as "rife with fraud, scams, and abuse in certain applications."
"This leaves markets open to manipulation," Gensler said. "This leaves investors vulnerable. If we don't address these issues, I worry a lot of people will be hurt."
Criminal investigation seizures
Cryptocurrency continues to make up the vast majority of the Internal Revenue Service's (IRS) criminal investigation seizures, according to a report conducted by the agency's criminal unit.
The IRS collected more than $3.5bn in cryptocurrency last fiscal year which accounts for 93% of the agency's total seizures, the report says.
This total includes a seizure of more than $1bn in cryptocurrency from Ross Ulbricht, the founder of Silk Road, a dark web marketplace for illicit items.
IRS Criminal Investigation Unit Chief Jim Lee highlighted in an introductory note the "first ever" sentencing for a case of Bitcoin-related tax fraud. He added that the agency can seize billions more next year.
"Today's criminals think we cannot catch them, but as evidenced by some of the great casework in this report, it is clear we can," Lee wrote.
Read more: Binance calls for global crypto regulations