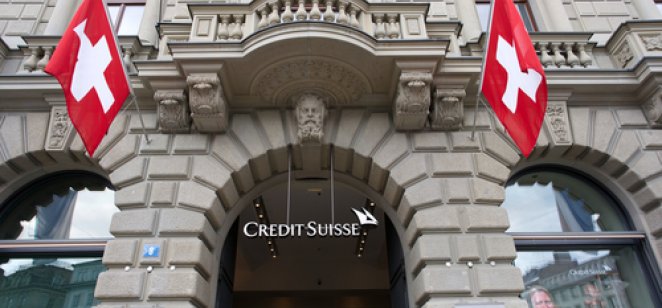 Credit Suisse (CS) can't seem to shake being embroiled in scandals and lawsuits. This time the bank is being accused by high flying fund manager Raffaele Mincione of failing to declare that the money invested in his fund group WRM came from donations the Vatican had set aside for the poor.
The money has instead been invested with the WRM fund which has bought luxury London property 60 Sloane Square in Knightsbridge, according to This is Money.
Credit Suisse stock has more than halved in value since early 2021 and while many banks have been able to boost profits and share prices by returning provisions for bad loans during Covid, Credit Suisse still languishes. But could its shares mount a rally if the negative noise around it clears?
A history of blunders
In the new year, Credit Suisse was facing a court case and litigation provisions after it was accused of allowing an alleged Bulgarian cocaine trafficking gang to launder millions of euros.
This was followed by the departure of its chair, Antonio Horta-Osario, after it was reportedly found that he had broken the UK's Covid-19 quarantine rules.
Prior to that, Credit Suisse suffered several more scandals, particularly in 2021 when the bank was subjected to a double FINMA investigation following its links with hedge fund Archegos Capital Management which blew up after making massive wrong way bets and Greensill Capital, which filed for bankruptcy.
Rob Murphy, managing director at Edison Group, feels these prior scandals overshadow the current lawsuit. "The latest lawsuit over a building bought by the Vatican concerns a significant amount of money $500m (£409m) but is less than some recent large losses.
"Compare this with the $5.5bn trading loss as a result of the Archegos family office collapse. With Greensill Capital supply chain finance – Credit Suisse is trying to recover $10bn of client money and has identified $2.2bn at risk."
The strain from the 2021 scandals was reflected in its full year results which came out 10 February 2022. It showed that Credit Suisse reported a full year pre-tax loss of CHF 522m ($567.61m). The bank attributed this to "the Archegos matter, goodwill impairment and litigation provisions".
Share price highs…and lows
Traders and investors have enjoyed better performance with Credit Suisse stock in the past. In 2017, the bank's share price entered a bull run under the management of CEO Tidjane Thiam. In November that year the bank said it was experiencing strong growth amid cost reductions and the share price was lifted to a five year high of $20 in January 2018.
What is your sentiment on CS?
Vote to see Traders sentiment!
But for bullish trades, investors would have to show some patience. Murphy explains: "A reduction in the noise around scandals will be positive for sentiment but it may take some time for the shares to recover as the bank is underperforming many peers on a core basis and the economic and financial market environment is weakening as central banks tighten policy."
Gain from restructure?
There could be some gain for Credit Suisse stock once the bank sees the full benefits of its restructure plans. But again, this could take time.
"Credit Suisse is undergoing a restructuring which will reduce risk and capital intensity but will also impact revenues. The company has been getting out of the prime brokerage business, reducing its long duration derivatives book, exiting non-core markets, cutting costs and strengthening its risk controls.
"Credit Suisse does have a cash generative wealth management business and a decent CET1 ratio of 13.8% which will help it weather the costs of restructuring and a weaker environment. But experience with banks like Deutsche shows restructurings can take a long time and cost a lot of money," said Murphy.
Read more