Copper hit by rising inventories: China covid risk weighs heavily on Cu
Subscribe to Weekly Highlights
The major market events for the week ahead right in your inbox.
Subscribe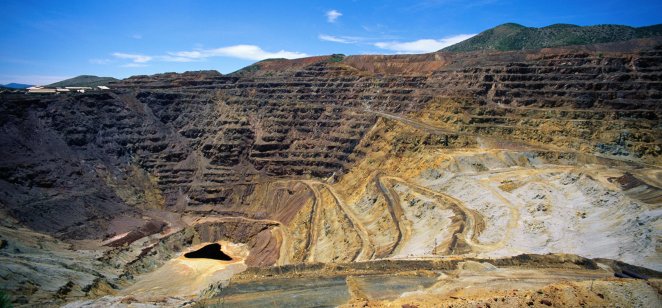 Content
Copper has fallen 5.2% in the last week, mainly due to rising stocks in metal warehouses across the world. Furthermore, news of a number of Chinese cities reintroducing mass testing, as well as Beijing closing down parks and museums hit the base metal hard.
However, on Tuesday investors received a slight ray of hope, with copper up about 2.4%, mainly due to a declining US dollar (DXY). Unfortunately, it was still not enough to counteract the losses of the past week, in the light of new developments in top consumer China.
What is your sentiment on Copper?
Vote to see Traders sentiment!
Copper prices have been dipping due to higher stock levels
Why has copper fallen so much this last week?
Copper prices have been adversely affected in the last few days due to increasing inventory, especially in London Metal Exchange (LME)-linked warehouses. Since November 10, copper stocks at LME warehouses have climbed 15%, to about 91,250 tonnes.
Over the last weekend, Beijing also reported three COVID deaths, which has heavily worried investors about the possibility of the new government re-tightening the current zero-COVID norms. If this happens, copper as well as other base metal demand from China is likely to suffer heavily, due to decreased production.
Copper is also a relatively high-energy metal to process, which has dealt an additional blow to manufacturers which are already struggling amid unusually high energy bills due to the Russia-Ukraine war. This is likely to get worse once the EU ban of Russian crude oil comes into place from 5 December onwards.
BHP (BHP) has also successfully de-escalated a potential strike at its Chilean Escondida copper mine. Had this strike gone through, copper prices may have received a considerable boost for the coming few months due to increased supply chain constraints. However, that is unlikely to happen now.
Industrial production in China also grew by about 5%, which was slightly less than the expected 5.2% and far less than the 6.3% of the previous month. This does not bode well for metals such as copper, nickel and aluminium, which are intrinsically linked to the Chinese industrial sector.
Furthermore, house prices have also fallen for the sixth month in a row in China, which has led to reduced demand for copper from the real estate and property sector. This is a double blow for an industry which has already been struggling to recover since Evergrande's near-collapse at the end of last year.
| | |
| --- | --- |
| Long position overnight fee | -0.0196% |
| Short position overnight fee | 0.0049% |
| Overnight fee time | 22:00 (UTC) |
| Spread | 0.04 |
| | |
| --- | --- |
| Long position overnight fee | 0.0632% |
| Short position overnight fee | -0.0928% |
| Overnight fee time | 22:00 (UTC) |
| Spread | 0.005 |
| | |
| --- | --- |
| Long position overnight fee | -0.0143% |
| Short position overnight fee | 0.0007% |
| Overnight fee time | 22:00 (UTC) |
| Spread | 0.03 |
| | |
| --- | --- |
| Long position overnight fee | -0.0192% |
| Short position overnight fee | 0.0067% |
| Overnight fee time | 22:00 (UTC) |
| Spread | 0.020 |
Copper technical analysis
At the time of writing, copper was trading at about $3.6, with an increase of about 2% on Tuesday. The metal also saw a decline of about 5.2% in the last week, although it was still up about 5.6% in the past one month.
However, the metal is still down about 27.7% from its early-March highs, at the peak of the Russia-Ukraine war. The next resistance level could very well be the $3.8 level, which aside from last week, the metal has been struggling to touch since the end of June.
The next support level, on the other hand, could be seen around the $3.4 level, last seen on 4 November, which could be followed by the $3.2 level, which was last seen around the end of September.
Copper prices have fallen more than 5% over the last week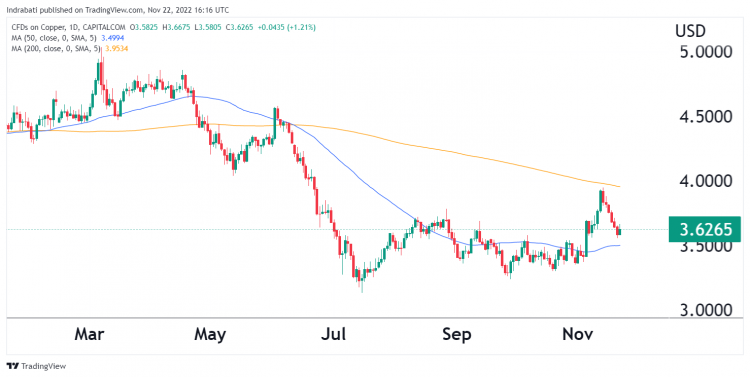 Copper prices lost over 5% in the last one week – Credit: TradingView
What is the outlook for copper?
Copper prices have often been considered an indicator for global economic slowdown and this is still the case at present. Although economies such as the US and the UK have had to struggle with multi-decade high inflation for the last several months, manufacturing and industrial activity has still seen considerable slowdown in many parts of the world, especially China. This has led to stagflation.
In the coming few months, copper prices depend largely on how well China is able to deal with its seasonal surge of COVID-19 cases, as well as the policies implemented by Xi Jinping during his historic third term. Furthermore, output from key producers such as Chile and Peru also have to be monitored closely, as they have seen declines in the last few months.
However, in the long term, copper is still an integral part of the green transition, with it being used heavily in electric vehicles, solar panels, wind and thermal energy as well. This, along with reports from Trafigura and Freeport McMoRan (FCX) of copper stocks likely to reduce drastically in the coming few months may ensure that the metal sees a considerable boost.
Related reading