Conflux price prediction: What is conflux (CFX)?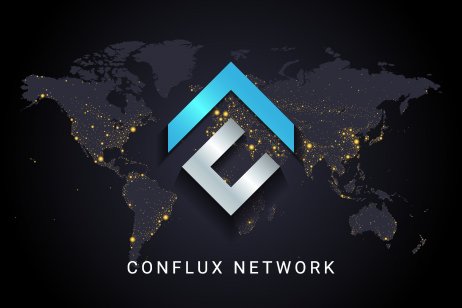 Conflux aims to make crypto faster, and to comply with regulations in China, a country which has not been seen as the most crypto-friendly jurisdiction. So what is conflux (CFX)?
Let's see what we can find out, and also look at some conflux price predictions that were being made as of 19 April 2023.
Conflux explained
In cryptocurrency, perhaps the single most important technological development is the blockchain. The idea of a network which allows its users to have privacy and security is crucial to crypto. While not every cryptocurrency runs on blockchain technology – Ripple (XRP) is a notable exception – most do. There are, however, some worries that people might have with blockchains, even though they are otherwise incredibly keen on cryptocurrencies. Blockchains can be slow, and with the price of transactions being, often, dependent on how long a system takes to process a payment, that can make them expensive, too.
Conflux is a blockchain that aims to change all that, with its stated aims being to create "a blockchain without barriers".
The blockchain uses a proof-of-work (PoW) consensus mechanism in order to allow people to add blocks to the blockchain and earn rewards. The idea behind proof-of-work is that, basically, users utilise computers to solve increasingly complex mathematical equations in order to add blocks. These calculations can use a lot of electricity, which critics say is bad for the environment. As a result, more and more blockchains are either being set up using the alternative proof-of-stake (PoS) consensus mechanism, or something similar, which sees blocks added based on how much of a particular coin people already hold, or else are transferring from PoW to PoS or similar. Indeed, Conflux is in the process of making such a change, announcing in March 2022 that it was planning on transferring to a hybrid of PoW and PoS.
What makes Conflux different to other blockchains is the way in which it stores the data that makes it up. Rather than having a long list of information, Conflux uses something called a tree graph. In effect, this means that blocks are split into different branches, each linked to a parent block. The idea is that, by adopting the tree structure, new blocks can be created quicker without any problems or any security worries.
Conflux is based in China. The Beijing authorities have made a name for themselves by being very strict on regulations surrounding cryptocurrency. Nevertheless, Conflux appears to be operating successfully in the country, with news dropping in 2021 that city authorities in Shanghai had given the go-ahead for the organization behind the blockchain to partner with Shanghai Maritime University in order to help the city establish itself as a global finance and shipping centre, using a digital version of the Chinese yuan in order to do so.
Every blockchain needs its own native token, and Conflux has this in the form of the conveniently-named conflux coin, also known by its ticker handle of CFX. This coin is used to pay transaction fees and reward people who put the blocks on the blockchain. Holders have the right to vote on changes to the network, and conflux can also be bought, sold and traded on exchanges.
While Conflux is based in China, its whitepaper was written by two Canada-based academics, Andreas Park and Andreas Veneris. It is compliant with Chinese crypto regulations and was founded in 2018 by Fan Long, YuanJie Zhang and Ming Wu.
Conflux price history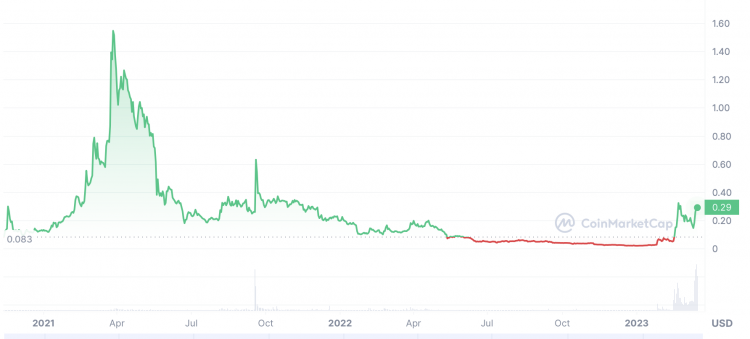 CFX price history from launch to present. Credit: CoinMarketCap.com
While past performance should never be taken as an indicator of future results, knowing CFX's price history can help us if we want to either interpret a conflux price prediction or make one of our own.
When conflux first came onto the open market in late 2020, it was worth about $0.08. Although it went up to around $0.30 in late November, the price later dropped down to around $0.10. In early 2021 the cryptomarket went through a boom period, and CFX hit an all-time high of $1.70 on 27 March 2021. The price then fell back, dropping below $1 by early May. It has remained under one dollar since then and, although the news of its Shanghai partnership caused a spike to $0.823 on 18 September 2021, it sank down again, closing the year at $0.1994.
2022 was a sobering experience for cryptocurrency markets after the heights they enjoyed in 2021, and CFX has been one of the tokens which has dropped along with the market. While it initially rallied to $0.236 on 2 January, its price dropped to $0.09136 on 24 January. A series of peaks and troughs followed, before the news of its listing on the Onus exchange helped the token reach $0.2424 on 28 March.
May saw things go seriously downhill, though, as the news that the UST stablecoin had become depegged, taking the associated LUNA cryptocurrency down with it, led to a market collapse. CFX reached a low of $0.07082 on May 12. Any hopes of a recovery were nixed when the Celsius (CEL) crypto lending platform cancelled withdrawals and confirmed crypto was in a bear market. This led to CFX reaching a low of $0.04249 on 13 June.
There was recovery after that, though, with the coin breaking past $0.06 at various times in August and September. The collapse of the FTX (FTT) exchange damaged both the market and CFX, with it closing the year at $0.02198, down by nearly 90% year-on-year.
Things got even worse at the start of 2023, as New Year's Day saw it sink to an all-time low of $0.02191 before it started to make a slow recovery. It broke past $0.05 in late January, before the news that Conflux had partnered with China Telecon to create blockchain-enabled SIM cards saw it reach a high of $0.3595 on 21 February. After that, the after-effects of the collapse of crypto-affiliated bank Silvergate saw it drop to a low of $0.1347 on 11 March before rallying to $0.4395 on 29 March, before dropping to trade at around $0.33 by 19 April.
At that time, there were around 2.78 billion CFX in circulation out of a total supply of almost 5.3 billion. This gave the coin a market capitalisation of about $918m, making it the 58th largest cryptocurrency by that metric.
Conflux price prediction round-up
Let us take a look at some of the conflux price predictions that were being made as of 19 April 2023. It is important to note that price forecasts, especially when it comes to something as potentially volatile as cryptocurrency, are very often wrong. Many long-term cryptocurrency price forecasts are made using an algorithm, which means that they can change at a moment's notice.
CoinCodex had a rather dowbeat short-term conflux price prediction for 2023. The site said that it could trade at $0.246874 on 24 April before potentially falling further to $0.181976 by 20 May. Perhaps unsurprisingly, the site's technical analysis was bearish, with the 16 indicators sending negative signals against 14 making bullish ones.
CaptainAltCoin had a CFX price prediction which argued that the crypto could drop over the coming months, sinking to $0.2619 in June 2023. By April next year, though, there might be a recovery, it suggested, with the coin possibly trading at $0.4243. The site then went on to make a conflux price prediction for 2025 which saw the coin worth a potential $0.7146 while, in April 2028, the idea was that CFX could fall to $0.6491, before potentially hitting $1.79 in 2030 and $3.57 in 2040.
PricePrediction.net had a conflux coin price forecast that argued the coin could trade at $0.48 this year, $0.67 next year and $1 the year after that. The site then went on to suggest a conflux price prediction for 2030 of $5.97.
Finally, WalletInvestor was also optimistic in its conflux crypto price prediction. The site suggested that it could reach $0.888 in April 2024 and get to $2.94 in five year's time.
When considering a CFX coin price prediction, it is important to keep in mind that cryptocurrency markets remain extremely volatile, making it difficult to accurately predict what a coin or token's price will be in a few hours, and even harder to give long-term estimates. As such, analysts and algorithm-based forecasters can and do get their predictions wrong.
If you are considering investing in cryptocurrency tokens, we recommend that you always do your own research. Look at the latest market trends, news, technical and fundamental analysis, and expert opinion, before making any investment decision. Keep in mind that past performance is no guarantee of future returns. Never trade with money that you cannot afford to lose.
FAQs
Is conflux a good investment?

Whether or not CFX is a good investment will depend on whether it can continue to fall under Chinese cryptocurrency regulations, as well as the state of the crypto market in general.

Remember, you should always carry out your own thorough research before making an investment. Even high-market-cap cryptocurrencies have proved vulnerable to the current bear markets. Investors should be prepared to make losses and never purchase more than they can afford to lose.
Will conflux go up?

It is hard, if not impossible to tell. It is important to remember that crypto forecasts are very often wrong and that prices can, and do, go down as well as up.

In volatile cryptocurrency markets, it is important to do your own research on a coin or token to determine if it is a good fit for your investment portfolio. Whether the CFX coin is a suitable investment for you depends on your risk tolerance and how much you intend to invest, among other factors. Keep in mind that past performance is no guarantee of future returns. Never invest money that you cannot afford to lose.
Should I invest in conflux?

This is a question that you will have to answer for yourself. Before you do so, however, you will need to conduct your own research and never invest more money than you can afford to lose, because prices can and will go down as well as up.