Colgate Palmolive shares trade lower in Mumbai as profit dips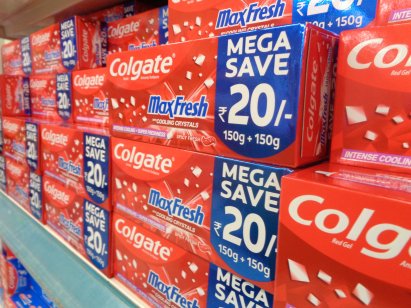 Shares of Colgate Palmolive (India) finished lower Monday, after the maker of toothpaste, bodywash and other personal products said quarterly profit dipped as expenses rose.
Colgate Palmolive's shares slipped 1.84% to INR1,534.90 on the National Stock Exchange (NSE), after the company reported a 1.82% year over year decline in net profit, at INR2.69bn, for the quarter through September.
Advertising spends jumped 12.7% year on year in the three months to 30 September, pushing overall expenses to INR9.98bn ($133.3m), according to a 25 October regulatory filing.
Net sales increased 5.2% year over year to INR13.44bn in the period under review, the second-quarter of the ongoing Indian financial year that ends in March.
Dividend pay-out
The fast-moving consumer goods (FMCG) manufacturer declared a "first interim dividend" of INR19 per share for the financial year 2021-22. The cumulative pay-out to shareholders will be about INR5.17bn, the statement added.
"Our overall growth momentum across our brands / categories has shown a consistent trajectory with good recovery on volume growth trends quarter on quarter," Colgate Palmolive (India) managing director Ram Raghavan commented.
"…Our commitment to invest behind our brands and innovation remains a critical driver. We see continued strengthening of our brands and recent innovations like Colgate Toothpaste for Diabetics, Vedshakti Mouthspray and the entire Gentle range of toothbrushes continue to gain traction with consumers across platforms…" he added.
The maker of Palmolive liquid hand washes has a market capitalisation of around INR417.5bn on the NSE, where its shares have lost some 2.8% so far this year.
Read more: Indian markets rise as traders pick banking stocks
The difference between stocks and CFDs
The main difference between CFD trading and stock trading is that you don't own the underlying stock when you trade on an individual stock CFD.
With CFDs, you never actually buy or sell the underlying asset that you've chosen to trade. You can still benefit if the market moves in your favour, or make a loss if it moves against you.
However, with traditional stock trading you enter a contract to exchange the legal ownership of the individual shares for money, and you own this equity.
CFDs are leveraged products, which means that you only need to deposit a percentage of the full value of the CFD trade in order to open a position. But with traditional stock trading, you buy the shares for the full amount. In the UK, there is no stamp duty on CFD trading, but there is when you buy stocks.
CFDs attract overnight costs to hold the trades, (unless you use 1-1 leverage) which makes them more suited to short-term trading opportunities. Stocks are more normally bought and held for longer. You might also pay a stockbroker commission or fees when buying and selling stocks.