Coinbase raises $2bn in 'frothy' junk bond market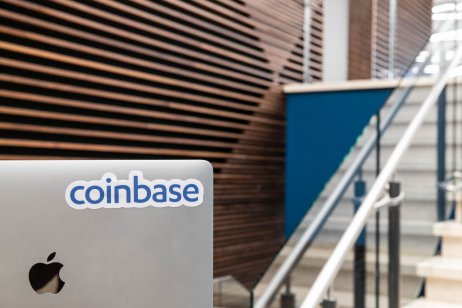 Cryptocurrency exchange platform Coinbase raised $2bn in the US high-yield bond market this week in order to fund product development and possibly acquire other companies.
Coinbase was expected to raise just $1.5bn but upsized the deal by $500m after it received some $7bn in the orderbook.
The company, rated Ba2/BB+ by Moody's and S&P respectively, priced a $1bn 3.375% senior note due in 2028 and another $1bn 3.625% senior note due in 2031, according to a company press release.
"Our ratings on Coinbase reflect the company's very low leverage, strong liquidity, significant scale with a solid share of crypto assets on its platform, and strong track record of avoiding security breaches since inception," S&P ratings wrote in a report analysing the senior offering this week.
"However, the ratings are constrained by heavy reliance on transaction revenue and volatility in earnings linked to significant variation in crypto asset trading volumes."
Bond market pops
Coming out of the Labour Day weekend the corporate bond market is on fire, with companies raising $112.5bn in the high grade bond market in just a week. Investors are also comfortable going down in credit quality to buy junk bonds as those high-yield-rated companies have raised more than $359bn this year.
Companies have stormed the market to lock in record-low interest payments, especially ahead of an anticipated rise in Treasury rates once the Federal Reserve begins to taper its accommodative policies in the coming months. But some investors are starting to worry if some of these names pricing deals in the space are too risky.
For example, low-rated Chinese real estate company Evergrande is warning that it may default on its bond borrowings next week.
"This froth is starting to worry us," said Andrew Brenner, head of international fixed income at National Alliance Securities, in his daily commentary mail out. "We are not a fan of the crypto space and worry about the fact that such a volatile enterprise now has fixed income payments to factor in."
Risk factors
Coinbase managed to garner strong investor demand despite several risk factors weighing on its business.
The company's main source of revenue continues to be earnings on a percentage of the notional value of trades matched on its platform. That can be very lucrative in an up market but very damaging in a down market, Moody's noted in a report published Tuesday.
Coinbase is looking to mitigate that risk by diversifying its list of tradable products and expanding its subscription-based revenue, but it will take time for this strategy to have a material effect, Moody's added.
With $4.4bn of cash on hand, which is now further bolstered by its $2bn of senior notes, Coinbase could survive a sustained period of lower crypto asset prices, Moody's identified through a stress test.
"An ability to maintain strong liquidity, positive free cash flow and a flexible capital structure through the cycle are common characteristics of investment grade creditworthiness, but the highly volatile nature of crypto assets and uncertain operating environment offset these strengths as Coinbase builds a track record of sustaining such performance," the report stated.
Regulatory environment
Although Coinbase has a significant first-mover advantage, it is not immune from competition that will face lower barriers to entry from the lack of regulation in the industry, Moody's noted.
"Regulatory and operational risks are abundant in this emerging sector," the report stated. "Coinbase has thus been measured and more prudent than other operators in onboarding different types of crypto assets to its platform, and has invested extensively in its compliance and trade surveillance programs and staffing, though this does not make it immune to potential regulations."
Indeed, Securities and Exchange Commission Chair Gary Gensler appeared before the Senate Banking Committee on Tuesday defending the agency's actions against cryptocurrencies and called for greater oversight of the sector.