Coffee price analysis: will it reach 2011 highs or fall after the ascending broadening wedge?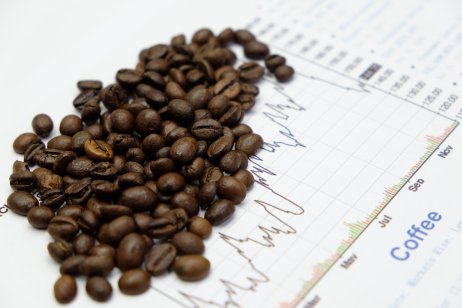 Coffee was one of the best performers among soft commodities in 2021, with an 80% gain from the start of the year, second only to oat (+93%), reaching its highest since January 2012.
Coffee "KC" spot contract – the world benchmark for Arabica coffee – has soared to US$235 cents/lb from $160 cents/lb of mid-July, an increase of about 50%, owing to a reduction of production in Brazil, the main producer country in the world, and supply-chain disruptions affecting trade in Asia.
Brazil saw its biggest frost wave since 1994 in July, wiping off between 150,000-200,000 hectares of crops, or 11% of the country's cultivated land.
According to Research and Markets, the global coffee market is expected to reach $144.68bn (£109.4bn) in 2025, expanding at a 7.60% compound annual growth rate (CAGR) between 2021 and 2025, owing to increased demand from emerging countries and production constraints posed by weather uncertainty.
Technically, coffee spot prices have been trading between two non-parallel trend lines, forming a so-called ascending broadening wedge – a technical chart pattern that arises in a bull market and indicates the potential for a strong reversal pattern.
What is your sentiment on Coffee Arabica?
Vote to see Traders sentiment!
Coffee prices weekly long term chart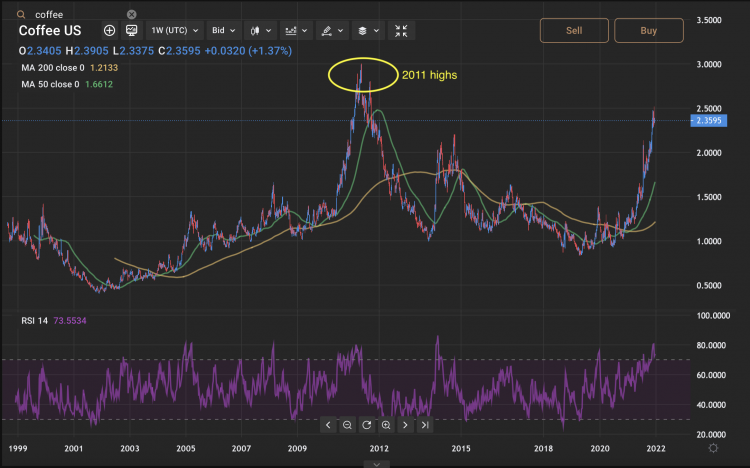 Coffee Arabica Spot 1-week price chart as of 13 December 2021 – Credit: Capital.com
Coffee fundamental analysis
When it comes to coffee, Brazil is by far the largest producing country of the world and weather conditions in Latin America are critical for the supply of this commodity.
The International Coffee Organization estimates that 169.6 60-kilogram (kg) million bags of coffee were produced globally in 2020, with Brazil accounting for approximately 40% of output. World coffee consumption is estimated to have climbed modestly in volume, reaching 166.34 60-kg million bags in 2020/21, up from 164.2 60-kg million bags in 2019/20.
The coffee outlook for 2022 is highly dependent on the global economic growth and pandemic prospects. The IMF's recent report revised its forecast for global economic growth downward, to 5.9% in 2021 and 4.9% in 2022. According to the Fund, the negative revision for 2021 represents a downgrade for advanced economies – in part due to supply disruptions – and for low-income developing nations, owing mostly to deteriorating pandemic factors.
In the short term, coffee's supply-demand dynamic may actually improve, relative to the past couple of months. The global return of Covid-related restrictions in response to the Omicron variant may operate as a drag on coffee consumption, while improving weather conditions in the Southern Hemisphere, with Brazil approaching summer, may assist sustain supply.
Coffee technical analysis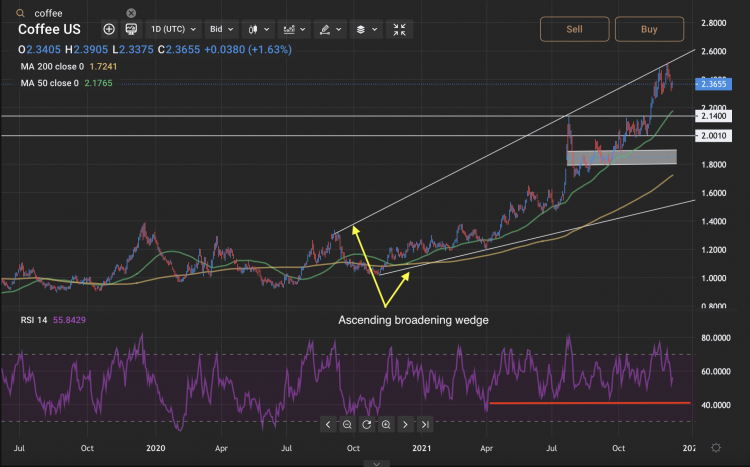 Coffee Arabica Spot 1-day price chart as of 13 December 2021 – Credit: Capital.com
Since September 2021, coffee spot prices have traded in the ascending broadening wedge pattern mentioned above. On the daily chart, the 50-day simple moving average (SMA) is 7.5% below current prices, while the 200-day SMA is 25% lower than spot. Since April, the 14-day relative strength index (RSI) has been over 40, jumping a couple of times into the overbought zone.
The first critical level of support is around $215 cents/lb, which was previously a triple top resistance and now is also the level at which the 50-day simple moving average hovers. If this support is breached, the likelihood of a further decline in coffee prices into the 180-190 region increases.
The resistance is denoted by the rising broadening wedge's upper line. If the psychological level of 250 is breached, bulls may get more confidence to assault the 275 level, which would be the highest since August 2011.
Before investing in any asset, always do your own research or contact your financial adviser before arriving at a decision. Remember that your decision should be based on your attitude to risk, your expertise in this market, the spread of your portfolio and how comfortable you feel about losing money. Never invest more than you can afford to lose and keep in mind that past performance is no guarantee of future returns.