CMA dumps probe into Gallagher's (AJG) $3.25bn Willis Re bid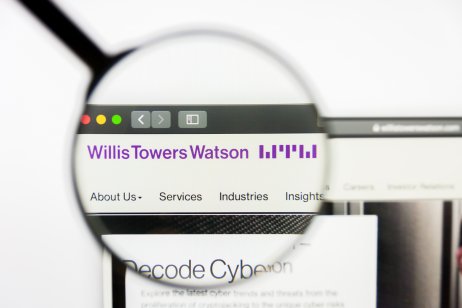 The Competition and Markets Authority (CMA) has called off a probe into Arthur J. Gallagher & Co's (AJG) bid to buy the treaty reinsurance business of Willis Towers Watson (WTW), potentially clearing the way for the deal to proceed unhindered.
The UK watchdog said it had made its decision not to refer the merger to a Phase 2 investigation based on the information it currently had.
Treaty reinsurance means reinsuring the whole of an insurance company's book of business instead of just reinsuring individual risks.
Failed Aon merger
The decision comes several months after WTW agreed to sell Willis Re to Gallagher for $3.25bn (£2.42bn) and follows Aon's failed attempt at merging with the reinsurance company.
Following the announcement of the Gallagher bid, John Haley, CEO of WTW, said: "Following the termination of the proposed combination with Aon, we have been taking time to reflect on what we have learned about WTW over the last 16 months and determine how we will move forward as an independent company.
"As part of this, we conducted a review of strategic alternatives for Willis Re, our global reinsurance business. While we highly value Willis Re and our colleagues who contribute to its success, we concluded that divestment was the appropriate path for this business and for WTW."
Competition concerns
The US Department of Justice (DoJ) blocked the $30bn merger between WTW and Aon earlier this year by filing a civil antitrust lawsuit.
The DoJ argued that the merger of two of the 'big three' global insurance brokers, which was agreed back in March 2020, would see the creation of a broking "behemouth". It added that this would eliminate the competition, raise prices, and reduce innovation for American businesses.
In July, Aon and Willis agreed to terminate the merger and end their litigation with the DoJ.
CMA to publish decision
The CMA added that the text of the decision to cancel the probe into Gallagher's bid will be placed on its website "as soon as is reasonably practicable". The CMA said it could not expand further on questions from Capital.com about the reasons for its call-off ahead of publication.
WTW PLC's share price rose 1.91% on the Nasdaq today following the news of the CMA probe withdrawal. Meanwhile, Arthur J. Gallagher & Co's share price was up slightly (0.37%) on the New York Stock Exchange (NYSE).
The deal is expected to close no later than the end of the first quarter of 2022, subject to regulatory approvals.
Read more: Unilever (ULVR) sells tea business to CVC Capital for €4.5bn