New JD Sports Chair: Can Higginson re-energise the share price?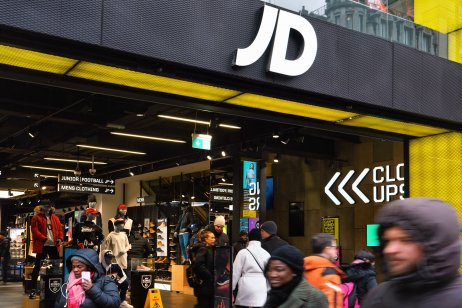 The newly appointed chair at JD Sports (JD.) Andy Higginson is faced with consumer spending pressures as well as calls for better corporate governance.
It has not been a quiet year at JD. Back in August, the Competition & Markets Authority fined the company for breaching obligations relating to an investigation into the takeover of smaller rival Footasylum.
And last month the company was accused of price fixing in relation to replica football shirts of Rangers FC.
But JD Sports has now made the first step towards rebuilding its senior leadership team following the departure of executive chairman Peter Cowgill.
Consumer-facing business expert Andy Higginson brings experience from years of service at supermarkets Tesco and Morrisons as well as Unilever, Guinness and Laura Ashley. The company is still yet to appoint a new CEO.
What is your sentiment on JD?
Vote to see Traders sentiment!
JD Sports share price chart
Better governance
As Russ Mould, investment director at AJ Bell explains, Higginson's role is to lead the board of directors and set high governance standards.
"This was something which was perhaps a weak point under the reign of Cowgill, given questions about why he had the joint chair and CEO role, as well as the circumstances of his exit - Cowgill left suddenly after a review of JD's internal governance and controls".
During his leadership the company came under fire for the design of bonuses, the way store leases were restructured at its camping gear chain Go Outdoors, and various dealings linked to JD's failed attempt at buying trainers group Footasylum.
Mould adds that given how JD's share price has slumped in recent months amid market worries about consumer spending and the surprise departure of Cowgill, Higginson will be under pressure from day one to try and improve the company's reputation from a boardroom perspective, and to find the right person to lead the business.
He concludes: "Despite all the drama, JD has been a resounding success and its core business model certainly doesn't need a rethink."
This upbeat assessment from Mould is supported by analysts Peel Hunt who recently put out a broker's note identifying the stock's valuation as 'cheap'. The 'buy' recommendation from Peel Hunt sets a target price of 250p for JD. The stock is currently some way below this at around 125p.
Peel Hunt's broker note followed JD's delayed full-year results reported at the end of June (for the year to end of January 2022). The company revealed that pre-tax profits increased by 102% from £324m to £654.7m.
Simply Wall St is similarly positive on JD, it sees the stock as good value based on its Price-To-Earnings Ratio (17.4x) compared to the estimated Fair Price-To-Earnings Ratio (24.5x).