China asks railways and local authorities to boost coal supply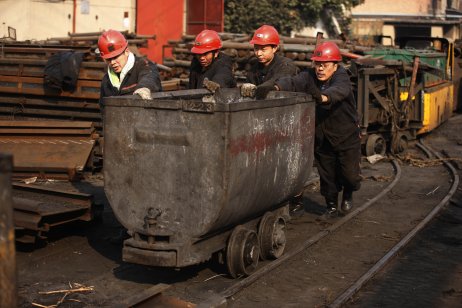 With the power crisis in China getting worse, the country's top economic planner has called on railway companies and local authorities to prioritise coal transportation to boost supplies for domestic power generation.
The National Development and Reform Commission (NDRC) also sent the notice which asked authorities to boost coal transportation and improve supply to meet the needs of residents' for heating in the upcoming winter season to local economic planners and energy administrators
The agency called on local economic planners to sign medium- to long-term coal contracts and "guarantee transportation capacity". It also asked railway companies to improve the overall planning of transportation capacity and how to increase it.
Blackouts in Beijing
The Wednesday (29 September) notice is available on the Chinese-language website of the NDRC and has been seen by Capital.com. It comes amid reports of rolling blackouts in Beijing and Shanghai.
Production at several key industries have also been affected. Coming close on the heels of the crisis at one of China's largest property developers Evergrande, the power shortage is expected to hurt the country's economic growth.
"According to our estimates, a power cut of 10% nationwide can trim 1.3 percentage points from overall GDP (gross domestic product) growth. As the magnitude of the power shortage remains uncertain, we will monitor China's fourth quarter growth outlook," Betty Wang, senior China economist at Australia and New Zealand Banking Group (ANZ), wrote in a note on Wednesday.
Progress in emissions cut by province, H1 2021 - Credit: ANZ Research
Carbon reduction causing power problems
Part of the reason for the power crisis in China is of its own doing. "Local governments are scrambling to comply with the emissions requirements that have been imposed upon them.
Some are even rationing or altogether stopping production of high-energy use sectors," Alicia Garcia-Herrero, chief economist for Asia Pacific at Natixis, said at a webinar on Wednesday.
ANZ's Wang also highlighted this as the key reason behind the power crisis. "Recent power outages and production suspensions in some parts of China are mainly due to the country's decarbonisation goal and a supply-demand gap in power generation," said Wang.
"Nine provinces reported higher energy emissions over the first half of the year while 10 were behind targets in controlling emissions. The central government has thus instructed local governments to take stricter actions to ensure that the annual targets will be met.
Subsequently, several provinces have imposed more aggressive production curbs in emission-intensive industries such as steel, coal and non-ferrous metals," she added.
Australia coal ban
According to Garcia-Herrero, another reason why China is struggling is because of the import restrictions it put on Australia, which used to be a key supplier of coal to the country.
"Coal prices are going up globally. The restrictions on Australian coal is having an add-on effect in China," she added.
Similarly, Wang noted that coal prices have also hurt China, where a large share of the electricity generation is from coal. "In China, the prices of domestic thermal coal traded at the main Qinhuangdao port have almost tripled since the first half of 2020, and have exceeded CNY1,000 ($154.65) per tonne.
Although Chinese officials have been trying to stabilise coal prices recently, it is unrealistic to expect coal prices to drop significantly in the near future unless there are unexpected shocks," she added.
Both Garcia-Herrero and Wang added that Chinese power producers have been struggling to absorb those costs and are unable to pass them onto consumers as electricity prices are subsidised in China.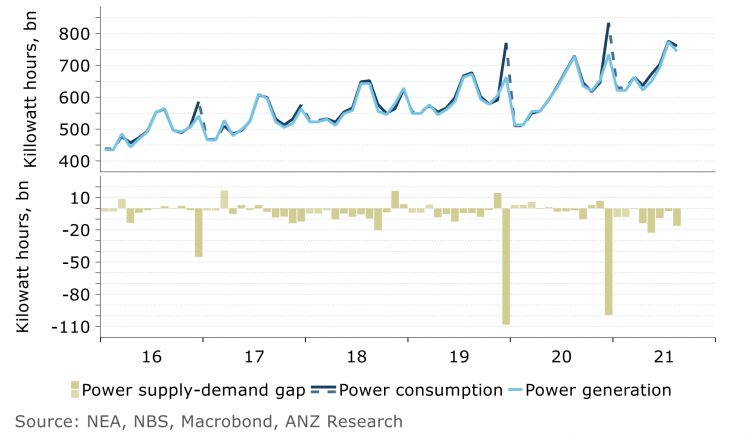 Power generation and consumption gap in China - Credit: ANZ Research
Inflation risk
What has also aggravated the crisis is the electricity supply gap. According to data shared by ANZ, power consumption rebounded quicker than power generation after the Covid-19 pandemic.
As of August 2021, China's power consumption rose 13.8% year-on-year to 5,470.4 billion kilowatt hours, 14% higher than its power generation.
"In China, the authorities need to act on the demand side to balance this supply-demand mismatch. But it is not easy to do that since it will have implications on inflation," Garcia-Herrero said.
Read more: Copper falls as China's power shortages slow industry