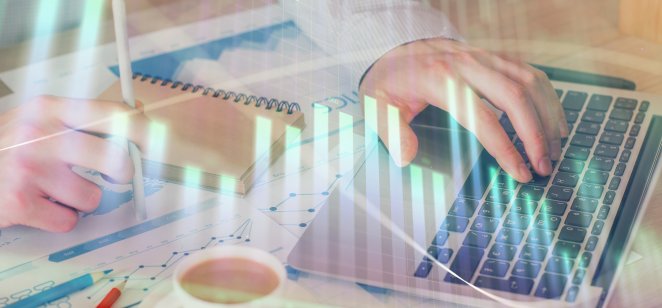 The stock price of US-based energy giant Chevron Corp (CVX) has retreated since hitting a fresh 52-week high on 8 June. At the time of writing (27 June), CVX has fallen a little over 20% from $182 per barrel (bbl) on 8 June, to $144.77/bbl on 24 June.
Since the start of the year, Chevron and other energy companies' stock prices have been lifted by soaring crude oil prices triggered by supply concerns after Russia's invasion of Ukraine in February.
While oil prices have remained elevated, they also have given up gains as risks of global recession loom, rising concerns of slowing demand. On the domestic front, US oil companies were also facing political pressure to tame sky-high fuel prices.
As energy stocks typically follow oil prices movement, will macroeconomic headwinds put a pause on Chevron's rally? In this article, we look into Chevron's financial performance, latest news that affect its stocks, and the latest Chevron share price forecast from analysts.
CVX stock price performance: Technical view
Like its oil and gas-producing peers in the energy sector, Chevron enjoyed robust growth in its stock price in the past year on rallying oil prices. Rebounded demand from countries loosening Covid-19 restrictions had outstripped supply as producers struggled to recoup output after demand plummeted during the pandemic, leading oil prices to historic lows.
Entering 2022, Russia's invasion of Ukraine further crimped already tight supply as Western nations are expanding their sanctions to target Russia's energy exports. The fear of reduced supply from Russia has catapulted oil prices, with international benchmark Brent briefly crossing above $139/bbl on 7 March.
The prospect of high energy prices has attracted investors to energy companies' stocks, including the CVX stock price that has risen around 21% from $119.26 at the start of the year to the closing price of $144.77 on 24 June.
On 8 June, Chevron stock hit a 52-week high of $182.40 as oil prices rebounded to above $120/bbl on supply concerns. Brent rose 2.5% on the day to hit $123.58, while US crude oil West Texas Intermediate (WTI) gained 2.26% to $122.11.
However, the stock has dropped 20.63% since 8 June to $144.77 on 24 June. Brent and WTI have also dropped to below $110.
Despite the stock having retreated recently, it has returned 34.56% for investors over the past year, outperforming the S&P 500 Energy index, which has grown 31.48% - the benchmark S&P 500 is down 8.52%. Brent and WTI have gained 40.3% and 47.5%, respectively, in 2022 despite prices easing in the past weeks.
In the past five years, Chevron's stock value has grown by 38.76% - the S&P 500 has returned around 61%, as of 27 June.
Short-term technical analysis on the stock showed bearish sentiment, with daily and weekly indicators suggesting a 'sell', while monthly indicators suggesting a 'buy', according to TradingView. The Relative Strength Index (RSI) reading at 35.18 pointed to neutral. The stock traded at above all moving averages, indicating bullish sentiment.
Chevron stock news: Oil demand to cool, domestic fuel prices woe
Oil prices have fallen in the last weeks as fears about slowing global economic growth trumped concerns about supply disruptions caused by the Ukraine conflict. Expectations about the slowing growth of China's oil demand after the country reimposed strict restrictions to tackle fresh Covid-19 outbreaks have also added pressures on oil prices.
Fitch Solutions said in a note on 23 June that a recovery in China's demand could help boost demand in the latter part of the year:
"The demand-side lift from the post-pandemic recovery has largely been exhausted and consumption growth has been brought under rising pressure from spiralling energy prices and a broader cost of living crisis.
"However, broader recession risks continue to weigh and are currently dragging down on oil prices through sentiment channels. The supply-side drivers, though, remain bullish."
On 7 June, the World Bank cut its global economy growth forecast to 2.9% for 2022, from an initial forecast of 4.1% in January. On 24 June, the International Monetary Fund (IMF) slashed US economic growth forecast for 2022 to 2.9%, compared to 3.7% forecast in April.
Fitch Solutions maintained its forecast for Brent crude to average $100 in 2022 and $90 in 2023.
In the US market, US oil refiners, including Chevron and ExxonMobil (XOM), have been under-pressure from the government to increase fuel to cool soaring fuel prices. Surging fuel prices have contributed to accelerating US inflation to four decade high, with gasoline prices hitting above $5 per gallon for the first time on record in mid-June.
In a letter to oil companies on 15 June, US President Joe Biden criticised the companies, saying passing historically high refinery profit margins directly to American consumers was not acceptable. Chevron CEO Mike Wirth responded to Biden, saying criticising and vilifying the industry would not help address the sky-high fuel prices and called on the government to work with his company.
In an interview with the Washington Post, Wirth had said it is unlikely a new refinery will be built in the US any time soon, noting:
"In a country where the policy environment is trying to reduce demand for these products, you are not going to find companies to put billions and billions of dollars into this."
Chevron has been stepping up investment in renewable energy to adjust to energy transition. The latest was the acquisition of Renewable Energy Group on 13 June. The deal is valued at $3.15bn, and is expected to help the company achieve its goal of growing its renewable fuels production capacity to 100,000 barrels per day (bpd) by 2030, the company said in a statement on 28 February.
Q1 earnings miss estimates
The San Ramon, California-based oil and gas explorer reported earnings of $6.3bn in the first quarter of 2022 – up almost fourfold from the $1.4bn earned in the same period in 2021.
Adjusted earnings came in at $6.5bn – $3.36 a share – which missed consensus analysts' estimates of $3.44, according to Market Beat. However, the figure is well up on the $1.7bn – $0.90 a share – in the first quarter of 2021.
Wirth said in the company's earnings call on 29 April:
What is your sentiment on CVX?
Vote to see Traders sentiment!
"And in the first quarter we continued to make progress, delivering book returns in the mid-teens, investing to grow both our traditional and new energy businesses, and returning even more cash to shareholders while maintaining an industry-leading balance sheet."
From its US upstream operation, the company's sales price of crude oil and natural gas liquids averaged $77 a barrel in the first quarter of 2022, up from $48 year-over-year (YoY). It sold natural gas at average $4.10 per thousand cubic feet in the quarter, up from $2.15 in the previous year's first quarter.
Globally, Chevron pumped a total of 3.06 million bpd of combined oil and gas output in the first quarter of 2022, down from 3.12 million bpd in last year's first quarter.
In the earnings call, Pierre Brebber, Chevron's CFO, attributed the lower production to several factors, including the expiration of production permit at its Rokan block in Indonesia and lower output in Thailand as it approached the end of the concession.
However, higher production growth in its Permian Basin and the absence of Winter Storm Uri impacts partially offset the fall. Permian Basin reached a record oil and gas output of 692,000 barrels of oil equivalent (boepd) in the first quarter.
On the downstream operation, Chevron processed 915,000 barrels per day (bpd) of crude oil in the first quarter of 2022, up 4% from the same period a year ago. Refined product sales were up 16% YoY to 1.22 million bpd due to higher fuel demand as Covid-19 travel restrictions eased.
For the second quarter, Chevron raised its 2022 guidance for Permian Basin's output to 700,000 bpd to 750,000 bpd, a 15% increase from 2021. The company expected lower production for several additional reasons, including planned turnarounds at the Wheatstone liquefied natural gas (LNG) project in Australia and Angola LNG, and the expiration of the Erawan concession in Thailand, Brebber said.
CVX stock forecast: Analysts' sentiment
Allen Good, Morningstar's Sector Strategist on a note on 29 April wrote Permian Basin and expansion of Tengiz oil field in Kazakhstan could fuel the company's future growth:
"Newer projects have superior economics and can earn higher returns at lower oil prices after rounds of cost reductions, re-engineering (standardisation and simplification), and service price deflation."
However, he added that Chevron runs the possibility of rapid declines in world demand, which could prevent it from fully developing its reserves:
"Our research suggests oil demand will not decline materially for several more decades, implying more supply will be needed and the risk of stranded assets for Chevron is low. However, greater adoption of electric vehicles in the US, specifically California, could reduce demand for refined products, impairing the value of Chevron's refineries."
For the general market outlook, BMO Research in its note on 6 June wrote that it expected crude oil prices to move higher over the next several months due to energy shortages. Crude oil would get fundamental support from soaring petroleum products prices:
"We believe that petroleum product prices could continue to outpace crude oil prices, leading to a continuation of strong margins and record financial results for the downstream segments of integrated oil and gas companies."
Chevron share price forecast: Targets for 2022 to 2025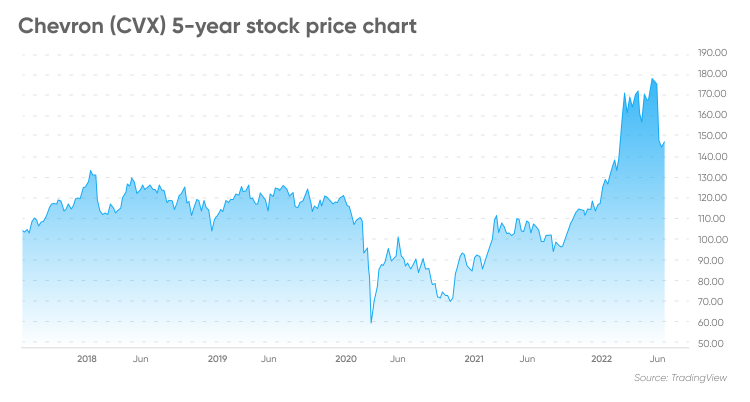 With looming economic slowdown and softening oil prices, do analysts still optimistic on their Chevron stock predictions?
As of 27 June, out of 23 analysts covering Chevron tracked by Market Beat, 15 recommended a 'buy' for CVX stock, seven a 'sell' and one a 'hold'. Analysts offered an average 12-month price target of $169.57, representing a 17.13% potential increase from the last price of $144.77 on 24 June. The analyst gave the highest CVX stock price target at $202 and the lowest at $112.
A consensus Chevron stock forecast of 17 analysts polled by TipRanks rated the stock a 'moderate buy', with nine analysts recommending a 'buy', seven a 'hold' and one put a 'sell'. The analysts offered an average target price of $180.59 a share.
In its Chevron share price forecast, TradingEconomics estimated the stock to trade at $144.43 by the end of this quarter. The economic data predicted CVX stock to be at $133.21 in a year.
Stock analysis companies typically do not offer long-term price forecasts. However, algorithm-based price forecasting service Wallet Investor was less bullish on the CVX stock price, saying it was a not so good long term (one-year) investment. However, the service forecast the share to increase until 2025.
In its Chevron stock forecast for 2022, Wallet Investor expected the stock to trade $147.082 in December 2022 and $154.148 in three years' time, according to the service's Chevron stock forecast for 2025.
As of 27 June, GovCapital forecast the stock to trade at $150.912 by 31 December 2022, surging to $527.067 by 31 December 2025.
When looking for Chevron stock predictions, remember that estimates from analysts and price prediction sites can be wrong. Projections are based on fundamental and technical analysis of CVX stock's previous price trends. Past performance does not guarantee future outcomes.
Conduct your own research, and keep in mind that your decision to trade is influenced by your risk tolerance, market expertise, investment portfolio spread, and level of comfort with losing money. Never invest money that you cannot afford to lose.
FAQ
Is Chevron a good stock to buy?

As of 27 June, analysts tracked by TipRanks and Market Beat recommended a 'buy' for Chevron's stock.

However, whether the stock is a good buy or not will depend on your investing goals and portfolio composition. You should do your research. And never invest what you cannot afford to lose.
How high can Chevron stock go?

At the time of writing on 27 June, GovCapital provided one of the most optimistic forecasts for Chevron stock value, predicting it could reach $527.067 by 31 December 2025.

Keep in mind that there are many factors that influence the rise and the fall of a company's stock price. Some are affected by the company's success, while others are influenced by broader macroeconomic issues. Remember that markets are volatile. There are no guarantees.
Should I invest in Chevron stock?

Whether you should invest in Chevron depends on your risk tolerance, investing goals and portfolio composition. You should do your own research. And never trade more money than you can afford to lose.