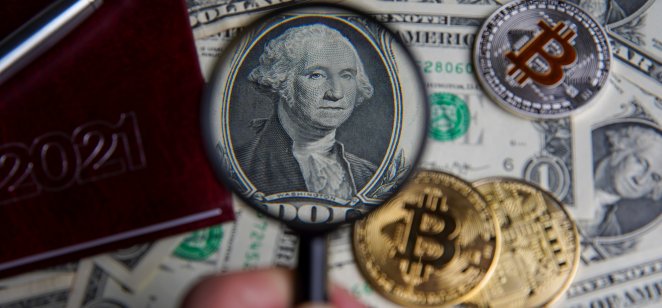 Digital assets need government oversight, says the head of the US's Commodity Futures Trading Commission, in order to bring stability to the often volatile and fragmented sector. But the cryptocurrency industry and some US politicians worry that over-regulation could suffocate a growing market.
In testimony before the Senate Agriculture Committee, Acting Chair Rostin Behnam said, "In essence, this is an unregulated market. There is so much that we are not able to see because of this limited authority."
On Wednesday afternoon, bitcoin, the most popular cryptocurrency, was trading at around $44,400, drastically down tens of thousands of dollars from late 2021.
In a letter to the House and Senate agriculture committees, Behnam stressed the CFTC's focus on limiting risk to individual investors and promoting market integrity as the main reasons the commission should play a leading role in regulating the $1.7trn (£1.3trn) cryptocurrency market. Congressional Agriculture Committees oversee the CFTC.
"At the CFTC, we have seen that a regulatory regime focused on core principles can be successful in overseeing a wide variety of markets and have no reason to think those same principles cannot be applied to digital asset markets," he wrote.
The cornerstone of the Biden administration's digital asset policy is investor protection. However, the White House has struggled to apply decades-old regulations governing other financial markets, such as stocks, bonds and commodities, to crypto. Last year, Biden created a working group to explore ways to ensure safety for investors in the crypto market.
Cash flow
The industry is pumping millions into lobbying efforts to avoid oversight by the CFTC and US Securities and Exchange Commission (SEC). Republicans are floating the idea of handing oversight to the states.
The SEC and CFTC has recently cracked down on cryptocurrency activities they consider illegal or defrauding investors, Behnam said, adding neither agency seeks full oversight of bitcoin or ethereum, the two major cryptocurrencies, representing more than 60% of the digital asset market.
Legal framework
Under questioning from Republican committee members, Behnam explained government lawyers contend the bitcoin and ether are commodities, which is outside the SEC's authority and the CFTC is limited to regulating derivatives, both spot markets.
That is partly because many lawyers believe the two assets are, for legal purposes, commodities that fall outside the SEC's authority, and partly because the CFTC only has the power to regulate derivatives, as opposed to spot markets.
What is your sentiment on BTC/USD?
Vote to see Traders sentiment!
"There is no one regulator, either state or federal, with sufficient visibility into digital-asset commodity trading activity to fully police conflicts of interest and deceptive trading practices impacting retail customers," Behnam said.
Fragmentation
Perianne Boring, president and CEO of the Chamber of Digital Commerce, said while the SEC and CFTC police for fraud and market integrity, other agencies ranging from the Consumer Financial Protection Bureau to the Federal Trade Commission to the Office of the Comptroller of the Currency police the industry. She went on to list nearly a dozen more federal agencies that regulate the industry.
"As the digital asset industry has evolved, various regulators have put out guidance, rules, and enforcement actions that are sometimes divergent or conflict from prior actions and/or those of other regulators," she said.
During testimony, industry leaders said if cryptocurrency is to be further regulated, they would prefer oversight by the CFTC. They explained it would be impossible for cryptocurrencies and trading platforms to comply with SEC rules set up for stocks and bonds, some going back nearly nine decades
Further reading: