CertiK price prediction: What's next for CTK token?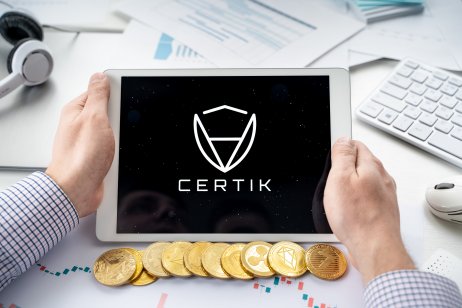 The cryptocurrency market has been suffering a reversal lately affecting even the biggest players. Bitcoin, the flagship cryptocurrency, plunged to its lowest levels since mid-October, losing the $60,000 and $58,000 support levels over the past few weeks.
The major correction has affected the bullish outlook for the cryptocurrency market. According to Coinmarketcap, major cryptocurrencies, including ethereum (ETH) Solana (SOL) and Cardano (ADA), suffered from the downtrend. The CertiK (CTK) coin price was no exception.
On 1 December 2021, CTK peaked at $3.26, marking its highest level in the past 90 days, according to CoinMarketCap. However, the spike was short-lived and the CertiK token continued moving down. The price fell to as low as $1.23 on 4 December 2021. It has rebounded to $1.68 at the time of writing (9 December).
This article covers the token's fundamentals, a technical examination of its price action, recent news and price drivers, and the latest CertiK crypto price prediction.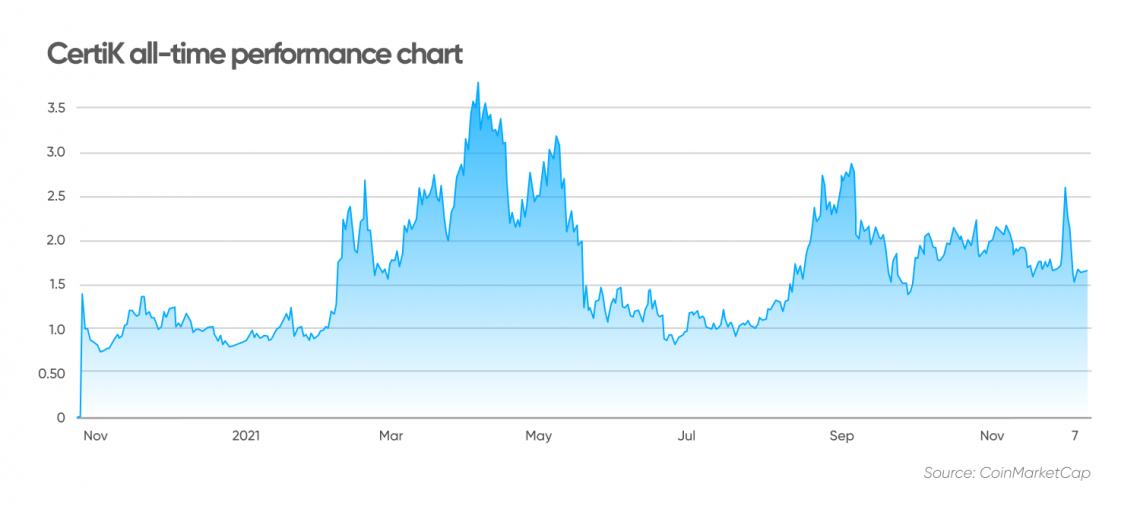 What is CertiK?
CertiK is a security blockchain project that conducts security audits of blockchain protocols, wallets, decentralised applications (dApps) and smart contracts using its in-house Formal Verification process.
It has partnered with several prominent cryptocurrency companies, including Binance and Huobi, to secure their blockchain ecosystems.
According to CertiK, it "has secured over $8bn worth of digital assets across all sectors of blockchain, including the booming DeFi sector."
While a CertiK audit may discover attacks and other security flaws in blockchain companies, it can not address them. The audit identifies threats and weak points and advises companies on how to eliminate them.
Introduced as a delegated proof-of-stake (DPoS) blockchain, the CertiK ecosystem aims to develop decentralised applications and blockchain structures within a highly secured and trustworthy environment. The native token of the blockchain is known as CTK.
The ecosystem includes several components to enhance blockchain security, including CertiKShield, Security Oracle, CertiK Chain, Skynet and DeepSEA. The mainnet, Shentu, launched on 24 October 2020, will have a capacity to handle up to 125 nodes.
What makes CertiK unique?
New research by Elliptic reveals that over $12bn in losses have been suffered by DeFi users and investors due to the malicious exploitation of DeFi. Theft and fraud across DeFi platforms surged by 600% from 2020, with $10.5bn stolen since the beginning of 2021 compared with $1.5bn last year.
"The DeFi ecosystem is an incredibly exciting and fast-moving space, with financial services innovation happening at light speed. This is attracting large amounts of capital to projects that are not always robust or well-tested. Criminal actors have seen the opportunity to exploit this," said Tom Robinson, Chief Scientist at Elliptic.
CertiKSheid, an inherent component of the CertiK chain, addresses this problem by deploying a decentralised pool of CTK to reimburse lost assets from any blockchain. CTK is used as collateral within the CTK pool by its members. External members can also purchase this protection.
Another critical component is Skynet, which combines many security toolchains and can operate both off- and on-chain. It assigns a security score of 0 to 100 to each smart contract based on an impartial risk assessment.
The use of DeepSEA further enhances security. It's the CertiK chain's native programming language, which assists in verifying complex smart contracts.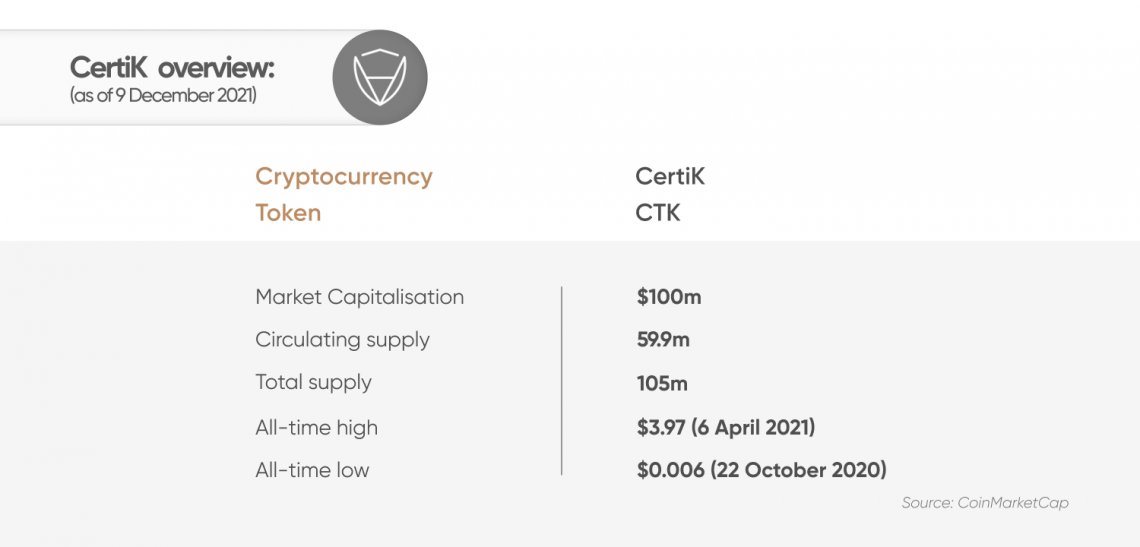 CertiK price analysis
The CTK coin ended 2020 at $0.8468, a level seen back in September 2020, according to CoinMarketCap.
In the first quarter of 2021, its price increased from $0.9241 on 21 January to the all-time high of $3.97 on 6 April 2021. Following that, the upward trend reversed. The CTK price plummeted to $0.873 by 22 June 2021.
CTK's price rebounded steadily from the end of June to September, when it peaked at $2.98 on 6 September. The third quarter ended on 30 September 2021, with a closing price of $1.51.
The CTK price spiked from a closing price of $1.86 on 30 November to a high of $3.26 on 1 December. However, CertiK lost around 62% of its value, falling from $3.26 to $1.23 on 4 December 2021 amid a broader cryptocurrency market crash.
At the time of writing (9 December 2021), CTK token was trading at $1.68, with a market capitalisation of $100m, according to CoinMarketCap.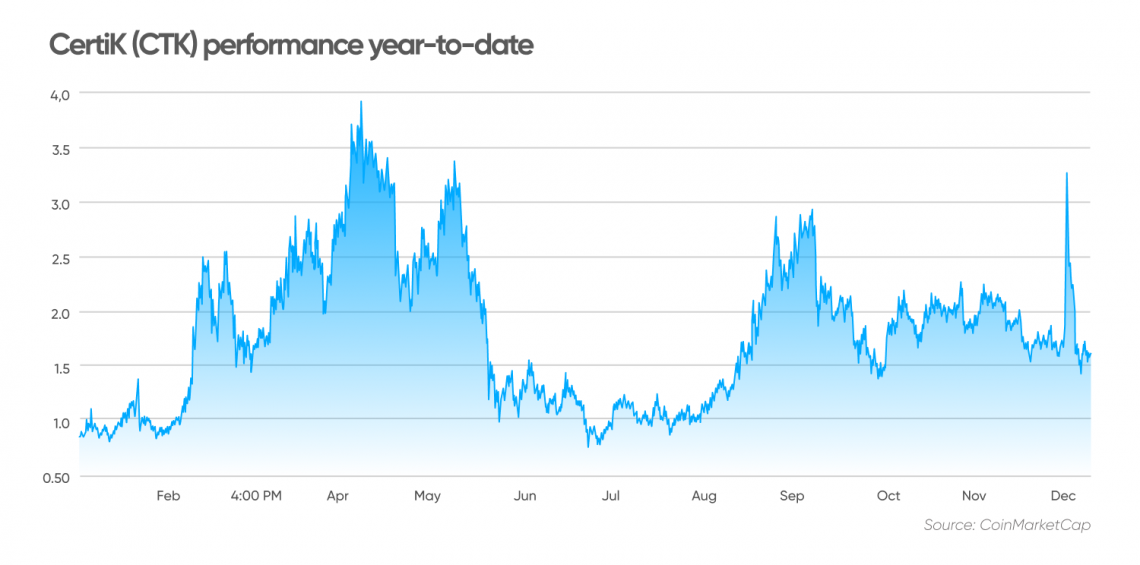 CertiK coin news and price drivers
CertiK's developing team has shared several significant news items lately that could drive the CTK coin price:
Largest fundraising by a single company and heading toward Unicorn status.
On 1 December 2021, CertiK closed an $80m round of financial funding, which took the company's valuation to nearly a billion dollars. Notably, this is the largest fundraising by a single company operating in blockchain security. Sequoia Capital China led the fundraising event. Tiger Global, Coatue Management and GL Ventures made additional investments.
The announcement boosted the CTK price, which closed at $3.26 on 1 December 2021.
"The company has grown substantially, both in people, and revenue, as well as new products", CertiK stated in the press-release. "The company's revenue growth numbers are very strong, and don't seem to be slowing down anytime soon. Over the past year the company has increased its revenue by 20," said the company.
CertiK introduces Skytrace
On 19 November 2021, CertiK introduced Skytrace, an intuitive graph tracing tool to facilitate visualised wallet insights for users. It allows the users to search, expand and analyze any wallet data graphically.
Collaboration with Arbitrum and Optimism
Certik integrated Arbitrum and Optimism, layer 2 solutions powered by Ethereum, to ease the pressure off a layer 1 network during the deployment of dApps. High scalability and low transaction cost are two of the major advantages.
Partnership with Kava Labs
On 6 October, CertiK announced a partnership with Kava Labs to expand its security ecosystem further. CertiK will provide a one year subscription of Skynet for five key Kava Ecosystem projects.
CertiK price prediction: Targets for 2022, 2025, and 2030
Short-term CertiK technical analysis from CoinCodex was bearish, with the CertiK price at $1.68, and 24 indicators giving bearish signals and 8 bullish signals, as of 9 December 2021. Weekly simple moving averages and exponential moving averages were giving 'sell' signals, along with momentum oscillator and the volume-weighted moving average (VWMA).
Meanwhile, the average directional index and relative strength index (RSI) kept neutral. According to a short-term CTK coin price prediction by CoinCodex, it could rise by 7.55% to $1.80 future price by 14 December.
Meanwhile, several algorithm-based forecasting services shared bullish long-term Certic price forecasts as of 9 December:
Wallet Investor gave a bullish CertiK price predition estimating the average price of the token to reach $2.138 by the end of 2022 and move up to $3.924 target price by the end of 2025. The 5-year CTK/USD forecast suggested it could hit $4.487 in December 2026.

According to Digital Coin CTK prediction, the token could hit an average of $2.93 in 2022, $3.49 in 2023, $5.17 in 2025 and $7.23 in 2028.

Price Prediction CTK crypto price prediction echoed the sentiment forecasting the average price to hit $2.45 in 2022, $6.96 in 2025 and $44.59 in 2030.
When looking for CTK price predictions, bear in mind that analysts and algorithm-based forecasters can be wrong. Their CertiK projections are based on making fundamental and technical studies of a cryptocurrency's past performance. Past performance is no guarantee of future results.
It's important to do your own research and always remember your decision to trade depends on your attitude to risk, your expertise in the market, the spread of your investment portfolio and how comfortable you feel about losing money. You should never invest money that you cannot afford to lose.

FAQs
Is CertiK a good investment?

CertiK enjoyed several bullish periods throughout 2021, and its high emphasis on blockchain security gives it a fundamental value. Several algorithmic forecasting tools outlined above shared bullish CertiK predictions as of 9 December 2021. However, cryptocurrencies are volatile, which makes them risky. You should conduct your own research before making any trading decision.
How many certiK coins are there?

CTK has a total supply of 105m coins and a circulating supply of 59,9m coins.
Will CertiK hit $3?

According to the CertiK/USD forecast of DigitalCoin, CTK could move close to this target and hit $2.93 by the end of 2022.
How high can CertiK go?

The cryptocurrency market is highly volatile, with prices fluctuating every second. As a result, any cryptocurrency forecast and price target might be wrong. Nonetheless, Price Prediction believed CertiK's price might reach $44.59 by 2030.
Read more: Empire Token (EMPIRE) forecast: NFT marketplace is now live on Ethereum