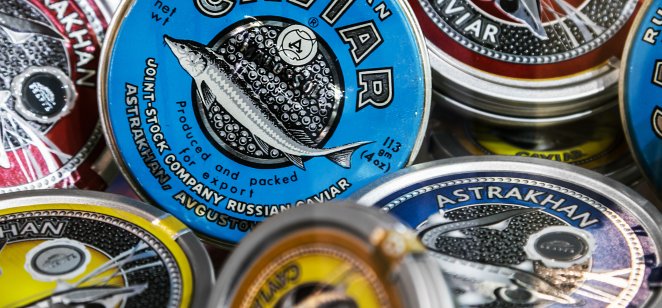 Katherine Middleton is an addict.
Each morning and just before bed, Middleton must get her fix – a small spoon of Bester Premium Osetra Sturgeon Black caviar, costing $309 for 3.8 ounces.
The 48-year-old Baltimore emergency room nurse normally buys a tin once every couple weeks, but with Russia's invasion of Ukraine last week and sanctions slapped against the former's exports, Middleton purchased three tins last the weekend.
"Bars are pouring out Russian vodka, states are banning some Russian imports, is caviar next?" she asked in an interview on Tuesday morning.
While Russia's most famous export, vodka, has received the most backlash in terms of food exports, following the country's invasion of Ukraine on 24 February, Russian products from furs to grains are being removed from store shelves across the United States and Europe.
Leaders in at least six US states last week called on shops to yank Russian food items off shelves and out of stock in a show of solidarity with Ukraine. Middleton's beloved caviar isn't safe. Once linked to Russian royalty, glamourous Hollywood movie stars, and posh first-class flights, the eggs of sturgeons are now on a growing list of sanctioned items.
Small share of market
Russian sturgeon caviar is expensive and sought after. However, given its price and rarity, a ban on the tangy-tasting black eggs will not have much of an impact on Russia's coffers, said Paul Isely, professor of economics and associate dean of the Seidman College of Business at Grand Valley State University in Allendale, Michigan.
"Russian exports of caviar are pretty small compared to the total market," he told Capital.com.
Most of Europe's caviar comes from four larger producers. Italy, France, Poland and Germany account for 84% of production, according to the Federation of European Aquaculture Producers (FEAP) report released last year.
It's estimated that Russia produced between 40 and 50 tons of sturgeon caviar annually, with about 2/3 being exported.
However, Russian statistics are suspect.
"There are some disagreements about whether the Russian caviar production numbers contain falsely labelled caviar obtained through imports from China and Uruguay, before being re-exported as Russian product," the report reads.
The Russian Federal Agency for Fishery has set a goal of increasing its export of sturgeon caviar to 38 tons by 2025.
Russia losing markets
Further eroding Russia's exported caviar market is sturgeon roe in China and North America.
It's estimated China now produces a third of caviar exports. While there are no official reports on total caviar production in China, FEAP estimates 102 tons were produced in 2021, with approximately 86 tons exported to the US and the European Union.
"China is becoming the biggest player in the caviar export market," Isely said.
Even with US caviar production in moderate decline, it's still making a dent on Russia's hold, with strong exports to Japan, Canada and the European Union.
US sturgeon roe is largely coming from sustainable aquaculture farms which stress controlled growth of the fish. It can take twice as long to harvest sturgeon eggs in the wild as it does in farms.
So, could a ban on Russia's best-known appetiser open doors and markets for domestic and imported caviar? Nah, said Middleton.
Even with alternatives from across the globe, die-hard Russian the caviar connoisseur said Russia has the tastiest small, salty sturgeon eggs.
"I don't approve of Russia's action in the Ukraine," she said. "But they (Russia) do produce the best caviar in the world. It's a shame if caviar from there is banned permanently."
Read more