Who owns the most Cardano? Top 10% of ADA whales control bulk of circulating tokens
Subscribe to Weekly Highlights
The major market events for the week ahead right in your inbox.
Subscribe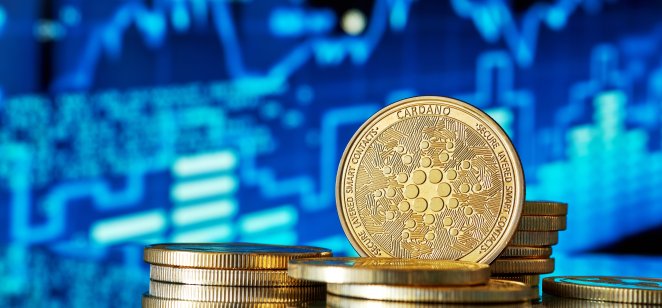 Content
Cardano (ADA), dubbed the "Ethereum Killer", aims to provide considerably lower fees, greater scalability, and faster transaction throughput and speed than Ethereum (ETH).
The price of Cardano's native ADA coin peaked in 2021, reaching the record high of $2.9682 in September 2021. It has fallen over 80% since that peak amid wider bearish sentiment in the cryptocurrency markets.
In the latest news, Cardano is planning a hard fork. Known as the Vasil Hard Fork, the project has been delayed from its mooted 29 June completion date.
Who owns the most Cardano, and how could ADA whales influence the price? In this article, we examine the Cardano circulating supply and the biggest ADA owners.
What is Cardano (ADA)?
Cardano (ADA) is a blockchain platform that utilises a proof-of-stake (PoS) consensus mechanism. It focuses on smart contracts and security. It was founded in 2017 by cryptocurrency developers Charles Hoskinson and Jeremy Wood.
The Cardano blockchain was named after Gerolamo Cardano, an Italian polymath from the 16th century. Ada Lovelace, a 19th-century mathematician widely recognised as the first computer programmer, inspired the network's native coin's name, ADA.
Ouroboros is the name of Cardano's unique PoS algorithm, which the network says is one of the most energy-efficient and robust algorithms available. Furthermore, the protocol provides higher bandwidth and can handle many transactions without slowing the network.
Hoskinson serves as co-founder of Hong Kong-based blockchain research and engineering company Input Output Hong Kong (IOHK), which works on the Cardano project alongside the Cardano Foundation and Japanese software firm Emurgo.
While IOHK is developing the Cardano platform, Emurgo works on developing alliances and assisting businesses that want to adopt Cardano's technology.
ADA, the native coin of the Cardano network, is the only currency with distributed rewards. ADA is also used for staking.
Cardano (ADA) tokenomics
The ADA token, like Bitcoin (BTC) but unlike Ethereum (ETH), has a fixed supply cap of 45 billion tokens. According to CoinMarketCap, as of 26 August, 34.1 billion ADA tokens were in circulation.
While this does not imply that the Cardano price will rise, a restricted Cardano supply could stimulate demand.
As of 26 August, 0.3% of the ADA reserve is dispersed at every epoch as staking incentives and treasury financing. This will continue for a few years until depletion. Each Cardano epoch is made up of a number of slots, each lasting one second. Currently (26 August), a Cardano epoch has 432,000 slots (five days).
A portion of the entire two streams of revenue – presently fixed at 20% – goes to the treasury. At the same time, the remainder is utilised to reward staking operators and delegators.
Who owns the most Cardano (ADA)?
Cardano (ADA) is one of the most popular cryptocurrencies, with 3,535,705 ADA holders, as of 26 August, according to CoinCarp.
In December 2021, Finbold reported that the biggest 10% of Cardano whales controlled over 31 billion of the then 33.43 billion circulating tokens, amounting to 92% of the Cardano supply.
| | |
| --- | --- |
| Long position overnight fee | -0.0500% |
| Short position overnight fee | 0.0140% |
| Overnight fee time | 22:00 (UTC) |
| Spread | 66.00 |
| | |
| --- | --- |
| Long position overnight fee | -0.0500% |
| Short position overnight fee | 0.0140% |
| Overnight fee time | 22:00 (UTC) |
| Spread | 5.50 |
| | |
| --- | --- |
| Long position overnight fee | -0.0500% |
| Short position overnight fee | 0.0140% |
| Overnight fee time | 22:00 (UTC) |
| Spread | 0.00339 |
| | |
| --- | --- |
| Long position overnight fee | -0.0500% |
| Short position overnight fee | 0.0140% |
| Overnight fee time | 22:00 (UTC) |
| Spread | 0.2878 |
Who owns the most ADA in 2022? According to data from CoinCarp, the top 10 coin holders controlled 6.71% of the ADA coin supply. The top 100 holders owned 19.08%.
Data from Messari showed that ADA is an inflationary token. The inflation rate stood at 1.93%, as of 26 August. The research platform revealed that there were 243 addresses with a balance of more than $10m in ADA, and 1,285 addresses with a balance of more than $1m.
Due to the anonymous nature of cryptocurrencies, information about who holds these addresses is unavailable.
When the network launched, around 2.5 billion tokens were allocated to IOHK and 2.1 billion was given to EMURGO, an international blockchain development company that worked on the early foundation of the platform's protocol. In addition, 648 million coins were given to the Cardano Foundation for the platform's promotion and a push for wider adoption.
Around 16% of ADA coins in circulation were given to the project's founders, who could remain among the biggest Cardano whales today. The remaining 84% was allocated to other investors.
In April, on-chain and social metrics platform Santiment tweeted that the asset's largest whales were holding 46.6% of the total token supply, adding that a big part of the addresses were owned by large exchanges.
H2: The road ahead for Cardano (ADA)
2022 has been a challenging year for the cryptocurrency markets, and ADA is no exception. As of 26 August, ADA was trading at $0.451 – down over 60% year-to-date (YTD) – and had a market capitalisation of $15.23bn, making it the eighth largest crypto currency.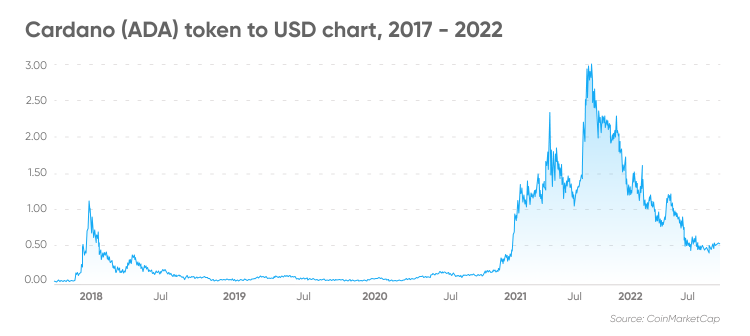 The coin hit a 52-week low of $0.4064 on 13 July, which could be attributed partly to the fact that its biggest rival, Ethereum, is about to launch the Ethereum 2.0 upgrade. Moreover, the project faces fierce competition from other critical layer-1 protocols such as Solana (SOL) and Avalanche (AVAX).
Meanwhile, the development team is working to expand the platform. Cardano recently collaborated with NMKR, a Cardano-based token that powers the NFT Maker ecosystem. This collaboration intends to increase awareness and the adoption of non-fungible tokens (NFTs) by creating minting software for a new NFT ecosystem and a new fiat payment option that enables users to pay with both traditional money and cryptocurrency.
However, no official announcement has been made about the Vasil Hard fork upgrade.
The bottom line
Remember, while it's important to know who owns the most Cardano, you should always conduct your own due diligence before trading, looking at the latest news, technical and fundamental analysis, and analyst commentary.
Past performance does not guarantee future returns. And never trade money you cannot afford to lose.
FAQs
Who are the Cardano whales?

Cardano whales are investors who own a high amount of ADA. Due to the decentralised nature of cryptocurrencies, the names of the biggest ADA holders are not publicly available.
How many Cardano holders are there?

According to CoinCarp, there were 3,535,705 ADA holders as of 26 August. The top 10 holders owned 6.72% of all Cardano's circulating supply, or 2.26 billion ADA tokens.
Does ADA have a limited supply?

ADA's supply is hard-capped at 45 billion tokens, which means that only 45 billion ADA tokens will ever come into circulation.
How many Cardano coins are there?

Cardano (ADA) has a circulating supply of 34.1 billion tokens, according to data from CoinMarketCap, as of 26 August.
Related reading