Capita (CPI) shares down 17% on broadly flat revenues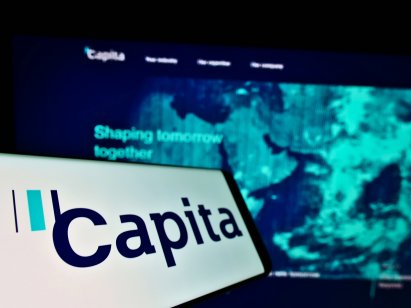 Shares in Capita (CPI) were down 17.17% on the London Stock Exchange on Monday morning, after the company reported broadly flat revenues in its latest financial update.
The outsourcing company said group revenue for the 11 months to 30 November 2021 increased by 0.6% to £2,882m.
It highlighted that its Capita Public Service unit had grown by 11% to £1,292m, driven in particular by Royal Navy training as well as by recent new contract wins and renewals with HMRC, the Standards and Testing Agency and the Ministry of Justice, it said.
Contract losses
However, it also noted that Capita Experience revenue had declined by 8% to £1,083m, reflecting previously announced contract losses mainly as a result of client corporate actions, as well as ongoing revenue attrition in the closed book Life & Pensions segment.
It further noted that its non-core businesses, held in the Capita Portfolio division, had grown revenue by 0.4% to £507m, with a solid revenue performance in most businesses offset by slower than expected recovery in Covid-affected transactional businesses, the group said.
"Operationally, we continue to execute well on contracts, in particular with the successful go-live of the extension to the Ultra-Low Emission Zone (ULEZ) in London at the end of October, and the resolution of all outstanding issues on our PCSE and EMS contracts. This has resulted in another year of improving client Net Promoter Score," the business said in its update.
"We have continued to deliver cost savings in the last year of the transformation programme, improving our profitability this year, as well as further efficiencies from our new organisational structure (including the £50m of savings targeted for 2022), which we expect to continue into the future. These will help to partially offset certain inflationary pressures that we expect to impact the business in 2022 as a result of the current macro environment and challenged labour market," it added.
What is your sentiment on CPI?
Vote to see Traders sentiment!
Covid-19 uncertainty
Jon Lewis, Capita's chief executive, said that the company has made positive steps, but that the pandemic has had an impact on the business.
"We have continued in recent months to make progress with our corporate transformation, particularly in our Public Service division. However, Covid has continued to impact some businesses within our Portfolio division. This, combined with the anticipated revenue attrition in our Experience division has slowed the overall rate of top line growth this year," he said.
"We have delivered our disposals programme, which now totals more than £620m proceeds for the year, strengthening our balance sheet and providing the funds to further reduce our outstanding financial debt in 2022.
"We have established the foundations for future long term sustainable revenue growth. We continue to expect the Group to generate sustainable free cash flow in 2022," he added.
Read more: Six major banks sign up to iLex digital corporate loan platform