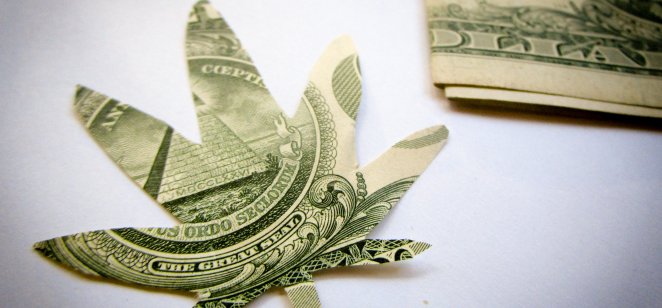 Content
Since the legalisation of medical marijuana has been continuously becoming more widespread throughout the globe, a swirl of legal cannabis stocks has gripped the attention of many international investors. Today, marijuana is not only a way to relax, but also a market full of opportunities. There are a plethora of cannabis companies engaged in selling both recreational pot and medical weed available for trading. In this article, we cover how the cannabis stock market has been doing so far this year and what marijuana stocks you may want to keep on your radar at the end of 2019.
Understanding the global cannabis industry
Marijuana. Cannabis. Weed. Pot. These are only some examples of dozens of colourful nicknames this plant can boast of. Chances are you have heard about at least one of these before, as marijuana legalisation spreads around the world at a rapid pace, including the U.S., Canada, Australia and Europe. Investor interest in the industry continues to rise, while leading cannabis players continue to confidently chew away at legal barriers.
In late 2018, Canada legalised marijuana in a variety of its shapes and forms, including dried cannabis flower, coils and sublingual sprays. However, there are still many other marijuana products waiting for their glorious hour. These include cannabinoid-based beverages, edibles, concentrates, vapes and topicals. But that's soon to change. Many investors are waiting for October 17 with bated breath, the day when Canada will legalise these CBD products for recreational distribution. This launch of alternative consumption products is called "legalisation 2.0" or "Rec 2.0."
However, in the U.S., marijuana still remains illegal under federal U.S. law. Along with LSD and heroin, it is classified as a controlled substance with no scientifically proven medical value. Therefore, with some 33 states voting to make cannabis legal for medical, recreational, or both uses, marijuana regulation remains quite complicated in the country.
Many cannabis companies are traded mainly in the over-the-counter markets and remain penny stocks. These facts increase both investor risk perception and scepticism for any investment in the given industry.
Illegal practices and new scandals that keep arising daily have made the situation even worse. As a result, investors' confidence has been shaken in the cannabis industry, which is reflected in the stocks valuations.
However, there are still some improvements the industry can boast of. For example, two of the biggest stock exchanges in the world, the Nasdaq and the New York Stock Exchange, have finally listed their first pure cannabis companies. In February 2018, the Cronos Group was the debutant and started trading its shares on the Nasdaq. Meanwhile, in May 2019, Canopy Growth Corporation, a Canadian pot producer, became the first pot listing on the NYSE. Around that time, MedMen Enterprises, an American cannabis company valued at $1.65 billion, also had its IPO in Canada.
From November 2017 to October 2018, the United States Marijuana Index brought investors 158% returns.
Although the market has seen significant volatility in marijuana policy, witnessing many ups and downs during this year, more recent developments look rather encouraging to cannabis investors. The United States Marijuana Index rose from $91 at the start of the year to $120 by May 10, 2019, representing an increase of about 13%. This growth has even surpassed that of the S&P Index, which gained a bit under 12% during the same period.
According to Arcview Market Research and BDS Analytics, in 2022, global spending on legal cannabis is projected to grow 230%, to $31.3 billion. If to compare it with $9.5 billion in 2017, an investment in this industry may sound rather promising.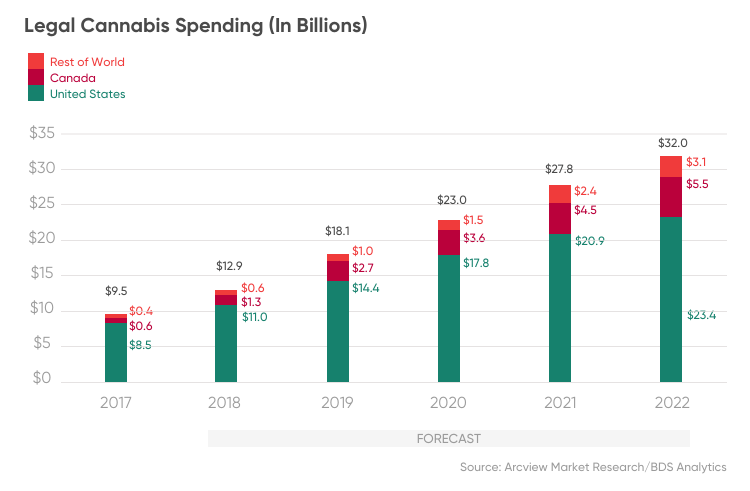 As the research suggests, nearly $23.4 billion of that figure will be spent in the U.S. only. Which, in fact, makes a lot of sense if to consider that more states have been voting for the legalisation of marijuana, sparking business interest.
It is important to remember that the cannabis industry is still evolving. Prices of marijuana stocks can be influenced by the number of political moves, developments and inconsistent regulations. Therefore, investors should expect volatility and be ready to act accordingly if they choose to try to make a fortune in this sector.
How to choose cannabis stock to invest in
Generally, there are two kinds of cannabis products that contribute to the growth of the industry: recreational and medical cannabis. Depending on which type of product you are interested in, there are a number of different types of companies that you can check out.
There are three primary types of cannabis businesses:
Marijuana growers – the ones cultivating marijuana;
Cannabis-focused biotechs – the ones developing prescription drugs based on ingredients found in cannabis;
Supplementary services and products providers – the ones providing key services and products to the marijuana industry, including consulting, lighting systems, packaging and distribution.
You should keep in mind that when choosing what cannabis stock to buy, the principles applied to making an investment decision are the same as for any other type of stock:
Study a company's strategy for growth and expansion.

Analyse the competitive landscape and see how the company differentiates itself from its rivals.

Understand which geographic markets the company is targeting, as each can offer different opportunities and risks.

Research the company's management team, including the top executives' track records in the industry.

Check out whether the company has already become profitable.
Remember that the cannabis industry is still developing, therefore, many businesses won't yet be profitable. Regardless, you can still try to determine how fast the company expects to become lucrative and how it plans to fund operations in the meantime.
The majority of information can be easily found from a variety of sources, both online and offline. Keep in mind that the dynamics of the industry can change quickly. Therefore, it's important to stay up-to-date on the latest marijuana news and analysis in this emerging market.
3 cannabis stocks worth considering at the end of 2019
With the one-year anniversary of Canadian legalisation nearing, and the legalisation of edibles waiting just around the corner, it's time to think about what marijuana companies are the ones investors should consider before we countdown to 2020. Here are three of the largest cannabis companies by market capitalisation, with figures in USD.
Ticker symbol: WEED
Current market capitalisation: $7.338 billion
Description: a company based in Smiths Falls, Ontario, engaged in growing, possession and sale of medical cannabis in Canada. Founded in 2013, the company's shares are traded on the Toronto Stock Exchange and the New York Stock Exchange.
Ticker symbol: ACB
Current market capitalisation: $3.891 billion
Description: a Canadian licensed producer and distributor of medical cannabis products cannabis producer, headquartered in Edmonton, Canada. Founded in 2006, the company's shares are traded on the Toronto Stock Exchange and the NYSE.
Ticker symbol: CRON
Current market capitalisation: $2.864 billion
Description: a Canadian diversified and vertically integrated cannabis company, offering production and distribution platforms of medical marijuana, as well as cultivates cannabis oil. Founded in 2012, the company's shares are traded on the Toronto Stock Exchange and the Nasdaq.