Canada consumer confidence: Inflation fears continue to chip away at national outlook
Subscribe to Weekly Highlights
The major market events for the week ahead right in your inbox.
Subscribe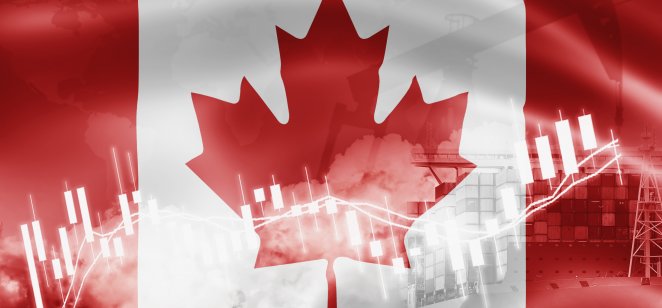 Content
Consumer confidence in Canada is caught in a difficult position. Inflation remains stubbornly high, even as central banks seek to rein it in with aggressive interest rate hikes.
With consumer reports in Canada beginning to highlight the scale of pessimism, how will flagging consumer confidence affect the economy?
What is consumer confidence?
Consumer confidence measures the level of optimism or pessimism in an economy.
Confidence is a strong predictor of current and future economic behaviour. It is a crucial measurement for investors to understand, as changes in demand from households will affect the fortunes of everything from stocks, like those in the retail sector, to commodities, like crude oil.
Analysts and economists use a variety of indicators to measure consumer confidence. A lot of weight can be attributed to some key variables, like economic growth, inflation, interest rate movements, house prices, unemployment and the wider political context.
Negative or unsettling movements in any of these indicators can cause consumer confidence to fall, forcing households to reassess their spending behaviour.
Consumer confidence can have a knock-on effect. Falling confidence may force a central bank to change its approach to monetary policy, or help bring down inflation.
Consumer sentiment indicators are typically measured by social scientists. They survey a group of people about their feelings and expectations about the economy, with answers used to determine the current state of confidence.
There are several official measures of Canada consumer confidence, including the Conference Board of Canada, the Bank of Canada's Survey of Consumer Expectations and IPSOS's Survey on Consumer Confidence.
Other measures can act as proxy indicators of consumer confidence, such as expectations about inflation in a year's time. Updates from major retailers at earnings releases, like Walmart and Target, on how consumers are spending their money can also act as a qualitative measure of confidence in an economy.
Canada consumer confidence history
Consumer confidence in Canada has tended to follow the fortunes of the wider economy. Data from Trading Economics suggested Canada consumer confidence remained fairly stable between 2011 and 2020, reflecting smooth and steady inflation, healthy wage growth and rising house prices.
That confidence fell briefly during the onset of the Covid-19 pandemic, as global lockdowns made future incomes precarious, before recovering through fiscal stimulus to maintain incomes while health took priority.
This year, confidence has been heading down as the effects of the pandemic, from jammed supply chains to excess demand from that stimulus, begin to become apparent, mainly through inflation.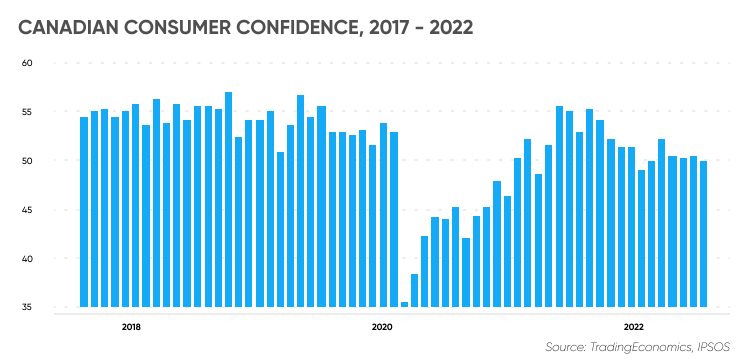 Recent readings of Canada consumer confidence were broadly pointing down, but there were positive sparks.
The Bank of Canada's (BoC) latest assessment for the second quarter of 2022 showed consumer's were quite pessimistic. One-year inflation expectations soared to 6.8%, and even in five years it was expected to stay elevated at 4%. The bank said:
"Expectations for higher inflation and rising interest rates are affecting consumer confidence. In response to such factors, Canadians plan to cut spending. They are seeking out more-affordable options when shopping.
"People anticipate that wage gains will remain modest. However, workers in the private sector have higher expectations for wage growth than those in the public sector. Flexible work arrangements could attract more people into the labour force. Some consumers reported that working from home helps offset the costs of higher inflation."
Follow-up interviews showed one interviewee saying that "food cost increases are drastic and worrisome". Another noted that "inflation increased enormously in the last six months in almost all areas that touch people's lives".
The Conference Board saw Canada consumer confidence index rise by 2.3 points to 75.1 in August, reflecting easing Canadian inflation and gas prices in the country. They wrote:
"An increase in short-term (one-year) inflation expectations signals that consumers are increasingly worried about the immediate future regarding inflation. However, with the decline in the CPI in July and the continued decrease in gas prices, we are likely to see worries about short-term inflation expectations decrease."
Analysis from Ipsos suggested consumer confidence had declined in August and was now 2% below normal levels, compared to 5% in the US. The research showed personal confidence and future confidence, two of the indicator's four pillars alongside economy confidence and current confidence, had bottomed out.
"This, along with other context tracking we do, suggest that Canada will remain in challenging economic waters over the next couple of months," wrote Ipsos's chief research officer Chris Martyn.
| | |
| --- | --- |
| Long position overnight fee | 0.0051% |
| Short position overnight fee | -0.0116% |
| Overnight fee time | 22:00 (UTC) |
| Spread | 0.012 |
| | |
| --- | --- |
| Long position overnight fee | -0.0076% |
| Short position overnight fee | 0.0030% |
| Overnight fee time | 22:00 (UTC) |
| Spread | 0.00006 |
| | |
| --- | --- |
| Long position overnight fee | 0.0000% |
| Short position overnight fee | -0.0001% |
| Overnight fee time | 22:00 (UTC) |
| Spread | 0.033 |
| | |
| --- | --- |
| Long position overnight fee | -0.0032% |
| Short position overnight fee | 0.0008% |
| Overnight fee time | 22:00 (UTC) |
| Spread | 0.00013 |
"The trends suggest an almost inevitable disruptive consumer behaviour in the near-to-medium-term (not only in spending but also in socio-political stability)."
What is driving consumer confidence in Canada right now?
It is evident from the latest Canada consumer confidence reports that inflation weighs heavy on the mind of households, with price rises adding to further negative Canada economy news.
According to Statistics Canada, the consumer prices index (CPI) hit 7% in August. While that was down from higher rates of 8.1% in June and 7.6% in July, it's still uncomfortably high, hitting levels last seen in the early 1980s.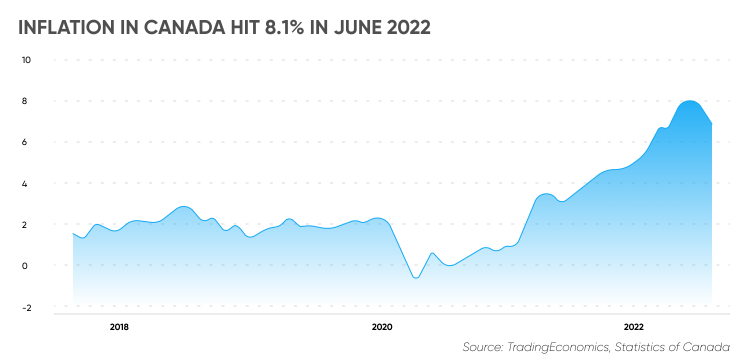 Core inflation, which strips out the effects of gas prices, is running close to the regular rate at 6.3%, suggesting a resolution to energy issues or the war in Ukraine will do little to resolve price pressures.
High inflation has been the main concern for consumers and investors this year, as businesses struggle to cope with rising costs, while prices outgrow wages, which rose by 3.5% in the year to June 2022.
The S&P/TSX Composite Index of major Canadian stocks has contracted more than 12% year to date as investors flee risky markets in favour of fixed income and inflation-busting assets.
Canada's central bank, the Bank of Canada (BOC), is responding, like its counterparts in the US and Europe, by hiking interest rates.
The bank has raised rates at each of its monetary policy meetings since March, with aggressive hikes in recent months amid rising prices. The bank raised rates by 75 basis points in September, having pushed them up by 100 bps in July. The rate now sits at 3.25%.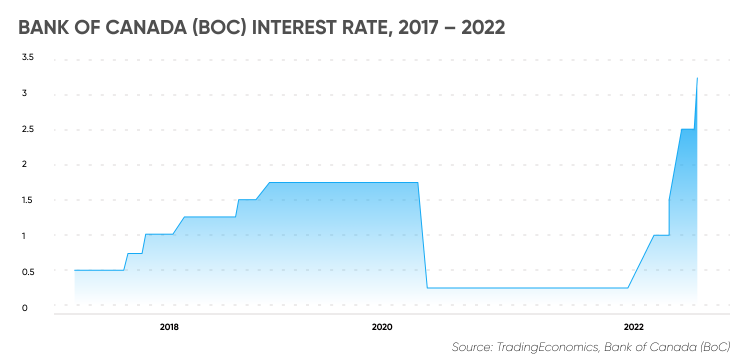 There are concerns that house prices are bracing for a correction that verges on a crash, as analysts forecast a fall of 23% by the end of 2023.
Falling house prices could affect consumer confidence in the economy, particularly those who have a lot of their wealth tied up in homes, tempering spending further and potentially pushing households into negative equity.
But inflationary pressures could be easing. Alongside falling CPI, gas prices are also declining. According to the Canadian Automobile Association (CAA) data, petrol prices have receded from a high of 209.7/L in June to 153/L. That could push confidence back to healthier levels.
Canada consumer confidence forecasts, impact on CAD
While there are few specific forecasts on Canadian consumer confidence, there are insights into how consumers may feel in the future.
The latest forecast by Fitch Solutions pointed to a sunny outlook for the Canadian economy. The analysts forecast Canada consumer spending to grow at 3.8% in 2022 and 3.2% in 2023, suggesting confidence will remain robust. The group wrote:
"The robust levels of consumer spending growth over 2022 will come as the wider Canadian economy recovers, facilitated by the country's ongoing vaccination drive and improved immunity among the population, making disruptive lockdowns less likely in 2022."
The country's currency has struggled against its southern neighbour, with the US dollar strengthening against the CAD as investors rush to the safe-haven greenback. The USD/CAD has risen to 1.38, similar to levels at the start of Covid-19. If consumer confidence continues to flag, that could get worse.
Note that analysts' predictions can be wrong. Forecasts shouldn't be used as a substitute for your own research. Always conduct your own due diligence when trading, looking into fundamental and technical analysis, a wide range of commentary and the latest news. Remember, past performance does not guarantee future returns. And never trade money you cannot afford to lose.
FAQs
What is the current state of Canada consumer confidence?

Consumer confidence in Canada is being rocked by high inflation following the Covid-19 pandemic, but that has been trending down in recent months, offering some hope.
How is Canadian consumer confidence measured?

Canadian consumer confidence is generally measured through surveys with the public to ascertain how they feel about the economy and their spending decisions.
What factors affect consumer confidence in Canada?

Economic variables like inflation, economic growth, the labour market, house prices and monetary policy can influence how consumers' confidence is affected.
Related reading