Can iron ore prices get a boost from China real estate stimulus?
Subscribe to Weekly Highlights
The major market events for the week ahead right in your inbox.
Subscribe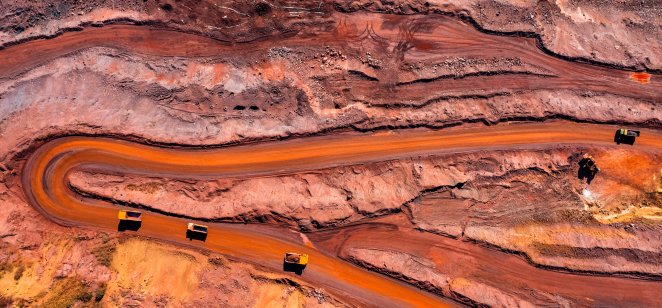 Content
Iron ore recently hit an approximate 2-week high at about CNY 715 per tonne at the time of writing, however, just a few days back, the industrial metal was trading at about CNY 668 per tonne, an almost 2-month low. This has left investors wondering whether iron ore is finally receiving enough of a boost from the new Chinese stimulus measures.
China has recently announced a slew of new stimulus measures, designed to help prop up a flailing economy weighed down by waves upon waves of COVID-19 measures. These new add-ons are adding to the bulk of the 33 new measures revealed in May this year. They will also have a high focus on infrastructure, thus boosting industrial and construction metals such as iron ore, aluminium and copper.
Iron ore was trading around a 2-week high at the time of writing
Will the new Chinese stimulus measures be enough to bolster iron ore?
Iron ore has suffered considerably in the last two years, with increasing restrictions on the construction and real estate sector, due to rising cases of COVID-19. Although this was a global phenomenon, it was especially true in China, which drives much of the demand for the industrial metal.
China imports above 1 billion metric tons of iron ore every year, making it the biggest consumer of iron ore globally. Hence any policy measures or changes in the Chinese economic climate has a profound impact on the metal.
The additional stimulus package is worth approximately $146 billion and is directed towards property, infrastructure and private business. This includes an extra $44 billion assistance to banks, in order to help finance infrastructure projects. This is very important, as although the government is encouraging banks to lend more, they have been quite reluctant to do so lately.
Furthermore, local governments are also being provided with approximately $73 billion in order to help ease financing costs and keep construction projects running as smoothly as possible.
Electricity companies are also being issued about $29 billion, in order to keep supplying consistent electricity. Additionally, centra Chinese city Zhengzhou has also announced that it will be restarting all halted construction projects until the start of October.
This has gone a long way in helping support iron ore prices, which investors believing that the metal may still have some way to go. However, energy rationing in China, due to the ongoing energy crisis is still a major concern, especially in the steel industry, which also drives considerable iron ore demand.
What is your sentiment on TSI?
Vote to see Traders sentiment!
| | |
| --- | --- |
| Long position overnight fee | -0.0164% |
| Short position overnight fee | 0.0059% |
| Overnight fee time | 22:00 (UTC) |
| Spread | 1.8 |
| | |
| --- | --- |
| Long position overnight fee | -0.0500% |
| Short position overnight fee | 0.0140% |
| Overnight fee time | 22:00 (UTC) |
| Spread | 0.00326 |
| | |
| --- | --- |
| Long position overnight fee | -0.0500% |
| Short position overnight fee | 0.0140% |
| Overnight fee time | 22:00 (UTC) |
| Spread | 60.00 |
| | |
| --- | --- |
| Long position overnight fee | -0.0157% |
| Short position overnight fee | 0.0013% |
| Overnight fee time | 22:00 (UTC) |
| Spread | 0.03 |
Which are the main iron ore players impacted?
Kumba Iron ore (KIROY) has already benefited greatly from soaring iron ore prices, with the company's stock rising almost 16% in the last week. However, since it is still trading almost 50% down from peak heights, it still has a lot of room for upside.
IronNet (IRNT) has also significantly gained from the boost in iron ore prices, with shares rising almost 29% since the start of September. However, the company is still about 66% down from the record highs seen in February 2022, at the start of the Russia-Ukraine war.
Iron Mountain (IRM) has also soared more than 10% in the last week, and almost 27% since mid-July. Currently shares are trading at an almost 5-month high, with investors hopeful that this trend may continue in the coming few months as well.
What is the outlook for iron ore for the rest of 2022?
According to Wood Mackenzie, in this research note, iron ore still has the potential to recover faster than expected, especially if steel infrastructure is prioritized in the new Chinese stimulus measures. The note highlights that "Beijing's balancing act between human safety and economic stability remains the key short-term driver of iron ore."
Fitch Solutions has also recently revised its iron ore forecasts in this report and is now expecting iron ore prices to inch up in the next one year to one and a half year. The ratings company has revised iron ore targets for 2022 from $90 to $120 per tonne and 2023 targets from $75 to $110 per tonne.
According to investment management company T. Rowe Price, "more fiscal stimulus to support growth in China could help to support the price of iron ore". Thus, all eyes are expected to be on China, especially on its economic and inflation data for the next few months, in order to anticipate what other measures the government could come up with and their effects on iron ore.
Related reading