Can Descartes (DSGX) beat current supply chain issues?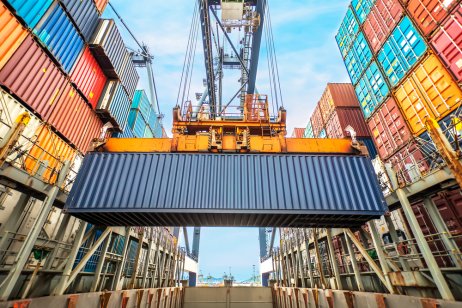 Amid inflationary pressures and changes in the geopolitical and economic environments faced by the world's supply chains, one analyst reckons that a Waterloo, Canada-based company can survive headwinds that are buffeting global markets.
Nasdaq and Toronto Stock Exchange-listed Descartes Systems Group (DSGX) provides on-demand software-as-a-service solutions for the global logistics industry. It has over 20,000 customers around the world and employs over 1,500 staff.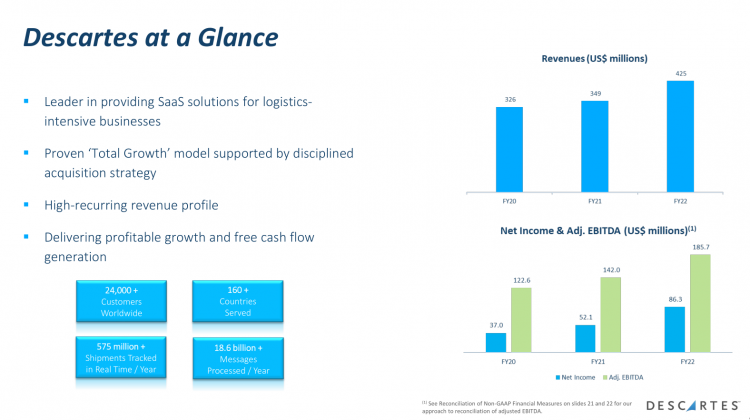 Descartes Systems
Logistics software
Its customers use Descartes's software to
route, schedule, track and measure delivery resources;

plan, allocate and execute shipments;

rate, audit and pay transport invoices;

access global trade data;

file customs and security documentation and complete numerous other logistics processes.
"The challenging labour market, supply chain issues, and changing regulation continue to be tailwinds for Descartes's business, and we suspect these trends should continue to benefit the company for several years," William Blair analyst Matthew Pfau wrote in a research note obtained by Capital.com.
Earnings
On Wednesday the company reported fiscal fourth-quarter net income of $19.2m (£14.4m), up 12% from the $17.2m reported a year ago. On a per-share basis, it had profit of 22 cents, down from the 30 cents reported last year.
The company posted revenue of $112.4m, up 20% from the $93.4m a year earlier.
"The results were ahead of management's internal expectations and driven by strong organic growth and performance from acquisitions. In our view the quarter's results confirm our belief that Descartes is well positioned to benefit from the current supply chain issues," William Blair's Pfau added.
'Outperform' rating
US investment bank William Blair has an "Outperform" rating on Descartes Systems. In early Nasdaq trading on Friday morning, the stock was up 8 cents at $68.09 per share.
For the fiscal year ended 31 January, Descartes Systems said net income was up 66% at $86.3m on revenue which rose 22% to $424.7m.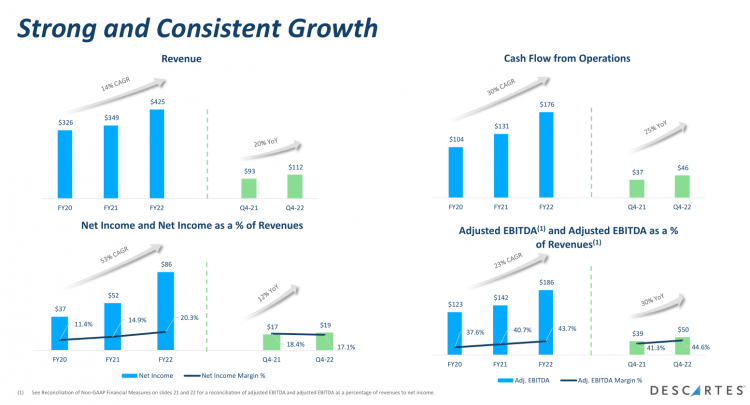 Descartes Systems
"We had some strong investments and business conditions pay off for us over the last year driving both organic and acquisition growth. Our customers have been presented with some unique challenges over the past month that we know they'll be looking to us to help them with. We have a good history of dealing with challenges," Descartes Systems's CEO Edward Ryan said during the company's recent conference call.
Ukraine exposure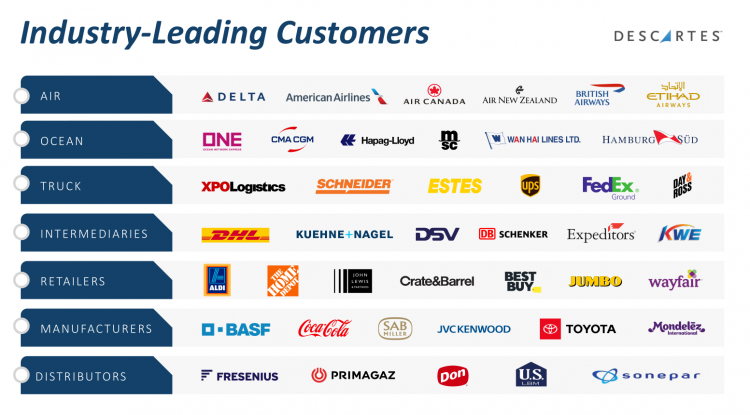 Descartes Systems
Descartes "does not have material revenue" in Russia or Ukraine, William Blair's Pfau wrote in his research note.
"Increasing complexity in trade driven by supply chain adjustments and regulations are generally good for Descartes's business. Potentially offsetting this could be a reduction in trade volumes driven by economic disruption. We do not see a significant impact one way or the other at this time, but this could change as the conflict in Ukraine evolves," Pfau added.