British businesses warn about 'unprecedented' inflation risk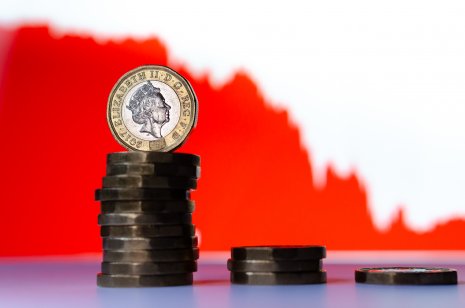 The British Chambers of Commerce (BCC) said on Thursday that UK business recovery stuttered in the last quarter (Q4) as inflation raged freely. UK price pressures are now "unprecedented," it said in its press release.
Almost 60% of firms expect prices to rise in the next three months, the highest on record said the BCC and just 1% expected a decrease.
The BCC's survey of almost 5,500 firms also showed signs of "continued stagnation in the proportion of firms reporting improved cash flow and increased investment".
While 45% of the respondents reported more domestic sales in Q4, this slips from 47% in Q3. In the services sector, the balance of firms reporting more domestic sales dropped to 26% in Q4, compared to 31% in the third quarter.
Cash flow stress up
Suren  Thiru, Head of Economics at the BCC added that persistent weakness in cash flow was increasingly troubling because it left businesses more exposed to the economic impact of Omicron and potential further restrictions.
"The record rise in price pressures suggests that a substantial inflationary surge is likely in the coming months. Rising raw material costs, higher energy prices and the reversal of the VAT (value added tax) reduction for hospitality are likely to push inflation above 6% by April."
Thiru added: "The notable uptick in concerns over higher interest rates underscores the need for the Bank of England to proceed with caution on further rate rises to avoid undermining confidence and an already fragile recovery.

The UK manufacturing sector is also hard hit. The balance of firms reporting upped domestic sales stands at 22% in Q4, down from 28% in Q3.
Pressure of imminent rate hike
There's also more interest rate concern as 1 in 4 firms (27%) reported interest rates as a worry, up from 19% in Q3. The percentage mentioning interest rates as a worry among manufacturers stood at 28% in Q4, the highest seen since the metric was first collected in Q4 2009 and up from 21% in Q3, the BCC reported.
Investment in plant, machinery or equipment also continued to flatline in Q4, with 29% overall reporting an increase, while 60% reported no change, and 11% a decline says the BCC, largely unchanged from Q3 and Q2.

Before the surge in Omicron infections, hotels and catering were most likely to report better domestic sales (55%), said the BCC. "This represented the beginning of a potential recovery as the sector was also the most likely to report decreased sales throughout the rest of the pandemic."
The BCC says 94% of members previously surveyed reported cut sales and cash flow at the start of the pandemic in Q2 2020. "Worryingly, a similar decline is now possible in the face of the Omicron variant and the implementation of Plan B which led to new restrictions for some."
Read more: Natural gas futures higher amid a winter freeze