Brent crude oil price analysis in May 2020: does the rebound from the lows signal a recovery?
Subscribe to Weekly Highlights
The major market events for the week ahead right in your inbox.
Subscribe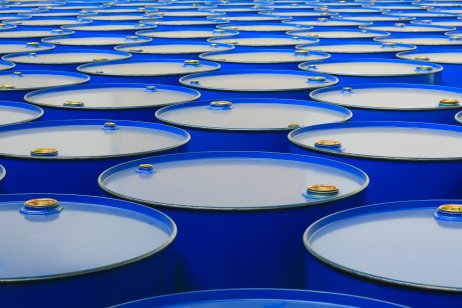 Content
The crude oil markets took a historic negative turn in April, driven by a combination of a price war between Saudi Arabia and Russia and demand destruction from government-ordered lockdowns to halt the spread of Covid-19. But prices have since bounced up as countries have begun relaxing their lockdown restrictions and oil production cuts are starting to take effect.
West Texas Intermediate (WTI) crude oil has risen from -$37.63 per barrel on April 20 to more than $25 per barrel in the second week of May. The Brent crude benchmark, which resisted turning negative, has climbed from the $19 per barrel level to more than $30 per barrel, rewarding investors that were prepared to take the risk with large gains.
Does Brent crude oil latest news make the market ripe for investment in the remainder of May?
This article recaps the volatile movements in the markets in recent weeks, covering Brent crude oil price news and what oil analysis suggests investors should do next. Scroll down for a video with David Jones, chief market strategist at Capital.com, as he outlines the factors to watch for the rest of May and uses oil price technical analysis to provide an actionable trade for the month.
Crude oil price news in May 2020: Saudi Arabia increases prices, output cuts to stem losses
The plunge in the month-ahead WTI crude oil contract into negative territory last month signalled the extent to which the oil market has been hit by the confluence of negative supply and demand fundamentals.
The global benchmark Brent crude oil price plummeted by 71 per cent from the start of the year to the lows in April, and remains around 55 per cent lower. The Brent crude oil trend has remained at a premium to the WTI contract as rising US shale oil production has exacerbated the oversupply in the US market. Global oil production rose to 100.5 million barrels per day in 2019, after the US became the world's largest producer in 2018.
Brent Crude price chart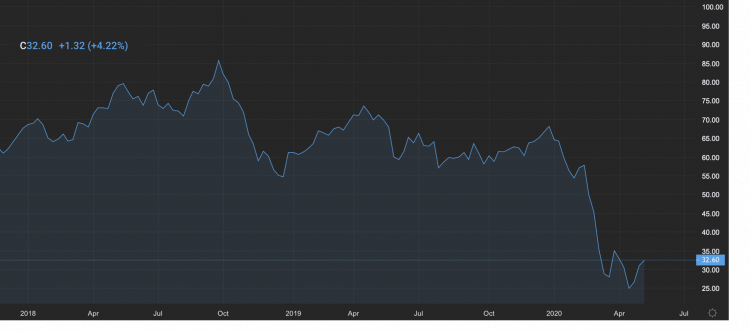 The shutdowns around the world to tackle the spread of Covid-19 have disrupted industrial activity and transportation, the main consumers of crude oil. The International Energy Agency (IEA) estimates that global crude oil demand in April was 29 million barrels per day lower than a year ago, falling to a level last seen in 1995. Total 2020 demand is projected to be a record 9.3 million barrels per day lower than the previous year. It is not expected to reach pre-crisis levels before the end of the year and December demand is projected to be 2.7 million barrels per day lower than December 2019 levels.
A deal in early April between members of OPEC+ – the Organization of the Petroleum Exporting Countries and non-OPEC oil-producing countries – to end the price war between Saudi Arabia and Russia and cut production failed to stop prices from falling. The proposed cuts amounting to 10 million barrels per day were not sufficient to offset the sharp drop in demand, with production having ramped up since late last year. Oil storage was close to full, leaving tankers floating at sea to hold the output.
But the front-month Brent crude oil price has since risen by 50 per cent, moving back above $30 per barrel in May with some countries showing signs of easing their lockdown restrictions and Saudi Arabia making moves to support prices. The world's second-largest oil producer increased its listed oil prices for June and said it would further reduce its output by an additional 1 million barrels per day. The United Arab Emirates said that it would cut production by an additional 100,000 barrels per day in June.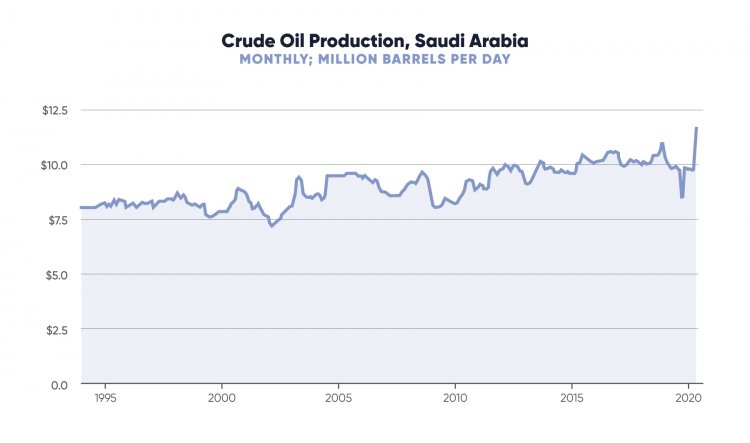 Source: U.S. Energy Information Administration
Watch Capital.com's chief market strategist, David Jones, recap the latest Brent crude oil news and set up a trade based on what oil chart analysis suggests for the near-term price trend.
What is your sentiment on EA?
Vote to see Traders sentiment!
Brent crude oil price analysis: what happens next?
Oil chart technical analysis shows that there are resistance levels at the April 13 high of $32.50 per barrel, up to the $40 psychological level. On the downside, there is support around the April lows below $25 and down to $19.30 per barrel. The hourly RSI has pushed back into overbought territory and there is potential to sell into strength.
"Systematic trend followers remain short the complex as momentum signals have yet to materially recover," according to commodity strategists at TD Securities.
Goldman Sachs (GS) estimates that global oil demand has risen by 2.5 million barrels per day from the lows in April and US inventory data last week showed levels slightly lower than expected. But the market is expected to remain under pressure until the second half of the year as economic activity will ramp up only gradually.
Low oil prices, OPEC+ production cuts and delays to investment should reduce global oil supply by over 6 per cent this year to a five-year low, according to Capital Economics commodities analyst Samuel Burman. "Producers around the world have responded by curtailing investment and drilling activity. Given that we expect low prices to persist for a few months yet, there is little prospect of an imminent recovery in either," he said in a note on Monday, May 11.
OPEC is likely to comply more closely with the announced production cuts than with previous agreements as the drop in prices has reduced the incentive to overproduce, Burman said. OPEC+ members will have less opportunity to export their oil because of weak European demand, high strategic stocks and a lack of storage capacity. Countries outside of OPEC+ including the US, Canada, and Norway are also set to cut output in response to market conditions.
"Assuming that demand starts to recover in the second half of this year and that OPEC compliance remains intact, the global oil market should shift into a small deficit. The deficit would help to draw down stocks and should support somewhat higher prices by end-2020," Burman said.
Goldman Sachs forecasts that the combination of lower output and a partial recovery in demand will lift Brent crude prices to $55.63 per barrel from its previous $52.50 target of per barrel.
ANZ senior commodity strategist Daniel Hynes noted that the market is "dubious" about whether producers will be able to implement and sustain the output cuts. "Producers also seem ready to increase output as soon as prices rebound. Continental Resources expects the market to re-balance by mid-year, and will reopen oil wells quickly once prices recover. And while demand appears to be recovering, there are also doubts as to its timing… In Europe, the varying degrees of lockdowns continue to hobble demand."