Brazil lowers coffee output to keep prices high in 2022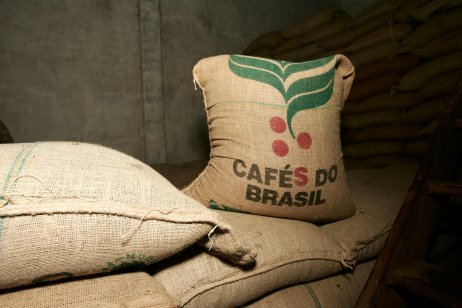 Lower coffee bean output from the world's largest producer, Brazil, and rising global coffee demand are likely to see prices of the commodity rising in 2022.
Extreme weather conditions including intense rain and freak frosts hit Brazil this year and have damaged the coffee fields. The impact of this will affect production levels in Brazil, which produces 35% of total global supplies, next year, said analysts at Seoul-based agricultural trading platform, Tridge.
"Surging coffee prices could boost coffee production in Colombia, Central America, and Africa, leading to a more balanced supply. However, this could take years to materialise," the analysts said in an email answering to Capital.com's questions.
The Covid-19-related lockdowns have also increased global coffee demand, putting added pressure on coffee prices, the analysts added.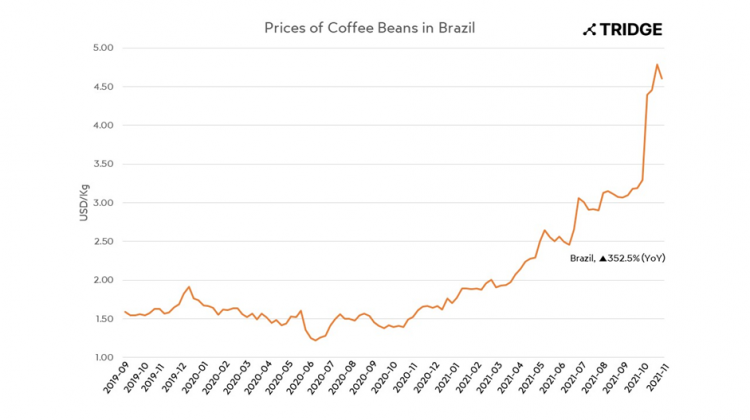 Prices of coffee beans in Brazil – Credit: Tridge
Local coffee prices up
Price of higher quality Arabica coffee beans on the ICE New York hit 10-year highs at above $2.40 per pound on 8 December due to tight supply, mainly to lower output from Brazil, and worsening shipping bottleneck caused by Covid-19 restrictions.
The supply shortage and logistics problems have also lifted local coffee bean prices in major exporters.
According to Tridge data, the prices of Brazilian coffee beans have skyrocketed by 229.8% year-on-year in the last week of November to above $4.5/kg. In Vietnam, it soared by 28.9% year-on-year to $1.81/kg and by 8.9% year-on-year to $1.83/kg in India.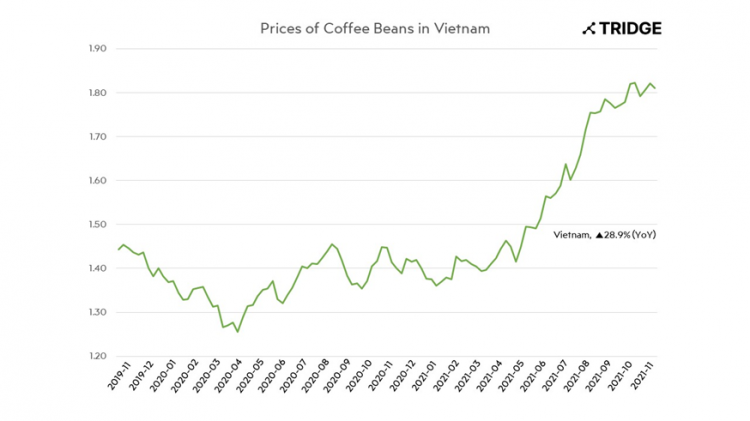 Prices of coffee beans in Vietnam – Credit: Tridge
In Vietnam, the world's second-largest producer of Robusta – used in instant coffee, the surging Covid-19 rates and vaccine shortages led to the government to impose travel restrictions.
"The lockdown in the export hub in Ho Chi Minh City raised the bean prices in the worry of being unable to transport Vietnamese coffee outside the country," Tridge analysts said in a separate email.
The coffee bean price in Brazil has eased to $3.8/kg in the second week of December, while in Vietnam, price has been steady.
Brazil output
The US Department of Agriculture (USDA) on 17 December report forecasts world coffee production for 2021/2022 to fall by 8.5 million bags from the previous year to 167.5 million primarily due to a drop in Brazil's coffee production. As a result of lower output, global ending inventories are expected to drop 6.3 million bags to 30 million.
USDA estimated Brazil's output to fall by 13.6 million bags to 56.3 million in 2021/2022. Arabica beans, which account for 70% of Brazil's coffee output, is forecast to drop 14.7 million bags to 35 million due to lower yields.
Tridge analysts said it could take several seasons for Brazil's coffee production to normalise as it can take up to five years for coffee trees to mature.
"The possibility of more extreme weather conditions next year is also undeniable, as crops in Brazil have suffered much this year from hail, rain, drought and frost," the analysts said. "Crops were affected severely to the extent that the farmers' hedging to alleviate risks was ineffective."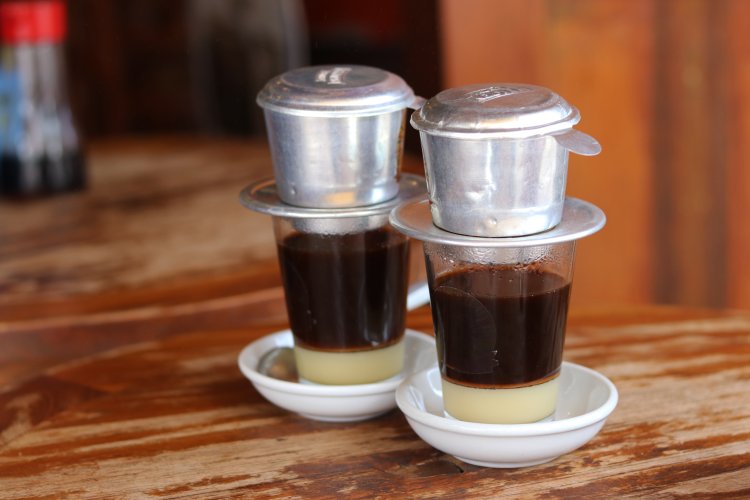 Two glasses of Vietnam style coffee – Photo: Shutterstock
Rising coffee price bode well for Vietnam
On the other hand, Tridge analysts said, the increased global coffee prices are likely to be the incentive for more production and exports for Vietnam in the upcoming year.
USDA forecasts Vietnam's coffee production to rebound 2.1 million bags to 31.1 million following last year's dry growing conditions.
"With Robusta accounting for over 95 percent of total output and Robusta prices trending higher over the last 12 months, many growers were motivated to boost yields by incurring irrigation costs during the normally drier period of January through March," USDA said.
Bean exports are forecast to jump 3.6 million bags to 26.0 million, lowering inventories slightly.
Logistics problems to continue
Logistics problems remain in Brazil and Vietnam with congestion in main ports, hampering commodities shipments.
Tridge analysts expect congestions to likely continue until the first quarter of 2022, which will also impact the global prices of coffee.
"From the second quarter of 2022, the capacities additionally built at the ports may be settled and resolve the bottlenecks," they added.
Read more: Southeast Asia faces challenges to meet net zero emissions