Guyana oil boom: BP and Exxon hope to cash in
Subscribe to Weekly Highlights
The major market events for the week ahead right in your inbox.
Subscribe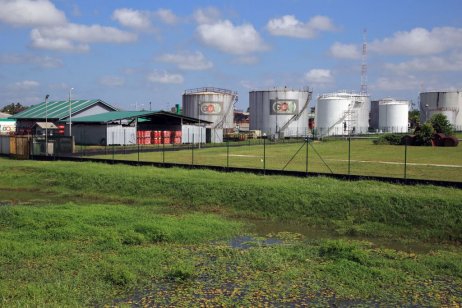 Content
BP (BP.) is set to profit from Guyana's oil boom after the British energy giant beat off competition for a contract to bring the South American country's crude to the market.
BP (BP.) price chart
It will now look after Guyana's share of the commodity produced over the next year from two offshore production platforms - the Liza Destiny and Liza Unity. The group will also be tasked with providing benchmark and performance comparisons - and help the government understand the behaviour and yields of the Liza blend.
BP replaces Aramco Trading, which previously held the contract, the government of Guyana through the Ministry of Natural Resources confirmed in a statement.
What is your sentiment on XOM?
Vote to see Traders sentiment!
Largest oil discovery in last decade
Guyana is home to one of the largest oil discoveries in the last decade, with about 11 billion barrels found to date. As a result, its economy is set to grow 47% in 2022 on the back of oil exploration, according to the International Monetary Fund – with the government there forecasting output of around 825,000 barrels per day by 2025.
US crude oil (WTI) price chart
The huge offshore oil deposits being discovered is putting the small South American country on track to become the world's biggest per-capita crude producer.
Brent crude oil price chart
Oil companies set to profit from Guyana's crude
In addition to BP, other oil companies set to reap the rewards through discovering and developing in Guyana include Exxon Mobil (XOM), Chevron (CVX) and Hess (HES).
Chevron (CVX) price chart
Hess (HES) price chart
Phillips 66 (PSX), France's TotalEnergies (TTE) and Shell (RDSa) are also set to profit. However, Exxon is leading the way.
Phillips 66 (PSX) price chart
Shell (RDSa) price chart
TotalEnergies (TTE) price chart
Exxon Mobil leading the way in Guyana
Exxon Mobil said it has made more than 30 discoveries of crude since 2015 in Guyana, and noted it has ramped up offshore development and production at a pace that far exceeds the industry average.
"We are committed to responsibly and safely developing this world-class resource to help meet global demand for secure, reliable and lower-emission energy. Our investments through the pandemic have allowed us to increase supply at this critical time, while creating value for the people of Guyana, our partners and shareholders," Liam Mallon, president of Exxon Mobil Upstream Company, said in a press release on 26 October.
Exxon Mobil (XOM) price chart
Exxon further noted that its first two sanctioned offshore Guyana projects, Liza Phase 1 and Liza Phase 2, are producing an average of nearly 360,000 barrels of oil per day. A third project, Payara, is expected to start-up by the end of 2023, and a fourth project, Yellowtail, is expected to start-up in 2025.
The energy giant said it is currently pursuing environmental authorisation for a fifth project, Uaru – and by the end of the decade, expects Guyana's oil production capacity to be more than one million barrels a day.
Guyana's premium black gold
The crude being extracted from Guyana's largest deposit, the Stabroek Block, is considered crude gold as it contains low carbon content, lower than 0.5% and has a high American Petroleum Institute quality (above 30 degrees).
One oil executive told Capital.com that some oil pumps from Latin America wells, such as Venezuela's, will not require heavy refining due to its high Sulphur content, known as sour crude.
"Guyana's low refining cost oil is massively attractive for oil companies," the executive said, adding refining quality crude is $3 to $4 per barrel, while heavy, sour crude can cost nearly double.
Related reading