BlackRock vs Bluebell: Could activist topple BLK's Fink over ESG 'hypocrisy'?
Subscribe to Weekly Highlights
The major market events for the week ahead right in your inbox.
Subscribe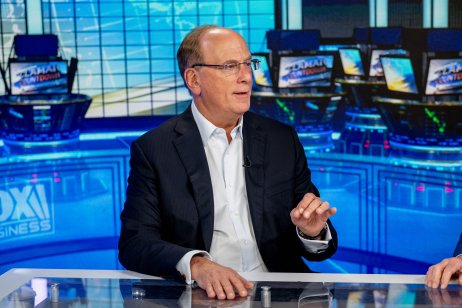 Content
BlackRock (BLK) chief Larry Fink is under pressure from UK activist investor Bluebell Capital Partners to resign over what has been termed his "apparent hypocrisy" over environmental, social and governance (ESG) investment criteria.
Bluebell asserts that BlackRock has changed positions several times on investing in thermal coal production which is in direct contradiction to Fink's heavily publicised sustainability pledges.
Bluebell Capital Partners expressed its concerns on the matter with BlackRock last month but only yesterday released to the media the letter it sent to the asset manager at that time.
The letter specifically claimed that BlackRock failed to support Bluebell's position on environmental shareholder resolutions at mining and commodities group Glencore (GLEN) and chemicals group Solvay. "The contradictions and apparent hypocrisy of BlackRock's actions have . . . politicised the ESG debate," the letter stated.
It continued: "The reputational damage of being dragged into this politically charged debate, in our view, is very significant because it calls into question the independency of BlackRock as an asset manager."
As a shareholder, Bluebell has about a 0.01 per cent stake in BlackRock, which has a market cap of around $107bn.
Increasing shareholder pressure
On the face of it, Bluebell's stake is not large but that does not mean as an activist investor creating headlines, it cannot have a significant impact on other shareholders.
Bluebell already has a track record of unseating CEOs of major companies. Back in March 2021, Bluebell was one of a group of activist investors that forced the resignation of Emmanuel Faber, the then chairman and CEO, of Danone – the producer of Activia yoghurt and Evian water.
At the time, Bluebell only held around €20m in shares in Danone. However, the pressure built by activist investors succeeded in ousting Faber from his post.
There is no guarantee that Bluebell will unseat Fink and BlackRock has so far been combative in its response to the activist investor.
In a statement the asset manager said: "In the past 18 months, Bluebell has waged a number of campaigns to promote their climate and governance agenda. BlackRock Investment Stewardship did not support their campaigns as we did not consider them to be in the best economic interest of our clients."
BlackRock also voted against Bluebell's proposals to give ordinary shareholders more say over director elections.
Fink is seen by many as a kind of talismanic figure in the industry. And there is little doubt over his prominence as BlackRock's figurehead. What might it mean for BlackRock shares if he was forced out?
What is your sentiment on BLK?
Vote to see Traders sentiment!
So far, any speculation over Fink's forced departure has not affected the share price – indeed the shares are up marginally over the week and over the month they are up 7.67% to $710.29.
This may be a reflection (that as things stand) the likelihood of Fink being ousted is pretty low.
In the current climate with conflict in Ukraine and massive pressure on energy costs – ESG considerations have arguably lost some traction.
As the Ukraine war has rolled on and oil and gas prices have soared, it appears ESG fund managers have been tempted to increase rather than decrease exposure to the sector.

According to a recent report from Bank of America (BOA) around 6% of European ESG funds have included Shell (RDSa) , in their portfolio – as opposed to 0% at the end of 2020. According to BoA, European ESG funds have also seen increased exposure to other energy stocks, including Repsol (REP), Aker BP and Neste.
ESG 'definitions' in troubled times
Russia's war with Ukraine has reignited a debate about whether arms and defence stocks should be included as ESG-qualifying investments.
Earlier this year, Swedish asset management group SEB reversed its blanket ban on weapons manufacturers to permit six of its funds to invest in the sector.
SEB's reasoning was that it was in response to the serious security situation and growing geopolitical tensions culminating in Russia's invasion of Ukraine.
The reckoning here seems to be that the definition of ESG is somewhat fluid and that circumstances alone can move arms manufacturers from a 'blacklist' to an 'inclusion' list.
The fact that defence sector stocks were, and continue to be, in a position to boost profits from the ongoing conflict – might also have come into the investment equation.
And this chain of thought might also stand Fink in good stead. BlackRock's claim that Bluebell's campaigns to promote their climate and governance agenda was not; "in the best economic interests of our clients," might prove reassuring rather than damning to investors.
Marketbeat currently rates BlackRock as 'moderate buy'. Of 13 analysts surveyed, seven rate the stock a 'buy' and six a 'hold'.
Related reading