Bitcoin trades below $42,000 as interest softens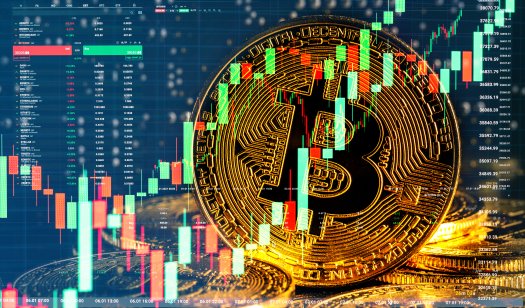 Bitcoin led the cryptocurrency market lower on Monday as the asset traded below $42,000 for the second time in less than a month.
The move correlates with declining open interest in the bitcoin futures market, which is often an indicator of investor appetite for risk assets, according to data from CME Group.
Bitcoin's fall dragged other popular crypto assets down with it. Ether was trading more than 3% lower at $3,100 per unit while decentralised (DeFi) assets like polkadot and polygon both saw declines greater than 4%.
Open interest
CME data shows that open interest in bitcoin futures remains below the levels measured at the end of December, when bitcoin was trading above $50,000 per unit.
Meanwhile, trading data from Skew.com shows that open interest currently stands at $16bn (£11.78bn) compared to the more than $26bn measured in late December.
Ether has also seen similar declines in open interest, which measured $8bn as of 14 January compared to the $13bn that was measured last year.
What is your sentiment on BTC/USD?
Vote to see Traders sentiment!
Interest rates climb
One reason why the crypto market has seen declining interest is that US Treasury yields are rising and investors expect the Federal Reserve Bank to hike interest rates multiple times in 2022 to help control inflation.
On Tuesday, the benchmark 10-Year Treasury Yield hit a two-year high at 1.81%, which sent the equities market into Sell Mode. The 2-Year Treasury Yield also jumped up to nearly 1%, which could be a sign of turbulent waters ahead.
By 16:30 UTC, the S&P 500 was down by more than 78 points, a fall in excess of 1.6%. The tech-heavy NASDAQ Composite Index was down more than 2% while the DOW Jones Industrial Average was trading more than 1.6% below its close from Friday.
Outflows
The combination of declining open interest and climbing federal interest rates helped usher more than $72m out of crypto investment coffers last week, according to new data from CoinShares.
Over the last five weeks, more than $532m has flowed out of crypto investment products as Bitcoin's total assets under management reached a three-month low of $35bn.
"This marks the sharpest outflows since 2018 when viewed proportionally as a percentage of total (AuM)," James Butterfill, an analyst at Coinshares, wrote in a note to investors. "However, on a daily basis, for the first time this year we saw inflows on Wednesday and Friday, suggesting the bearish sentiment is beginning to abate after recent positive price moves."
Is a reversal near?
While many investors eagerly await a price reversal for bitcoin and the broader crypto market, analysts are split about when such a correction might occur.
Delphi Digital analysts Kevin Kelley and Jason Pagoulatos said in a note to investors that the market's past week of struggles suggests the downward price trend may continue.
"When price spends an extended period consolidating with many failed breakout or breakdown attempts, once price successfully breaks the range, you can typically expect some type of continuation in that direction," the pair wrote.
Read more: Bitcoin price prediction 2025: will the coin reach 0,000?