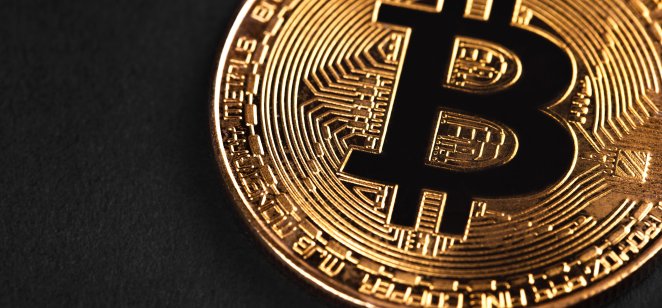 On Monday February 8, 2021 you could buy Bitcoin for $40,000. Before the end of the day the cryptocurrency blew past $45,000, $46, 000 and eventually set a new record high of $48,000 in less than an hour.
The major reason behind this overnight surge was Tesla's announcement that it bought $1.5bn in Bitcoin and plans to adopt it as a form of payment. At the moment of writing BTC fluctuates within $46,500, raising more questions about its next step.
Elon Musk behind Dogecoin and Bitcoin wild run
Already called the "Elon rally", the latest $8,000-for-a-single-day Bitcoin hike was a result of the world's richest man Musk's support of cryptocurrencies.
Earlier this month the price of Bitcoin went higher after the Tesla CEO confirmed he is a strong Bitcoin believer in an interview on Clubhouse: "I was late to the party, but I am a supporter of Bitcoin. And I think, Bitcoin is really on the verge of getting broad acceptance by conventional finance people," Musk said.
Elon Musk has already gained the reputation of a big financial influencer, as his voice online discussing the financial markets triggers outstanding market movements like what happened with Dogecoin, which has risen 1,250 per cent since the start of the year.
The Dogecoin latest hype driven by Elon Musk's tweet sent the meme cryptocurrency up more than 50 per cent. When several more celebrities, including Gene Simmons and Snoop Dogg, joined and backed Dogecoin on Twitter, Elon Musk acknowledged this fact, joking about sending the crypto's value "To the Moon".
Jokes aside, Bitcoin's uptrend analysis
Bitcoin's bull run is expected to intensify as Tesla's investment in Bitcoin сan boost corporate demand with other heavyweights adopting it.
Over recent months, several publicly traded companies, including MicroStrategy (MSTR) have adopted Bitcoin as a treasury asset. However, Tesla's willingness to convert a part of its cash holdings into Bitcoin is a significant move. The first Fortune 500 company, supporting the cryptocurrency, can push other world's leading market players to join.
According to QCP Capital, "Although the actual amount isn't large comparatively, the signaling effect and market reflexivity of projecting other global market-leading companies to do the same will have a positive spiral effect on prices".
Tesla's Bitcoin investments could move BTC price prediction up through $50,000 and higher, as more buyers can join the market, contributing to upward pressure on Bitcoin growth.
How high is Bitcoin's projected value after its record single day move?
Bitcoin analysis: intensified bullish pressure continues
Although Tesla's move is considered the major driver behind the recent Bitcoin price surge, the further acceptance of BTC as a mainstream payment asset is backed by other factors.
The pickup in inflation predictions could also propel an extended Bitcoin move higher, as coronavirus vaccination progress is in full swing and additional economic stimulus fuel expectations about a global economic recovery. Seen by many as a hedge against inflation, Bitcoin continues conquering new highs.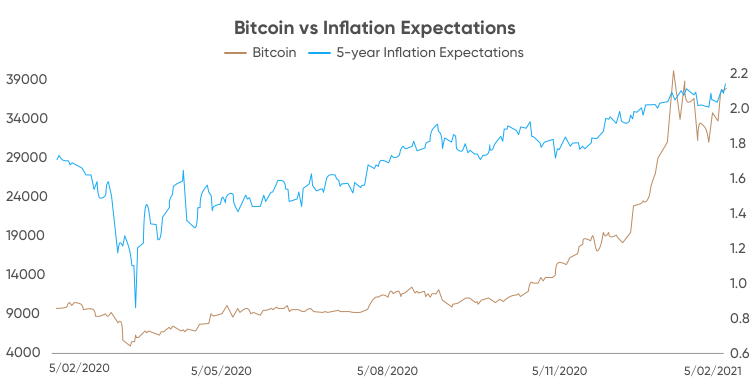 Cryptocurrency market capitalisation – supported by the Bitcoin price rising to record highs – has recently crossed the $1trn mark, and BTC accounts for approximately 69 per cent of that total market value.
Just a half year ago, BTC was trading at around $6,000 and now it's hovering around $47,000. Despite extreme market volatility, different Bitcoin value predictions expect it to skyrocket further.
The bullish Bitcoin forecast is backed by several factors: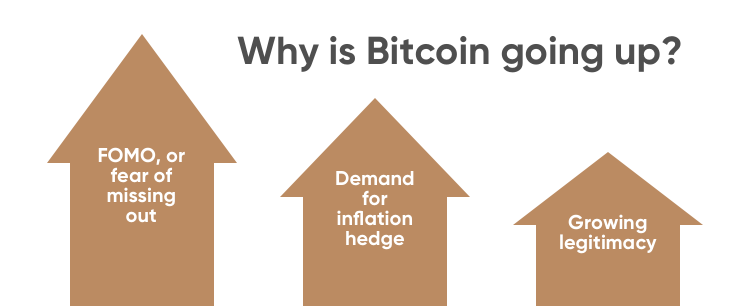 FOMO, or the fear of missing out
While Bitcoin's rally in 2017 was fueled mostly by passionate retail crypto enthusiasts, the latest Bitcoin trend was sparked by public companies, including MicroStrategy and Square, investing millions in Bitcoin. It opened the door to other companies viewing it as a viable reserve asset.
MicroStrategy began a chain reaction when it acquired $425m worth of BTC in August 2020. Square followed with its $50m investment in October 2020. Then PayPal's decision, to allow hundreds of millions of its users to buy, hold and sell Bitcoins, was the cherry on top.
Institutional investors, fearing missing out on big returns, have pulled billions of dollars into the cryptocurrency market, playing a significant role in Bitcoin's meteoric rise.
"People are seeing a move to it as a reserve asset, knowing there's a limited supply of Bitcoin, and saying, 'okay, I want my piece of it before it goes too high in price," Jimmy Nguyen, president of the Bitcoin Association, said.
Demand for a hedge against inflation
The world's Covid-19 health crisis also contributed to positive Bitcoin price predictions. As governments of many countries decided on trillions of dollars in fiscal stimulus and eased monetary conditions, Bitcoin rose in value as a hedge against inflation.
According to Douglas Borthwick: "That money printing has meant that everyone in the world has been searching for hard assets to invest in, something that isn't going up in terms of supply." Nikolaos Panigirtzoglou, JP Morgan's analyst, expressed a similar view that Bitcoin's limited supply of 21 million, and immunity from political decisions, make it an attractive hedge asset, alternative to gold.
The influx of institutional investors and PayPal's adoption contribute to Bitcoin's further legitimacy within the traditional financial system. According to new guidance from the US Office of the Comptroller of the Currency (OCC), national banks are allowed to use stablecoins for payments settlements and participate in blockchain networks, contributing to further legitimising of digital currencies.
Bitcoin price predictions: hints for further upside
Will Bitcoin rise? From a technical perspective, the Bitcoin price chart still shows signs of further gains, with the RSI tracking in overbought territory. If the price breaks through psychological resistance at $50,000, it would probably propel to test new levels, bringing the $60,000 level into play.
However, if the $48,000 mark will manage to suppress the buying pressure, a short-term correction to former resistance at $42,000 could happen.
Bitcoin highest price forecast: is $100,000 the next price target?
According to the latest Bitcoin news, positive BTC market predictions come alongside warnings of high volatility. Some analysts believe the BTC/USD price rate can reach $50,000 already by the end of the week.
How high will Bitcoin go? The evergreen question to answer. With gains of almost 300 per cent in 2020, Bitcoin outperformed the Dow Jones Industrial Average with its 6.8 per cent and gold with its 23.4 per cent combined.
Today, we are witnessing the third greatest run in Bitcoin's history. So, the analysts continue making their assumptions on the Bitcoin price in the future.
According to Galaxy Digital CEO Michael Novogratz, Bitcoin can double in value and hit $100,000 by the end of 2021. Commenting on Tesla's latest announcement, Novogratz added that we are going to see every US company doing the same thing: "You're seeing the herd here, and it's coming".
Taking a longer-term view, the Bitcoin forecast from digitalcoinprice.com expects BTC to reach $72,160 by the end of 2021, $141,426 by the end of 2025 and $214,026 in 2028.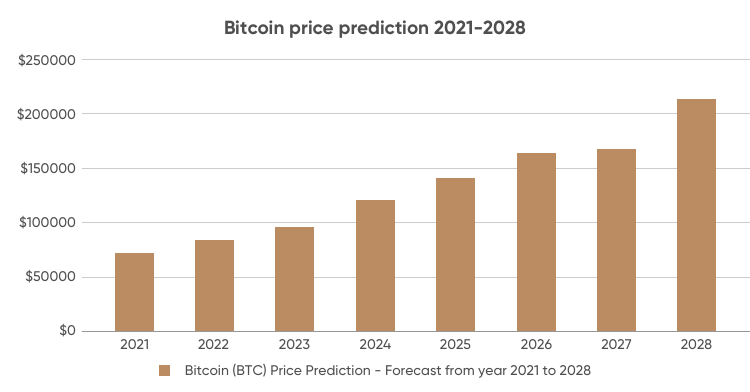 The crypto market including its major player Bitcoin has always been volatile, but volatility has never discouraged traders from speculating on its price. Bitcoin is definitely one of the most-traded assets this week, as many people try to catch the best opportunities for profitable BTC trades.