Bitcoin (BTC) has 'run out of fools' at $20,000 says Peter Schiff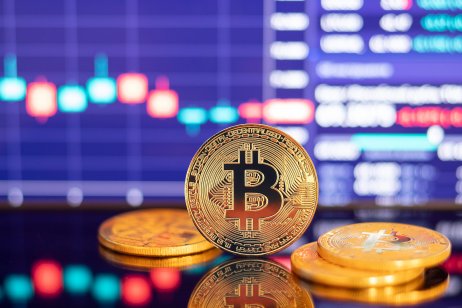 The epic nose dive in the price of bellwether crypto bitcoin (BTC) since its November peak is a sign that the digital coin has 'run out of fools', willing to buy it, says Peter Schiff, economic commentator.
BTC is currently hovering around the $20,000 mark, a long way short of its all time high of nearly $70,000 dollars in November last year when the cryptocurrency market's total capitalization hit $3trn for the first time.
But renowned goldbug Schiff says in his latest film for Capital.com, 'Is Bitcoin dead', that BTC will continue to languish in the doldrums because its recent vertiginous price drop has emptied the market of enough 'fools' to keep sustaining the price.
BTC to US dollar
'The Greater Fool Theory', says that during a market bubble investors can profit because there will always be a 'Greater Fool', to pay them a higher price later.
What is your sentiment on ETH/USD?
Vote to see Traders sentiment!
A climate of fear
"BTC really is just a modern example of the 'Greater Fool Theory'," he said. "But I think the problem is we've run out of fools and that's why the price of Bitcoin has dropped by about 70%."
Schiff pointed to a climate of fear around bitcoin at its current price level which has been mirrored by a drop in crypto prices across the board, with ETH and other top ten coins such an ADA and XRP declining by similar levels.
Capital.com recently quoted an Argentine politician as saying their fellow citizens' preference for stablecoins was because, 'they don't want to get poor', and Schiff ascribed a similar reason for investors' trepidation over BTC.
ETH to USD
"In the past, everybody thought they would get rich on bitcoin. But people are now going to be more worried about going broke."
BTC rebound a 'delusion'
According to Schiff the next stage of the bitcoin coin cycle will see investors dump more BTC onto the market creating further downward pressure on price.
He described the idea that the bitcoin price could recover as a "delusion".
Schiff's comments represent a hardening of his attitude in an earlier an earlier Capital.com video: ''Is a global financial crash inevitable?', where he said that it was possible for the digital token to reach another alltime high.
However, even then, Schiff was clear that he thought bitcoin met the status of a bubble.
"Maybe [bitcoin] will make another high. I am not smart enough to know how big a bubble will get before it implodes. I am smart enough to see a bubble when I see one," he said.
BTC's 'Muddy Floor'
Others have a less pessimistic outlook. Digital asset manager, Trovio Group, published its current BTC analysis, called, 'Bitcoin's Muddy Floor' on 15 July and it see potential in the current crypto winter.
The Australia-based firm has previously said that all centralized exchanges will be replaced by decentralized versions within a decade and its take on Bitcoin's future trajectory is, unsurprisingly, different to Schiff's.
In its latest note the fund manager likened the current market conditions to those which originally drove bitcoin to prominence in 2013, only this time it will be institutions not individuals who profit.
New players in BTC market
Trovio's analysts pointed to the emergence of global regulatory clarity on crypto and said this would pave the way for a new style of bitcoin market.
"Soon a very large, sophisticated player will enter the scene, ready to relieve weak hands of more bitcoin than they have to sell," said the analysts.
"The scene has been set for a major turning point in Bitcoin adoption based on a growing understanding of the asset's unique benefits," they added.