Big Oil and the energy transition: Can profitability be sustained?
Subscribe to Weekly Highlights
The major market events for the week ahead right in your inbox.
Subscribe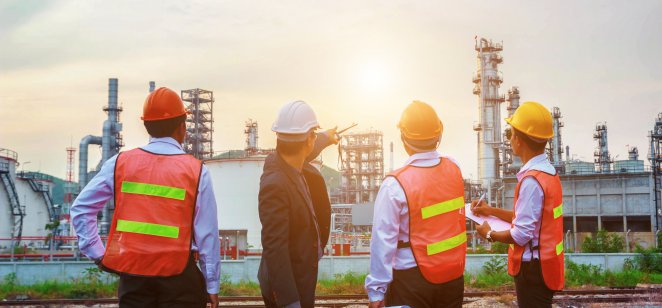 Content
BP joined rivals Shell, Chevron and TotalEnergies in rewarding investors with share buybacks last week as rebounding crude-oil prices carried earnings and cash flow to pre-pandemic levels.
It's a stark contrast to April last year, when much of the world's population was under some form of lockdown, with most cars and planes subsequently left idle for months.
The impact of the pandemic sent global oil demand down 30%, reaching a level not seen since 1995, according to International Energy Agency (IEA) estimates.
Recovery shift
Despite some fluctuation on Wednesday, the boost in demand compared to 2020 reflects a recovery shift. However, it remains to be seen how long the oil industry can sustain such profitability – and future-proof itself – as it makes the 'energy transition' beyond the pandemic.
Shell, BP and ExxonMobil are among the major oil companies that have been very public with their plans to support the goal to achieve net-zero carbon emissions by 2050, as set out in the global Race To Zero campaign.
Shell acquired renewable energy retailer, Inspire Energy. Exxon has been pursuing the carbon-capture space, while BP has been very vocal about its growing list of green ventures. However, at the same time, Shell gave a green light to its Deepwater project in the Gulf of Mexico.
Meanwhille, Osama Rizvi, energy analyst at Primary Vision Network points out to Capital.com, the funding for oil and gas was still $3.8trn from 2016 to 2020, despite the signing of the Paris Agreement in 2015, according to ​​a report titled Banking on Climate Chaos 2021.
"This speaks a lot about the seriousness around clean energy or reducing emissions," Rizvi added.
What is your sentiment on Natural Gas?
Vote to see Traders sentiment!
Sustaining profitability
Rizvi also explained that profits are unlikely to be impacted for a while because of the time it will take to implement any new sustainable policies within the oil and gas industry.
"The current profitability for oil majors (shale producers banked $30bn alone) is indeed a commendable feat, especially against the backdrop of a drastic fall in demand and unprecedented pandemic.
"However," Rizvi added, "moving forward, these businesses will certainly have to reinvent themselves and diversify their business processes and functions to adjust to the building pressure by civil society and now international bodies such as the IEA, et al., towards a push for renewables.
"Environmental, Social, and Corporate Governance (ESG) is a game-changer, and we will see many companies changing tack because of that.
"That said, I do not see the current oil majors facing a financial challenge as a result of cleaner energy policies as, unfortunately, it will take decades before it will start to have a significant effect on our energy policies, consumption and therefore profitability of Big Oil.
"Another challenge is the fact that fossil fuels are more profitable than renewables (the internal rate of return for the former is 15%–20% whole, 5%–6% for the latter) and this can be a hindrance in companies shifting to renewables in the first place," Rizvi said.
Revolt for climate action
The question of how Big Oil companies will create value in the next normal is fundamental, as pressure mounts from powerful climate-related activist investors, too.
In May, shareholders in ExxonMobil – the world's second-largest oil and gas company – elected two candidates from the hedge fund Engine No. 1 to the company's 12-member board of directors.
The fund holds just 0.02% of ExxonMobil's shares and campaigned to accelerate its transition to clean energy. It dealt a major blow to the company's leadership, as well as to the other majors, to confront the risk of failing to adjust its business strategy to match efforts to combat climate change.
Future-proofing
In a bid to safeguard their future businesses, the oil and gas majors – considered to be BP, Chevron, Eni, ExxonMobil, Royal Dutch Shell, TotalEnergies and ConocoPhillips – have widely published updates showing the sustainable steps they are taking.
| | |
| --- | --- |
| Long position overnight fee | -0.0183% |
| Short position overnight fee | 0.0066% |
| Overnight fee time | 22:00 (UTC) |
| Spread | 0.020 |
| | |
| --- | --- |
| Long position overnight fee | -0.0023% |
| Short position overnight fee | -0.0114% |
| Overnight fee time | 22:00 (UTC) |
| Spread | 0.03 |
| | |
| --- | --- |
| Long position overnight fee | 0.0007% |
| Short position overnight fee | -0.0145% |
| Overnight fee time | 22:00 (UTC) |
| Spread | 0.04 |
| | |
| --- | --- |
| Long position overnight fee | -0.0188% |
| Short position overnight fee | 0.0073% |
| Overnight fee time | 22:00 (UTC) |
| Spread | 0.18 |
Shell, which boosted its dividend and launched a $2bn share buyback on Thursday, has previously set out its short- and medium-term carbon-intensity targets, which are consistent with the Paris Agreement's demand "to limit the increase in the average global temperature to 1.5°C above pre-industrial levels".
In its transition strategy, the company said it plans to offer more low-carbon products and solutions, such as biofuels, charging for electric vehicles, and hydrogen and renewable power, as well as carbon-capture and storage- and nature-based offsets.
BP, which also unveiled a dividend hike and more share buybacks on Tuesday after beating second-quarter earning expectations, is one year into its plan to transform from an oil major to an "integrated energy company". It wants to increase low-carbon investments eightfold by 2025 and tenfold by 2030.
BP CEO Bernard Looney said in a statement: "The world's carbon budget is finite and running out fast; we need a rapid transition to net zero. We all want energy that is reliable and affordable, but that is no longer enough.
"It must also be cleaner. To deliver that, trillions of dollars will need to be invested in replumbing and rewiring the world's energy system. It will require nothing short of reimagining energy as we know it."
Net-zero targets
ConocoPhillips (COP), which also reported better-than-expected second-quarter results on Tuesday, sent Capital.com a statement from its chairman and CEO, Ryan Lance, setting out the steps it is taking to meet net-zero targets.
COP's plans include a 35%–45% reduction target for operational emissions intensity by 2030 and a 10% reduction target for methane emissions intensity by 2025, in addition to the 65% reductions it has made since 2015.
Tuesday also marked the launch of rival Chevron's new business – focused on "scalable, low-carbon opportunities". In the announcement, the US oil major said Chevron New Energies will centre on commercialising hydrogen, carbon-capture and storage (CCS) and offsets, as well as supporting growth in biofuels.
Meanwhile, ExxonMobil posted its biggest quarterly profit in more than a year on Friday, joining its rivals in beating analysts' estimates as demand for oil, gas and chemicals rebounded. The results follow the push from shareholders to help the company better prepare for a future of cleaner fuels.
It released its climate strategy in April, when it reported how it is aiming for industry-leading greenhouse gas performance across its businesses by 2030.
France's TotalEnergies also reported profit and share buybacks on Thursday as it continues to invest heavily in clean-energy projects and electricity production.
The company set out a collaboration with Amazon last week to supply the online retail giant with renewable electricity. It has also been multiplying new investments, including in areas such as electric vehicle charging.
On Monday, Italian oil and gas company Eni snapped up some 350MW of renewable capacity in France and Spain as it too pushes ahead with plans to expand into green energy and navigate the transition from fossil fuels.
The bottom line
The push towards an adoption of green intiiatives is clear, with some of the oil majors more vocal about particular ventures. However, will the sustainable initiatives bring them as much profit as traditional models?
"The current wave of green initiatives present themselves as a challenge to the traditional business model of the oil and gas industry. On one hand, the companies are taking it seriously, as evidenced by commitments to reducing carbon emissions and investments in negative-emission technologies such as carbon-capture usage and storage etc," energy analyst Rizvi said.
"However, moving forward, these companies will have to be willing to substitute profit-making for climate change – which will also make them profit. But, personally, I believe it will definitely have an impact on their overall bottom line," he added.
Read more: Big Oil faces credit risk from climate change activism New York mayor sues five largest oil companies over global warming